Congrats to all of our winners!
Click on any of the teams to learn more about their project.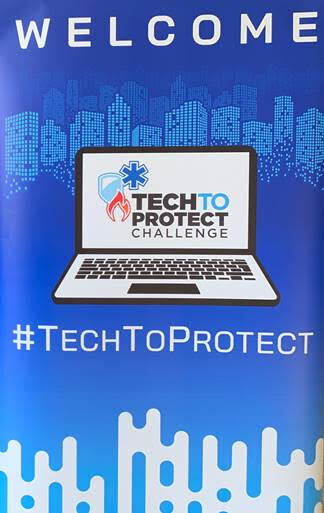 ---
Seed and Progress Round Winners
The aim of this project is to provide firefighters with critical information for vehicle extrication that currently is not easily accessible nor comprehensive. Through augmented reality and a simple-to-use interface, our mobile app will provide firefighters with immediate extrication information provided by cutting-edge technology. Our approach is creating a product that is commercially available and will challenge existing firefighter technology standards. AR Extrication Assist has addressed all of the problems proposed by Challenge 003's: "create an innovative AR mobile application that can provide vehicle extrication in an intuitive, fast, and effective way to enable the extrication process."
Team Point of Contact: Levi Adissi,

arextricationassist

[at]

gmail.com

(arextricationassist[at]gmail[dot]com)

Team URL: www.arextrication.com
Bio1 Systems is developing a mobile solution to locate, tag, and track patients in mass casualty incidents. The product includes a wrist-worn tag (with a QR code for patient ID and LEDs for triage) and a smart phone-based TECC application for clinical data capture. Data is transferred via a HIPAA-compliant cloud-based data repository to populate a patient's EHR.
Team Point of Contact: Lauren Shluzas, 

lauren.shluzas

[at]

bio1systems.com

(lauren[dot]shluzas[at]bio1systems[dot]com)

Team URL: http://bio1systems.com
Our app uses machine learning models to generate pre-incident plans, floor plans, and safety checklists for homeowners through image recognition and semantic classification.​ The app also decreases response time and loss of life by providing critical life saving information to first responders during emergency responses. ​Insurance companies are then able to verify safety equipment, incident plans, and other data to improve risk modeling and save homeowners on their premium.​ Currently no applications in this area for the specific needs outlined by the challenge​. Our technology and application will be leaps and bounds above the current half-solutions​. Providing information critical to saving lives will be much easier with this product, achieving the goal of this challenge​.
Map My LTE is a surveying tool for 2G/3G/4G/5G cellular network information using both consumer Android and FirstNet Android devices, allowing data being recorded and displayed over the heatmaps.  The same app platform can be used for surveying air quality, radiation, noise level and much more through IoT add-ons. We currently have an Android application that can collect LTE signals using GPS, non GPS (WiFi LTE location), and ability to insert floor plans on the application itself.  The application then has the ability to export the survey data into a CSV file and upload the data to Firebase for cloud storage.  The application is ready to use and be deployed.
Team Point of Contact: Chris Buonocore,

chrisdistrict

[at]

gmail.com

(chrisdistrict[at]gmail[dot]com)
Our application improves first responders' care response by providing better patient capture tools, map-based patient location and triage status, eye in the sky views of all patients and response teams, and the ability to direct and react to changing conditions on the ground. Our proposed approach will significantly improve commercially available technology by modernizing patient ID capture, key triage notes, and patient location information. Providing the ability to gather this information with minimal manual steps and reduced communication time helps first responders expedite victim resolution.
Team Point of Contact: Heather Sittig,

heather

[at]

quantastat.com

(heather[at]quantastat[dot]com)

Team URL: http://www.quantastat.com
NaT improves the efficiency, accuracy, and accountability of patient triage during a MCI. NaT is an open source technology solution that includes a mobile app using speech-to-text for hands-free data entry for first responders and a web dashboard for incident commanders. NaT will be available to EMS agencies of all sizes to ensure broad adoption, regardless of budget, so that all responders can be equipped for a MCI​. NaT will adhere to well established industry standards for data exchange, authentication, and interoperability, allowing all responders to share data with the incident commander.
Team Point of Contact: Britt Jensen,

britt

[at]

peakresponse.net

(britt[at]peakresponse[dot]net)

Team URL: www.peakresponse.net
We dramatically improve efficiency of MCPTT. We enable store, pause, and replay of messages, SMS, speech-to-text, and text-to-speech. Users may speak without waiting for the floor – the app sends messages when the floor becomes available. A map function allows dispatchers to view the geo-location of units and manage groups dynamically. We will distribute apps to first responders in training exercises, Google Play Store, and FirstNet App Catalog.
Team Point of Contact: K. K. Ramakrishnan
vTriage (we-triage) is dedicated to help emergency responders improve the safety of communities nationwide by providing helpful, useful, and non-interruptive solutions. The app is accessible via Android, iOS, Web and includes a prototype pulse sensor device.
Team Point of Contact: Dhruvil Patel,

info

[at]

vtriage.app

(info[at]vtriage[dot]app)

 
Team URL: https://vtriage.app/
Zenext is a voice-command virtual assistant supporting law enforcement and emergency responders. An artificial intelligence-enabled chatbot, Zenext bridges the gap between police officers and dispatchers and provides help and connectivity to important emergency agencies like Fire and EMT with voice interactions. The cornerstone of Zenext is public safety. Our target users are law enforcement officers (initially) and emergency responders (long-term) for whom technology needs to be simple to use and just-in-time.​
Team Point of Contact: Swarnamouli Majumdar,

swmouli.19

[at]

gmail.com

(swmouli[dot]19[at]gmail[dot]com)
---
Challenge Winners
The Corroborator application was crafted to fit the requirements of the TTP Challenge #9, and in doing so we have found the core of the technology that enables the app's functions are valuable for multiple uses:
 Corroborator is pivoting into an Open Source Middleware Standard - the I3 protocol - for interoperable data provenance and integrity. It will be integrated into existing systems and used to rapidly develop new, interoperable applications, with first responder agencies' needs being the primary concern.
Cross-agency and cross-industry data provenance and integrity is a critical issue that we plan to solve. Starting with add-on applications to take advantage of I3, we will move to direct integrations within existing major systems of record and market to companies currently handling this data in a proprietary way. The I3 protocol and Vault software is open source, requiring all improvements be published for the benefit of anyone using it.
 I3 standards will enable a more competitive and cost efficient marketplace for first responder digital data management. 
Team Point of Contact: Dan Shields,

i3protocol

[at]

protonmail.com

(i3protocol[at]protonmail[dot]com)
The HC PIP application eliminates the chain of custody problem with a simple mobile application that immediately syncs to a web verification tool with block chain.​ A simple application that automatically syncs a hash and the picture meta-data real-time, a web verification tool includes mapping and meta data detection changes, and blockchain for immutable verification.
Team Point of Contact: Vinh Pham,

vinh.pham

[at]

us.hctx.net

(vinh[dot]pham[at]us[dot]hctx[dot]net)
At Authim, we are enabling smartphones as suitable devices for collecting evidence.  This enables everyone to capture high-quality evidence easily and for little cost.​ Evidence is digitally signed so it remains authentic wherever it is stored.  Standard protocols are used for key management.​ Unlike competing Enterprise solutions, this is a low-cost SaaS product that allows departments to own their photos without being locked into a proprietary solution. Our application allows first responders will be able to collect evidence easily using their smartphones, ensures evidence will have high assurance against tampering, at any time, evidence can be proven to come from a specific source, time and location, and small departments can easily use solution and afford it.​ 
Team Point of Contact: Conor Patrik,

authim

[at]

solokeys.com

(authim[at]solokeys[dot]com)

Team URL: https://authim.com/
CritSit Care's vision is to create a software platform to increase the efficiency of EMS teams and healthcare professionals during mass casualty incidents. Our focus is a mobile triaging and patient information capturing solution for the field and the ED.
Team Point of Contact: Phillip Streck,

admin

[at]

critsit.care

(admin[at]critsit[dot]care)
The Harris County Proactive Biometric Platform will enable lives to be saved when key thresholds are triggered. The app interfaces with Apple watch to monitor and transmit HR data​, includes APIs to receive sensor data and also live stream to web user interface, and customizable thresholds and alerting in web user interface. APIs to receive sensor data and also live stream to web user interface​ customizable thresholds and alerting in web user interface.
Team Point of Contact: Vinh Pham,

vinh.pham

[at]

us.hctx.net

(vinh[dot]pham[at]us[dot]hctx[dot]net)
FireHUD's BioTrac Platform is being sold to first responders for operational firefighting as well as training. The current platform exceeds our goals for an MVP and can certainly be commercialized, but as pointed out through one-on-ones with Tech To Protect advisors, there are more improvements to be made. 
Team Point of Contact: Zach Braun,

zack

[at]

firehud.co

(zack[at]firehud[dot]co)

Team URL: www.firehud.co
This application was designed to be used by a first responder to verify the security environment of the mobile device that will be used to send sensitive data to a medical/command center for analysis and response.  This application will show the current situational awareness on the mobile device so that the user can determine if the information can be sent with confidentiality, integrity and availability.
Team Point of Contact: David Okuno,

mmmania

[at]

gmail.com

(mmmania[at]gmail[dot]com)
Resource mapping application with mission critical push-to-talk for first responders, allowing direct communication and tracking the location of people and resources. The app takes separate devices and technologies currently used for field communication and information sharing, and creates a single integrated solution. This solution provides real-time collaboration and tracking that is not currently available in a communication platform.
Team Point of Contact: Brian Cottrell, Brian.Cottrell.mobile [at] gmail.com (Brian[dot]Cottrell[dot]mobile[at]gmail[dot]com)
Team Talk's development has been driven by market research. In response, we have added the features found most important to first responders. Sights, sounds, vibrations, and customizable features that can be changed on the fly have all been integrated into Team Talk. This is a functioning Push-to-Talk mobile application​. Users can seamlessly change channels​ and administrators can easily add new users​. The app improves efficiency of data delivery to end user​ and is built for growth and scalability.
Team Point of Contact: Scott Chaplinski,

scott.chaplinski

[at]

gmail.com

(scott[dot]chaplinski[at]gmail[dot]com)
We have developed a Mission Critical Push-to-Talk (MCPTT) App, Critical Access, based on the Mission Critical Open Platform (MCOP).
Team Point of Contact: Nanda Velugoti,

nvelugoti

[at]

hawk.iit.edu

(nvelugoti[at]hawk[dot]iit[dot]edu)
MCPTT has a mission to create an easy to use application that allows responders to learn, update, and adapt through effective Push-To-Talk communication. 
Team Point of Contact: Jithin Joyson,

jjoyson

[at]

hawk.iit.edu

(jjoyson[at]hawk[dot]iit[dot]edu)
Simba Police is a hands-free voice assistant specially designed to cater the needs of our first responders when on ground zero. Simba Police connects them with the force, calls for backup, fetches important details such as DMV details, medicine details, and criminal record. Implemented on mobile app, can also be extended on phone calls and text messages based on requirement. 
Team Point of Contact: Malissa Murga,

iammap26

[at]

gmail.com

(iammap26[at]gmail[dot]com)
This application is a cloud-based, scalable, integrated system. It offers a hands-free focused voice assistant for all first responders. The application is accessible via progressive web app or verified messaging platform and compatible with any bluetooth headset or hands-free device. The app creates a prioritized service to enhance the safety and effectiveness of all first responders i the performance of their daily activities.
Team Point of Contact: Austin Handle,

AHandle

[at]

HandleConsolidated.com

(AHandle[at]HandleConsolidated[dot]com)

 
Team URL: https://apolloai.io
"Heart in Hand" provides a reliable system to monitor first responders' health and safety in real-time. ​The system allows to collect heart rate of the first responder and surrounding environment data such as heat, humidity, air pressure, and gas reading.​ The system also allows to notify the first responder when they are in a bad situation. The system is using multiple wireless network communications to improve the flexibility and LoRa technology has been implemented for back-up communication which improves the reliability for the system.
Team Point of Contact: Van Nguyen,

vuvan02

[at]

gmail.com

(vuvan02[at]gmail[dot]com)
The Front Ranger platform provides a better user experience to produce predictive coverage maps at low cost.​ This platform empowering first responders to deploy LTE network during emergency. Our solution provide expected coverage and services in a defined area, real-time coverage updated based on web and Android application, and all services run on-premises.
Team Point of Contact: Julian Loaiza,

julian.loaiza

[at]

gmail.com

(julian[dot]loaiza[at]gmail[dot]com)
ESafe is designed to eliminate the doubt of authenticity and streamline the process of obtaining photographic evidence. Our solution works on both iOS and Android and provides a simple interface for both first responders (via the app) to take photos and judicial officers (via the website) to verify a photo's authenticity.
Team Point of Contact: Will Hurley,

wjhurley

[at]

comcast.net

(wjhurley[at]comcast[dot]net)