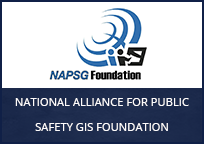 National Alliance for Public Safety GIS Foundation
---
Now more than ever, responders need Location-Based Services (LBS) solutions to provide better situational awareness indoors, equipping them with necessary capabilities to operate effectively while maximizing responder and citizen safety. Even though this technology is becoming more readily available, it has yet to be widely adopted by the first responder community. Through the Accelerating Adoption and Use of Emerging LBS by Public Safety project, the National Alliance for Public Safety GIS (NAPSG) Foundation would like to identify innovators and early adopters who are exploring LBS solutions to solve operational problems and work with them to collect and document best practices; share success stories with the broader public safety community; provide outreach and education about best practices to first responders; and actively engage in ongoing dialogue with stakeholders to understand and document their evolving needs. - July 2019
---
---
Project Overview
1. Adoption
To jumpstart the adoption process, we will first identify existing LBS solutions that solve real-world problems for first responders. The focus will begin with day-to-day operational problems because repeated use is more likely to develop patterns of practice and proficiency. However, this project will prioritize LBS solutions that are scalable to support first responders in events that increase in size and complexity.  
Innovators – The National Alliance for Public Safety GIS (NAPSG) Foundation will search for innovators who are exploring LBS solutions to solve operational problem. Using examples of potential problems and solutions (see Table 1) as a guideline, "innovators" within the public safety community will be identified.
2. Identify Gaps
Once early adopters have chosen technology solutions, they are often visionary champions within their agency and among their peers across jurisdictions. They will socialize their adoption of new technology with others in their community, but there is often a gap or "chasm"6 that prevents the pragmatic "early majority" from integrating new technology into their policies, training, and standard operating procedures. To address these potential gaps, we will build off the existing work by NIST and the R&D Community.
Potential Impact of the Project:
Mapping, tracking, and indoor navigation is one of the greatest challenges facing first responder safety today. The built environment is growing both in volume and complexity and first responders need solutions to provide better situational awareness indoors. Fortunately, the use of Location Based Services (LBS) technology is expanding into daily use in urban areas around the world. Despite these technological advances, two key problems remain:  
First responders are not rapidly adopting and using the existing LBS solutions and capabilities available today.
Therefore, the research and development teams do not have actionable input from first responders to develop the practical solutions of tomorrow.
To address both problems, we must help first responders take advantage of existing LBS technology by facilitating integration into their policies, standard operating procedures, training, and daily use. Secondly, we need to define the most critical technology gaps identified by the public safety community, as a basis for prioritizing research & development investments.   
This project will help grow a community of first responders that rapidly and successfully incorporate new and emerging indoor mapping, tracking, navigation, and location-based services capabilities into their day-to-day operations.  
NAPSG designed this project with the following achievable and measurable outcomes: 
Increase exposure of LBS technology and innovation to at least 5,000 first responders across the United States. 
Provide interaction with over 400 first responders and providing an opportunity to get hands-on experience with LBS technology. 
Increase adoption of new LBS technology and best practices by at least 8 agencies in the United States.  
Learn more about the i-Axis award.