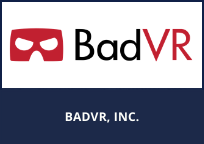 BadVR
---
In April 2021, BadVR was awarded $1.1M for the Public Safety Innovation Accelerator Program: Augmented Reality (AR) cooperative agreement.
As data grows dramatically in scale and complexity, existing analysis tools struggle to keep up. Within the public safety sector, the stakes are raised as people's lives and livelihoods are at risk. Real-time information from traffic cameras, IoT sensor networks, and even health monitors can influence life-or-death decisions during emergency response.  When that data is overwhelming or confusing, it impedes the effectiveness of this response and disrupts situational awareness. Fortunately, AR offers a new opportunity for much-needed innovation in analytics and visualization that hopes to make an immediate and significant impact on first responder operations and communications.
BadVR seeks to design and develop a prototype AR application for public safety operator and operations center activities. By leveraging novel immersive technology, first responders will have better access to critical decision-making information while maintaining situational awareness. Their involvement and engagement throughout the research process will culminate in the release of a free public app fed by live data that facilitates future research and commercialization beyond the end of the project period.
Meet the team
BadVR's team is made of 14 individuals with diverse backgrounds including software development and engineering, cognitive psychology, neuroscience, and even interior design.
Jad Meouchy

, Principal Investigator & Software Engineer/Architect, Jad holds dual degrees in Computer Engineering and Psychology from Virginia Tech, and is a graduate of the Thomas Jefferson High School for Science and Technology. His professional expertise spans software architecture and engineering to machine learning and artificial intelligence. AR/VR is a childhood passion that manifested into this opportunity.

Suzanne Borders

, UX Designer, is a proven leader in product design and UX and recently received a Rising Star award by the IEEE standards organization. Suzanne thrives at the intersection of product design, immersive technology, and data. In her spare time, she travels for inspiration and has been to over 75 countries.

Jason Tam

, Engineer/Designer, holds a degree in Computer Science from UC Irvine, and has previous experience building data visualizations for vehicle motion and water simulations. He brings a strong dual-discipline background in software development and design, and a precision for practical visual usability.

Brian Wong,

Senior Software Engineer, earned dual degrees in Neuroscience and Biochemistry from UC San Diego. His previous research led him to explore the applied field of Neurofeedback and build a background in software engineering. Now he's executing the vision of bringing XR to the mainstream and beyond.

Stefanie Feldman

, Product Manager, is a graduate of the University of Arizona and has over 13 years of experience in the technology and interior design industries.  She took the initiative to leverage spatial technology in bringing 3D visions to life, and uses her experience to manage a team of engineers from requirements through development to QA and support.
Project overview
The proposed research will be characterized by co-creation, rapid prototyping, and hands-on testing. At least four public safety organizations will be actively engaged throughout the entire research and development process. The first relationship, forged from advancement through the CHARIoT Challenge, proved that this PSO partnership collaboration would be fruitful and scalable. All partners are eager to ensure the application is tailored to meet their goals and the complex needs of their industry.
After the first "sandbox" application deliverable, partners will be asked to perform in-depth, documented usability testing. Insights and requirements gathered from these sessions will be used to build a live data prototype showing AR's impact for public safety. Documentation on usage and integration will be included in the release, and the application will have no cloud or third-party dependencies. It will work "out of the box" for all interested public users and be free to download on the most prevalent AR platforms.
Potential impacts of the project
This research has the potential to dramatically increase the amount of data that public safety organizations can monitor and respond to in real-time. By bringing multiple datasets into one multi-domain environment and reducing information silos, teams can make better decisions, faster. Immersion also increases collaboration by offering a greater shared context of collaboration. The mobility of hardware allows for ops center and operator augmentation to increase the volume and speed with which operations can be planned, simulated, and carried out. Immersion reduces fatigue and lowers cognitive load, and ultimately democratizes data for both technical and non-technical users.