Health Scholars, Inc.
---
Health Scholars, Inc. proposes to build a modular simulation environment to test user interfaces for public safety. The project – Glove-Based Home-to-Ambulance Simulation Environment - allows organizations who produce products, solutions and training for the public safety community to quickly develop prototypes for testing new devices and scenarios and rapidly iterate design. -July 2019
---
---
Project Overview
Objective – The Project will be to produce a fully functional simulation platform featuring a glove technology UI for the incident scenario EMS-Heart Attack. When complete, the platform will have the components needed for organizations to test prototypes (user interfaces, product variations, protocols) with users in virtual reality (VR). This will create a single, fully featured environment to reduce the cost of development and increase the speed of deployment to test prototypes within the public safety community.
At completion of the project, developers for PSOs will have a platform market (VirtualSpaces™) with core common UI elements on which to build. Those elements will have been studied for efficacy in reducing cognitive load on PSO users. The platform will allow users to adjust lighting and sounds and have physical representations of humans and common devices that first responders use every day, extending the realism of VR experiences.
Other Information:
Impacts:
Life-like, touch-enabled, AR-integrated scenarios increase transfer to real world.
Non-distracting interface increases user focus on task and devices.
Testers can easily modify the environment & components for rapid prototype/iteration.
Tracking/analysis of physical & cognitive parameters allows assessment of interface, devices.
Goal 2 research will help guide the field on the appropriate uses of glove versus wand based controllers.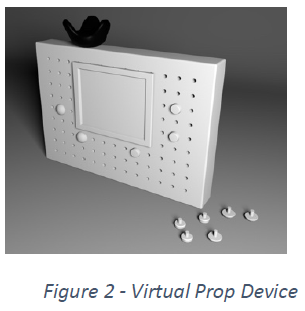 Virtual Props – Virtual Props are physical objects that can be presented and interacted in VR, dynamically linking the physical and VirtualSpaces™. They will build two key Virtual Prop elements:
Body – Use existing representations of the human torso with attached tracking technology to provide physical feedback in VR. The torso will be matched to the character models.
Medical Device – Build a Virtual Prop(s) that mimics medical devices (e.g. monitor or defibrillator). The design will allow for rapid adjustment of the physical placement of knobs, usa-buttons, dials and touch screens for prototype testing of different product feature configurations or the use of different devices in the simulation.