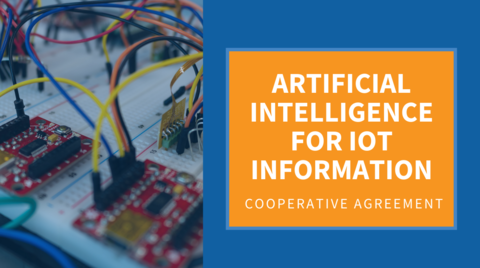 Award announcement
In February 2022, the PSCR Public Safety Analytics research portfolio awarded one applicant the Public Safety Innovation Accelerator Program - Artificial Intelligence for IoT Information (PSAIP - AI3) prize competition cooperative agreement, totaling nearly $1.2M in funds. This prize competition aims to develop software and/or hardware components that can be integrated into an end-to-end middleware solution which will ingest, evaluate and categorize data from multiple Internet-of-Things (IoT) devices with different output data formats. This award will have a performance period of two years beginning in February 2022. 
Meet the awardees
>> PSCR awarded one recipient for the AI3 funding opportunity! <<
Smart Communities, Smart Responders (SCSR) – An AI for IoT Prize Competition
Need for research
The PSIAP-AI3 prize competition cooperative agreement aims to utilize artificial intelligence learning techniques to make disparate situational awareness data sources actionable for first responders. Currently, first responders rely heavily on relayed voice communications and their own observations to maintain situational awareness during a mission critical event. As network connectivity becomes ubiquitous, the opportunities to use technology to enhance first responder situational awareness are also increasing. In an ideal situation, first responders will have the option to select their desired hardware in conjunction with the user interface that best suits their needs in order to stay safe during hazardous situations. The R&D produced from this award made under this Notice of Funding Opportunity (NOFO) has the potential to develop technology to bridge the incompatibility between sensor hardware outputs and visualization system inputs by creating an artificial intelligence (AI) platform or middleware solution that can identify, categorize, and distribute data from multiple types of IoT devices that could be used for a first responder's situational awareness.
More about PSCR's Analytics Portfolio and IoT research
Additional information
Please find additional resources about the AI3 funding opportunity below:
View a PDF of the full

Notice of Funding Opportunity

View

FAQs

for the PSRD award

For any questions, contact

PSCR

[at]

nist.gov

(PSCR[at]nist[dot]gov)

with the subject line "PSIAP-AI3"