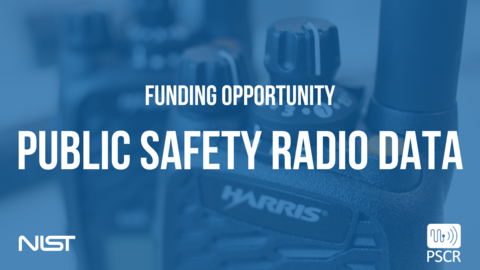 Award announcement
In September 2021, the PSCR Mission Critical Voice research portfolio awarded one applicant the Public Safety Innovation Accelerator Program - Public Safety Radio Data (PSIAP-PSRD) funding opportunity, totaling more than $900,000 in grant funds. The grant intends to collect and publish active public safety radio system transmission data related to the comparison of Land Mobile Radio (LMR) to Long Term Evolution (LTE). This award will have a performance period of two years beginning in October 2021.
Meet the awardees
>> PSCR awarded one recipient for the PSRD funding opportunity! <<
Creating a Shared Public Safety Radio Data Set for Research and Analysis
Need for research
The PSIAP-PSRD grant program aims to collect digital and/or analog radio system usage data to make available for LMR-to-LTE research. LMR transmission data for public safety is currently only publicly available in small, disparate datasets. The collection of, and access to, larger public safety LMR usage datasets will facilitate research related to a transition from LMR to LTE. The characterization of current LMR usage will allow for the production of traffic models, which may be used for future telecommunications system deployments. The R&D produced from this award made under this Notice of Funding Opportunity (NOFO) has the potential to ensure appropriate placement and allocation of telecommunications resources in the future.
Additional information
Please find additional resources about the PSRD funding opportunity below: