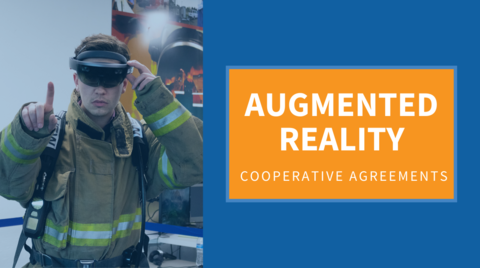 Award Announcement
In spring 2021, the PSCR User Interface/User Experience research portfolio awarded $9.7M for the Public Safety Innovation Accelerator Program - Augmented Reality (PSIAP-AR) funding opportunity. The intent of the cooperative agreements is to accelerate research and development (R&D) around the use of AR for improving public safety user interfaces. These awards will have performance periods of two to three years beginning in May 2021.
Meet the Awardees
PSCR has awarded eight recipients for the AR funding opportunity!
Need for Research
The PSIAP-AR funding opportunity aims to implement technology that will enable researchers to test and develop user interfaces to enhance public safety. Projects funded under the PSIAP-AR program can help achieve this by creating new technology or applying current technology to a specific public safety use case. The R&D produced from the awards made under this Notice of Funding Opportunity (NOFO) have the potential to aid in the future development and adoption of AR systems for first responder operations, with applications in usability, human-computer interactions, cybersecurity, and beyond.
Additional Information
Please find additional resources about the AR funding opportunity below: