Who We Are
The Public Safety Communications Research (PSCR) Division is the primary federal laboratory conducting research, development, testing, and evaluation for public safety communications technologies. It is housed within the Communications Technology Laboratory (CTL) at the National Institute of Standards and Technology (NIST). It addresses the research and development (R&D) necessary for critical features identified by public safety entities beyond the current generation of broadband technology. 
PSCR 2021 Digital Brochure
To learn more about PSCR's mission, key research areas, critical partnerships, and impacts on public safety communication technology, read the PSCR 2021 Digital Brochure.
Strength in Community Partnerships 
PSCR's core communities and partnerships are fundamental to the success of the program. PSCR relies on its collaboration with public safety practitioners — fire, police, and EMS, industry, academia, and local, state, and Federal agencies to guide R&D initiatives. PSCR works to continuously engage these communities and communicate R&D progress and results, regularly through outreach events, conferences, and reports. 
Additionally, through extramural research, PSCR works directly with the solver community to address public safety's urgent need to access the same broadband communications and state-of-the-art technologies that consumers on commercial networks now expect.
Pulling the Future Forward
Since 2002, PSCR has worked to drive innovation and advance public safety communication technologies through cutting-edge R&D. In February 2012, the enactment of the Middle Class Tax Relief and Job Creation Act marked an unparalleled push toward next-generation technologies for public safety. The legislation contained landmark provisions for the development and build out of the Nationwide Public Safety Broadband Network (NPSBN), a dedicated, interoperable network for emergency responders. The Public Safety Trust Fund (PSTF) was established to support the design and implementation of the Network. The Act charged NIST with utilizing up to $300 million of PSTF allocations to establish an R&D program to support the development and deployment of NPSBN. PSCR established the Innovation Accelerator Program to drive R&D and transform public safety communications capabilities.

Technology Roadmaps
to inform R&D
investment decisions

R&D funding to
accelerate research,
development, production,
and testing of key public
safety broadband technologies

Partnerships to
pool expertise &
drive innovation
Strategic Vision
In 2013, PSCR initiated an R&D planning process to determine which technology investments were of highest priority to first responders. Over the course of three days, 150 public safety stakeholders convened to discuss new technology capabilities, feasibility, uniqueness, cost of investment, cost of ownership, and impact. The result was technology roadmaps, which informed the research/technology areas PSCR would pursue; these areas became the research portfolios which comprise PSCR's division structure. To further socialize and validate the R&D Roadmaps with stakeholders, PSCR held Summits; these events and the resulting reports have informed PSCR research initiatives and provided crucial traceability back to public safety requirements and industry analysis.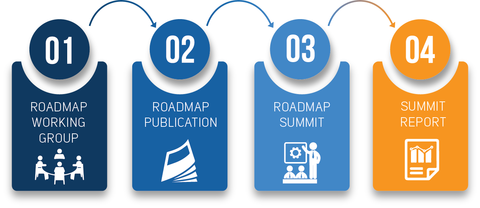 Approach to R&D
PSCR uses a five-step practitioner driven approach to support technology advancements and validation processes:
Requirements – Gathering and defining public safety's unique needs
Specifications/Standards – Developing quantitative requirements and open standards
Measurement and Data – Developing and implementing measurement tools and capabilities, collecting and analyzing measurement and test data, and dissemination of knowledge and data to public safety stakeholders and the general public
Transition – Promoting adoption of standards and standardized equipment through outreach, policy, tools, technical assistance, and grant guidance
Lessons Learned – Identifying issues from transitions that can be fed back into the process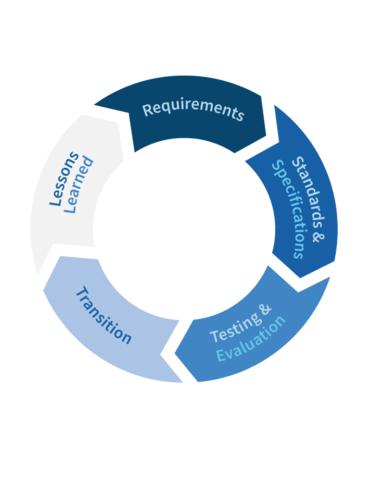 Key Research Areas
The following key research areas were identified as priorities through public safety roadmapping efforts. They are the Research Portfolios which comprise PSCR's research structure. Click an icon below to learn more about projects and goals for each area.