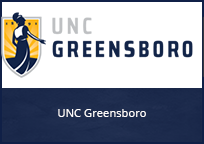 The University of North Carolina at Greensboro
---
In August 2022, the University of North Carolina at Greensboro (UNC Greensboro) was awarded nearly $1.8M for the Public Safety Innovation Accelerator Program 2022 (PSIAP-2022) funding opportunity. 
The current augmented reality (AR) landscape is at a stage where it is now possible to use immersive AR hardware to design and prototype AR user interfaces (UIs) that allow researchers to test in conditions that are close to the environments where such tools will eventually be deployed. By using a modular approach, UNC Greensboro will mitigate risks for implementing these technologies as they become available. As technology progresses, with more advanced AR hardware, UNC Greensboro will be able to finalize the design of modules that rely on such technology.
Meet the team
The University of North Carolina at Greensboro's team is made of the following key personnel:
Regis Kopper, Principal Investigator, is an Assistant Professor of Computer Science at the University of North Carolina at Greensboro. His research centers around extended reality (XR) user experience, Virtual Reality (VR) simulation and applied XR research. His work focuses on improving the usability of virtual and augmented reality systems by designing novel interaction techniques, mitigating visually induced motion sickness, and integrating tangible devices onto XR user interfaces. 
Jason Jerald, Sub-Award Principal Investigator, is CEO at NextGen Interactions and serves on multiple advisory boards. He has been creating VR systems and applications for over 20 years with over 70 VR-related projects across more than 40 organizations including Valve, Oculus, Virtuix, Sixense, MergeVR, NASA, General Motors, Raytheon, Lockheed Martin, three U.S. national laboratories, and seven universities.
Jeronimo Grandi, Co-Principal Investigator, is an Assistant Research Professor of Computer Science at the University of North Carolina at Greensboro. His research interests revolve around Extended Reality (XR) and Human-Computer Interaction (HCI). He is deeply interested in understanding the human factors involved in Virtual Reality (VR), Augmented Reality (AR), and Mixed Reality (MR) experiences, both in individual and collaborative interactions. 
Project overview
First responders constantly face difficult decisions and need to take actions quickly. If they make mistakes, it could be deadly. One of the most important elements for a first responder to do their job is situational awareness, which gives the ability to gain a thorough understanding of the surrounding environment. This leads to better decision making and reduced risk to themselves and the population. 
There is a need for the design of AR UIs that present additional information intuitively and unobtrusively without inducing cognitive overload so that more effective results can be achieved. To this end, UNC Greensboro proposes FirstModulAR, a public safety AR project to accelerate the adoption of AR UIs by first responders. The overall goal is to use existing data in addition to systematic collaboration with first responders to identify areas where AR can most benefit public safety and investigate how to solve for challenges through a modular design approach.
UNC Greensboro's project has four high level objectives: 
Identify public safety use cases that have demand for AR UIs and propose a taxonomy of AR patterns based on input from first responders.
Design a collection of AR UI modules and implement into a range of first responder use cases.
Integrate AR UI modules into public safety use cases.
Evaluate how AR UIs enhance public safety operational capabilities.
Potential impacts of the project
The potential impacts of the project include: 
Decreased response times, costs, and risks
Identification of where AR UIs can most benefit public safety
Reusable modules functional across a wide range of situations
Accelerate adoption of beneficial AR UIs by first responders
Increased performance, transferability, and deployment of AR to field operations
Increased situational awareness, reduction of uncertainty, and improved decision making