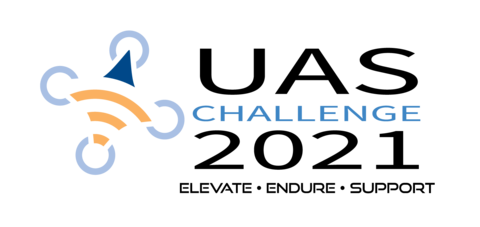 The First Responder Unmanned Aircraft System (UAS) Endurance prize competition from NIST PSCR invited innovators to bring their ingenuity and drone-building expertise to create a drone prototype for first responders. This was a 4-stage challenge, with prize awards up to $588,000 for the top designs. The most outstanding designs from Stage 1 were eligible to participate in the remaining stages of the competition. The Stage 3 Walk-on Contestants were also eligible to compete in Stage 4. The result of the First Responder UAS Endurance Challenge will support the public safety community and its stakeholders.
Stage 4 Winners Announced!
Best in Class Winners

| Category/Winner | Amount |
| --- | --- |
| Endurance: Team AAC had a flight time of 112 minutes and 17 seconds in the "Last Drone Standing" technical flight. | $5,000 |
| Innovation: Team AAC received this award for addressing all stage four criteria, taking into account all drone specifications while maintaining a high regard for the public safety mission. | $5,000 |
| Cost Effectiveness: Endure Air's UAS costs less than $5,000 to build. | $5,000 |
| Weight: Endure Air's UAS was 29.93 pounds (13.58 kilograms), the lightest of the competition. | $5,000 |
| Autonomy:  Team ARCC received this award for the success of its preprogrammed flight paths, obstacle avoidance and automatic orbits. | $5,000 |
| Ease of Use: Endure Air took only four minutes and 30 seconds to put its UAS into an operational state, from packaging to flight-ready. | $5,000 |
| First Responder's Choice: Advanced Aircraft Company and Autonomous Robotics Competition Club: AAC and ARCC were both awarded for their successes in public-safety-focused areas such as responsiveness, special features, and unique design elements. | $5,000 each |
Challenge Results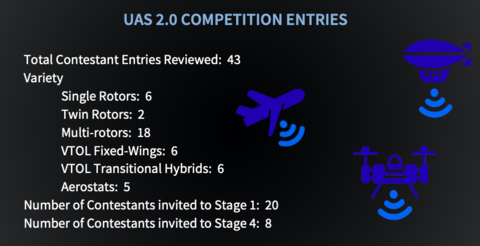 The solutions developed by the four winners will increase UAS duration, payload, transmission rate and total transmission distances. With these new capabilities, the public safety community and first responders will have access to the tools they need to help save lives in search and rescue situations. "It's very challenging to build a drone to the required first responder specifications," said Dereck Orr, chief of NIST's Public Safety Communications Research division. "Given the circumstances and restrictions, 112 minutes of flight time is extremely impressive."
Forty-three teams entered the competition, of which five final competitors spent a total of 14 months designing and building lightweight drones that go beyond today's technical capabilities by flying continuously for 90 minutes or longer with heavy payloads. The prize challenge competitors built their systems with the intention of providing broadband service to boots-on-the-ground first responders when they lack network or bandwidth. This includes servicing areas with a lack of cellular network coverage or where cellular infrastructure has been compromised due to a natural disaster, or areas with limited backhaul connectivity.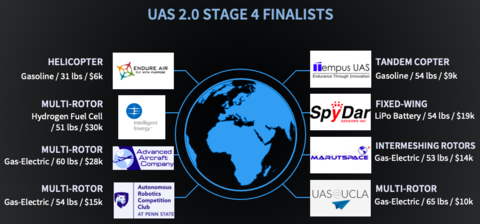 The competition's top prize went to Team Advanced Aircraft Company (AAC), which received $100K for its six-rotor drone with propellers on each arm. AAC specializes in building American-made drones that enable longer flights through their hybrid-electric propulsion system. The company builds UAS devices that are quick to set up and easy to use for its customers, including members of the public safety community. Unlike some other prize challenge competitors, AAC's drone is not a prototype but a product it currently is selling.
"It was just a really great experience being exposed to the first responder community at the live event. We were each assigned two flight crew members to help watch us and record our times, those two guys – one was a sheriff officer and the other was a fireman – those guys, just talking to them, it just made me realize even more how much our technology can help you save lives."
- UAS 1.0 Challenge Participant
Learn about PSCR's UAS 1.0 (Flight and Payload) Challenge.
Challenge Purpose
The purpose of this Challenge is to advance UAS technologies by building and flying drones designed to support first responders. One of the barriers for the public safety community is having access to drones that can fly for long periods of time, ninety minutes or greater, while carrying a heavy payload. Emergency responders can accomplish their mission more efficiently and effectively if the drone flight time for a known payload is maximized. Since the payload capacity, energy source, flight characteristics, and flight time are linked together through design trade-offs, PSCR is exploring ways to optimize drones for increased flight endurance while making it more efficient and flexible for use by public safety.
Vertical take-off and landing (VTOL) UASs provide many different mission capabilities, but their flight time is limited. This challenge explores the design trade-offs that will keep a UAS, and its payload, airborne for the longest time possible while supporting first responders on the ground while they conduct their mission. The advancement of UAS research achieved through this challenge will help support the development and operation of UAS that are intended to host critical tools for public safety missions, such as wireless communications systems.
To find out more information about the challenge and the winners, visit Challenge.gov.