First Responder UAS Endurance Challenge Stage 4 Finalist and 1st Place Winner

Advanced Aircraft Company (AAC) is a Virginia based company solely focused on designing long endurance hybrid electric UAS. The AAC internal team includes a number of highly talented members from industry members such as NASA and DJI.
---
Team Members: Bill Fredericks, Nic Baines, Moshe Hollander, Chris Knox, Paolo Maltez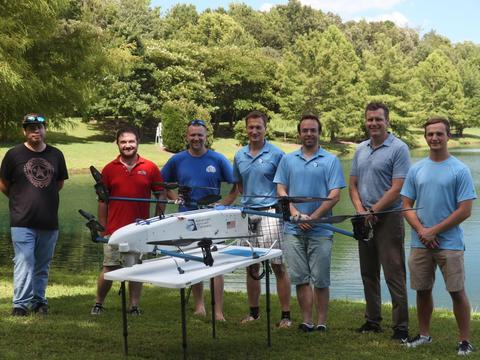 Bill Fredricks is the team lead, CEO, and founder of AAC. Primarily an aeronautical engineer, he has created several unique aircraft designs that have taken flight. Bill leads projects with a results oriented mindset which enabled these aircraft to get to flight faster and less expensively than peers and superiors believed possible. In addition to technical experience gained at NASA, Bill is a veteran. His experience and training as a US Marine Corps Officer has provided significant leadership experience.

Moshe Hollander is a recent graduate Aerospace engineer with internship experience at NASA Ames Research center where he was heavily involved in research work related to the Mars Helicopter Scout and wind-tunnel operations work for the Tiltrotor Test Rig (TTR) program. His honors thesis involved researching aeroacoustics phenomena related to wingtip vortex generation. He graduated with a BE in Aerospace Engineering from the University of New South Wales (Sydney) with Honors Class I.

Chris Knox graduated Cum Laude from Thomas Nelson Community College (TNCC) with an Associates degree in Mechanical Engineering/Design Technology. Key coursework included: CAD modeling, Statics, and UAS Mapping and Photogrammetry. He holds his FAA Part 107 Remote Pilot license and he has 5 years of work experience in the manufacturing industry. As a hobby, he owns his own drone which he uses for videography.
---

The Hybrid Advanced Multi-Rotor (HAMR) Solution
The HAMR UAS is a hybrid electric multi-rotor with a 3.5 hour maximum endurance. The HAMR UAS is apart of AAC's existing product line that is currently in production. The HAMR UAS as it is today will not meet the requirements of the First Responder UAS Endurance Challenge, specifically the 10+ pound payload requirement. The existing HAMR UAS can carry a 3 pound payload for 2.1 hours in hover.
AAC has received feedback from customers asking if we can develop a larger version of HAMR to lift more weight, which coincidently so does this challenge. This challenge is providing the catalyst for AAC to launch into the development of HAMR-XL. HAMR-XL will have a maximum takeoff weight of 54.9 pounds to remain under the Part 107 weight limit.