The future of communications technology for public safety arrives at the Pulse Accelerator. 
Pulse is designed to help emerging technology companies accelerate growth and development that supports the public safety and first responder sectors.
Working together in a collaborative program, selected participants will engage directly with specialists and experts from business, technology and public safety to develop a plan for commercialization of their solution. 
PSCR invites innovators, inventors, entrepreneurs, currently operating or planning to startup as small business to apply to Pulse. The second round of the accelerator, Signal, will run from September 9 to December 9, 2021 with an additional round of the accelerator will occur in 2022. For more information or to apply for the next round in 2022, please visit thepulseaccelerator.com.  
"Come help us address public safety's urgent need to access state-of-the-art broadband communications and technologies. We're excited to offer a virtual accelerator to support your company. You'll learn from specialists and experts while strategically planning your next steps towards commercialization." - Ellen Ryan, PSCR Deputy Division Chief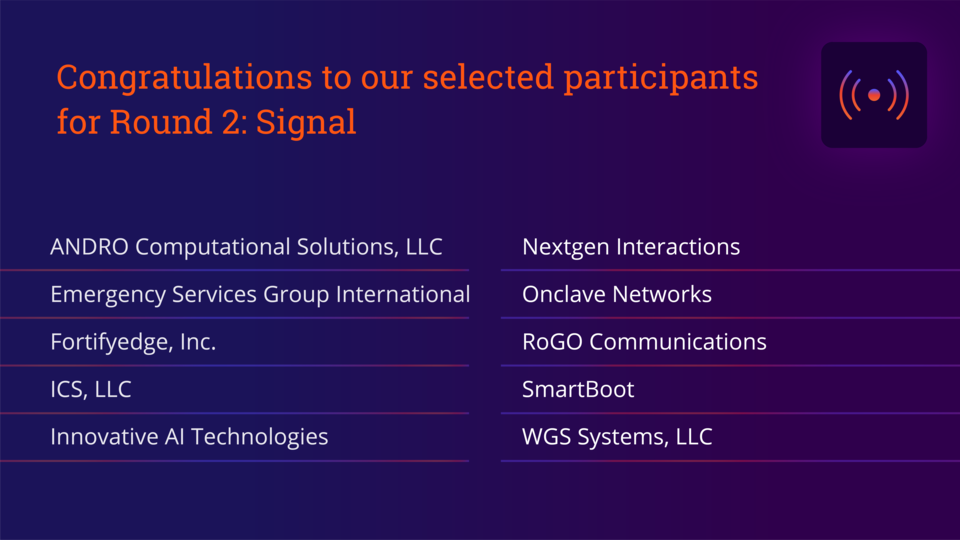 Program Highlights 
Participants pay with only their time, commitment and dedication to working on your business, as the cost of the accelerator is covered by PSCR. 
This 12-week virtual program has been honed by implementers with over 10 years of experience accelerating technology-based businesses. 
Participants engage with an "in the field" business development program featuring a focus on commercialization. This not an academic curriculum. 
Participants receive over 50 hours of ongoing strategic consulting and market research to help validate existing target markets, expanding understanding, and uncovering new opportunities. 
Pulse focuses on non-dilutive capital sources, so the business does not have to give away equity. 
The businesses will work with hand-picked, highly experienced specialists and subject matter experts who are active in their field. 
Participants must be an existing business entity or planning to be one. The business founder(s) and key decision-makers will need to commit to full participation during the sessions and throughout the 12-week process. 
Pulse is hosted by NIST PSCR and powered by Tipping Point Solutions and Boulder Small Business Development Center (SBDC) Foundation.  
Please visit thepulseaccelerator.com for more information about applying and participating.