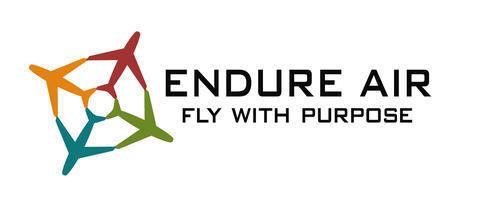 First Responder UAS Endurance Challenge
Stage 4 Finalist and Best-in-Class Awardee
Endure Air Inc. is an Unmanned Aerial Vehicle (UAV) manufacturer from Kanpur India. The company manufactures state-of-the-art Unmanned Aerial Vehicle (UAV)/ drone solutions optimized for user needs. They leverage their decade-long experience in research for the development of novel airframes, autopilots, communication framework, monitoring stations and artificial intelligence (AI) tools.
---
Team Members: Rama Krishna, Chirag Jain, Ram Mohan, Rishi Bajpai, Kartik Agrawal, Vinay Kumar, Sagar Vishwakarma, Vineeth Menon, Yamin Durrani, Dr. Abhishek, Dr. Mangal Kothari, Dr. Ketan Rajawat, Dr. Salil Goel, Dr. Soumya Ranjan Sahoo, and Dr. Nidhish Raj.

Rama Krishna is the team lead for the UAS Endurance Challenge competition and UAV system designer with experience in designing novel hybrid VTOL configurations. Rama is responsible for procurement of parts, keeping design, manufacturing, and components costs under control and has been an indispensable project manager, making sure that project timelines are met, and deliverables are up to the desired standards. He received his Bachelors and Masters of Technology in Aerospace Engineering from IIT Kanpur.

Chirag Jain is a Controls and Simulation Engineer with a broad working knowledge of diverse fields including computer vision, guidance and control, hardware and software integration for unmanned aerial and underwater vehicles. He received his B.Tech. degree in Mechanical Engineering from IIT Patna and is currently pursuing master's degree in Aerospace Engineering from IIT Kanpur.

Ram Mohan, Kartik Agrawal and Vineeth Menon head their different engineering departments. They are responsible for design, manufacturing, and avionics respectively.

Rishi Bajpai, Vinay Kumar and Sagar Vishwakarma constitute their flight testing and operations team. Rishi Bajpai is the chief pilot in command for the helicopter. He has over 100 hours of flight experience with unmanned helicopters.

Dr. Abhishek is an Associate Professor at the Indian Institute of Technology Kanpur Research with over 15 years of specialization in rotary wing aeromechanics, hover capable autonomous Unmanned Air Vehicles, multi-body dynamics, inverse flight dynamics, helicopter and innovative VTOL, air vehicle design, and wind turbines. He received his Masters of Science and Ph.D. in Aerospace Engineering from the University of Maryland, College Park. He mentors the design team of EndureAir.

Dr. Mangal Kothari is one of the controls and guidance experts on the team while holding an Associate Professor position at IIT Kanpur. He received his Ph.D from University of Leicester while collaborating with Massachusetts Institute of Technology (MIT).

Dr. Ketan Rajawat, Dr. Salil Goel, Dr. Soumya Ranjan Sahoo and Dr. Nidhish Raj are other technical mentors of the EndureAir team. Their expertise in communication systems, indoor localization using Signals of Opportunity (SOP), and application of coordinated control to unmanned vehicles are very insightful to the team. 

Yamin Durrani is the business POC  for Endure Air. Yamin has an MBA from Santa Clara University, MS from Texas A&M and bachelor's from IIT Kharagpur. Yamin has over 12 years of managing and growing business in Silicon Valley. He is currently CEO at Kami Vision.

Dr. Abhishek, Dr. Mangal Kothari, Rama Krishna, and Chirag Jain are the directors of the EndureAir systems.
---

UAS Solution

EndureAir came up with Vibhram, a single-main-rotor (SMR) helicopter system. Vibhram is a high endurance rotary wing UAV designed to meet customized payload delivery requirements of the competition. The UAV is equipped with a fully functional and robust Autopilot system which grants its pilot, the freedom to perform their tasks in fully or partially autonomous mode. The Autopilot system also includes multiple redundant fail-safe measures which makes it a reliable tool in critical applications. At EndureAir, we strongly believe in customizability for end users, and hence the Vibhram UAV offers a modular design capable of supporting different payload shapes and sizes.
---
Contact:
Email: rama [at] endureair.tech