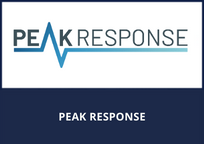 Patient Triage Management Mobile App:

User Study and Demonstration Project
Peak Response
---
Peak Response was awarded a separate, one-year award to conduct a user study of their patient triage management mobile application during mass casualty incidents with the San Francisco Fire Department (SFFD). After training members of the SFFD on their Peak Response software, members will utilize the Peak Response software during small drills for "on-the-ground" practice. After completing this stage of the user study and corresponding software iterations, members of SFFD will then use the Peak Response software during regular emergency response calls over the course of four days to experience using the software with real patients as part of a "Triage Tuesday" practice. Finally, the Peak Response software will be used in a large scale MCI training simulation. Following the demonstration project, they plan to produce an article for emergency medical systems (EMS) journal and develop conference presentations about the findings of the partnership and demonstration project.
Meet the Team
Francis Li, Co-Founder, Peak Response - Principal Investigator*
Britt Jensen Co-Founder, Peak Response*
Jeff Covitz, Paramedic Captain, San Francisco Fire Department & Co-Principal Investigator* 
Niels Tangherlini, San Francisco Fire Department EMS Chief*
Jen Treff, San Francisco Fire Department EMS Training Section Chief*
San Francisco Fire Department, public safety partner*
* Team involved in 2021-2022 Demonstration Project
Tech to Protect Challenge: Seed and Progress Award
Progress Round Amount: $49,000
Seed Round Amount: $30,000
Challenge Award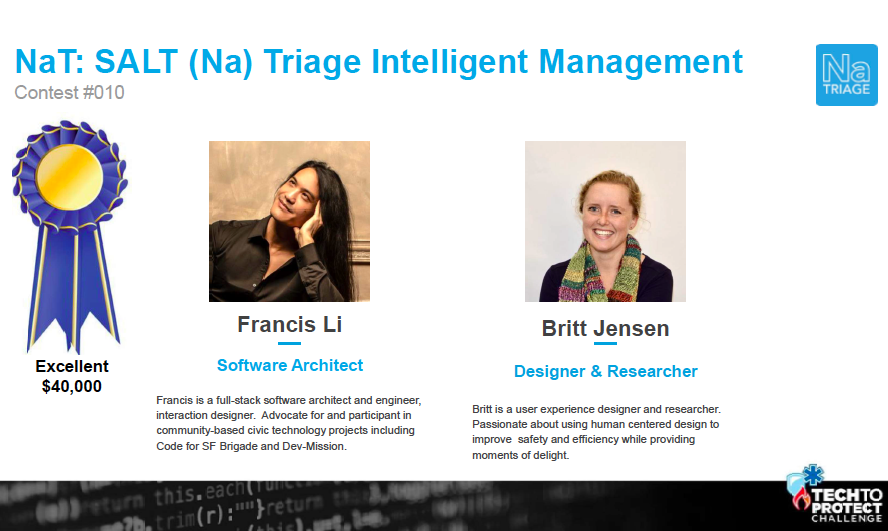 ---
Project Summary
NaT (now Peak Response) improves the efficiency, accuracy, and accountability of patient triage during a MCI. NaT is an open source technology solution that includes a mobile app using speech-to-text for hands-free data entry for first responders and a web dashboard for incident commanders. NaT will be available to EMS agencies of all sizes to ensure broad adoption, regardless of budget, so that all responders can be equipped for a MCI​. NaT will adhere to well established industry standards for data exchange, authentication, and interoperability, allowing all responders to share data with the incident commander.
---