5x5: The Public Safety Innovation Summit
In 2023, PSCR partnered with the First Responder Network Authority to host 5x5: The Public Safety Innovation Summit in San Diego, California, June 28-30. The enthusiasm and commitment to enhancing first responder communications was inspiring. 5x5 was a gathering place to make voices heard and drive public safety communications forward. 
Attendees were able to:
Try out the latest innovations in public safety communications technology.
Learn how technology is being used in the field today.
Share ideas with fellow leaders.
Design the future of responder communications.
5x5―the confirmation of a strong and clear signal.
2023 Keynote Speakers
PSCR and the FirstNet Authority were honored to present the following esteemed keynote speakers: 
5x5 Agenda 
Day One: June 28 
We kicked off day one with keynotes from FirstNet Authority CEO Joe Wassel and San Bernardino County Fire Chief Dan Munsey. Next, we heard programmatic updates from NIST PSCR and the FirstNet Authority and a recap of the CommanDING Tech and UAS Indoor Challenges winners.  
Then it was off to the races with sixteen sessions across seven tracks. Attendees had the opportunity to learn about how public safety technology can assist in every environment, whether indoor tracking, maritime operations, or even virtual reality. That afternoon, attendees also got the chance to see some of the latest tools and services in action during live technology demonstrations.  
2023 5x5 Tracks 
Location Services and Situational Awareness 

Mission Critical Services 

Network Services and Coverage 

Open Innovation and Commercialization 

Public Safety Operations 

User Interface / User Experience  

Secure Information Exchange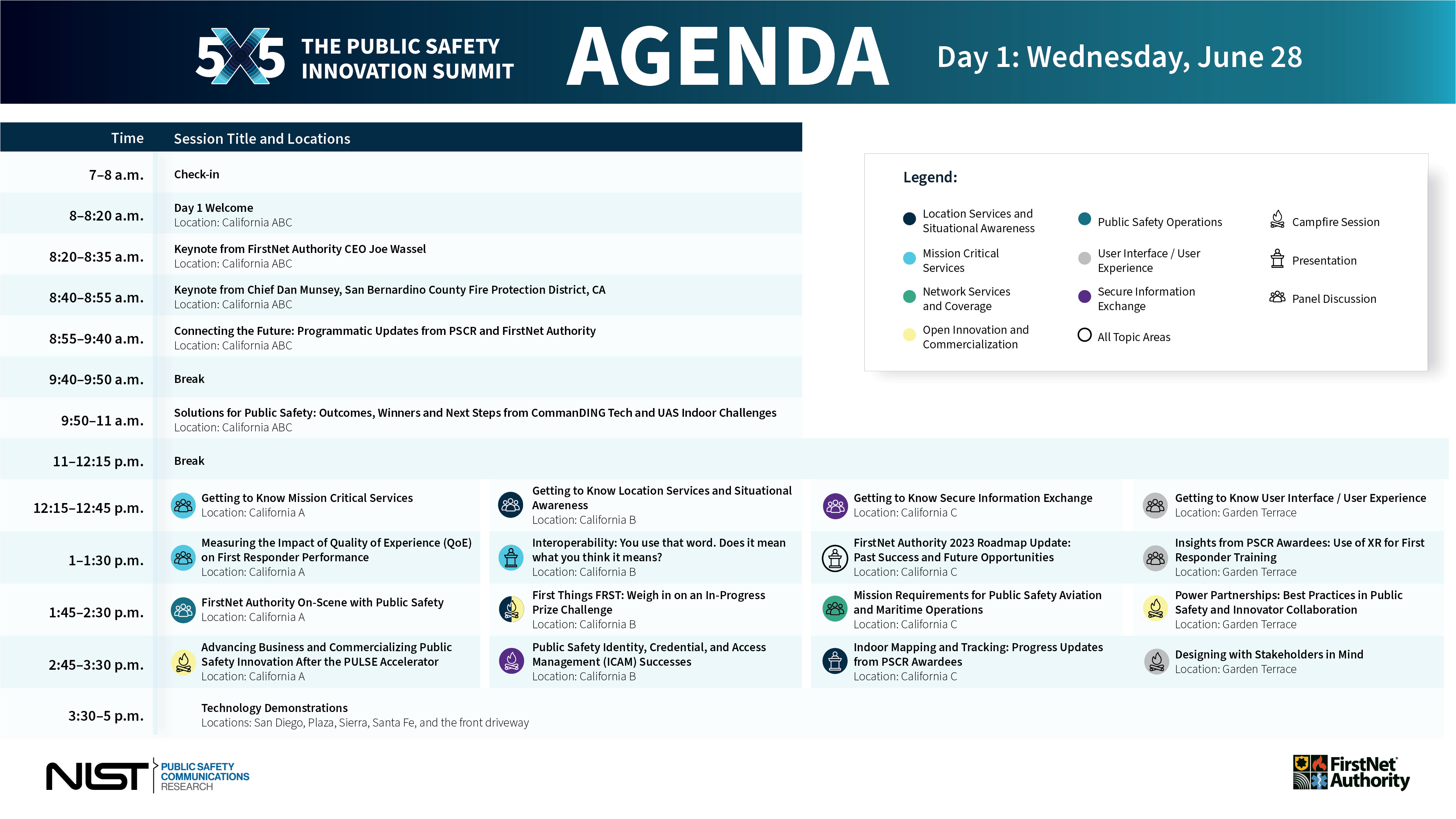 Day Two: June 29 
After an opening keynote from Undersheriff Sylvia Moir, we hosted a panel on international public safety operations. In our sessions, attendees learned about everything from mission critical services to public safety communications policy with congressional staff, to immersive training and testing.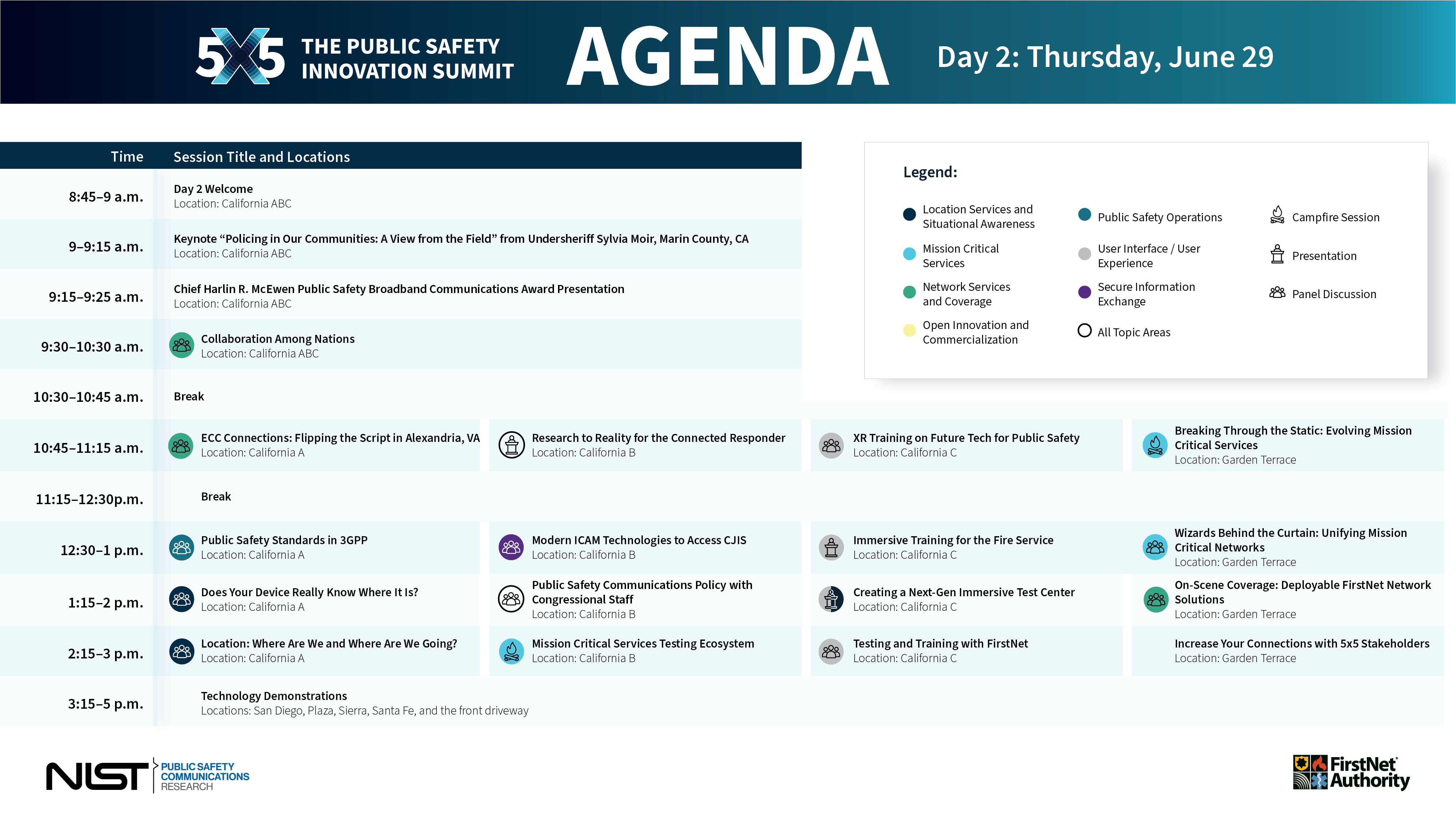 Day Three: June 30 
Our third day of 5x5 hosted a half day of roadmapping activities where you can help PSCR and the FirstNet Authority identify focus areas for future work. 
There were two roadmapping activities throughout the morning:
45 minutes of 12 parallel deep dive discussions into key technology areas, facilitated by FirstNet Authority and PSCR subject matter experts
A two-hour scenario-based tabletop exercise to contemplate current operational gaps, and identify future communications technology capabilities specific to different phases of an emergency response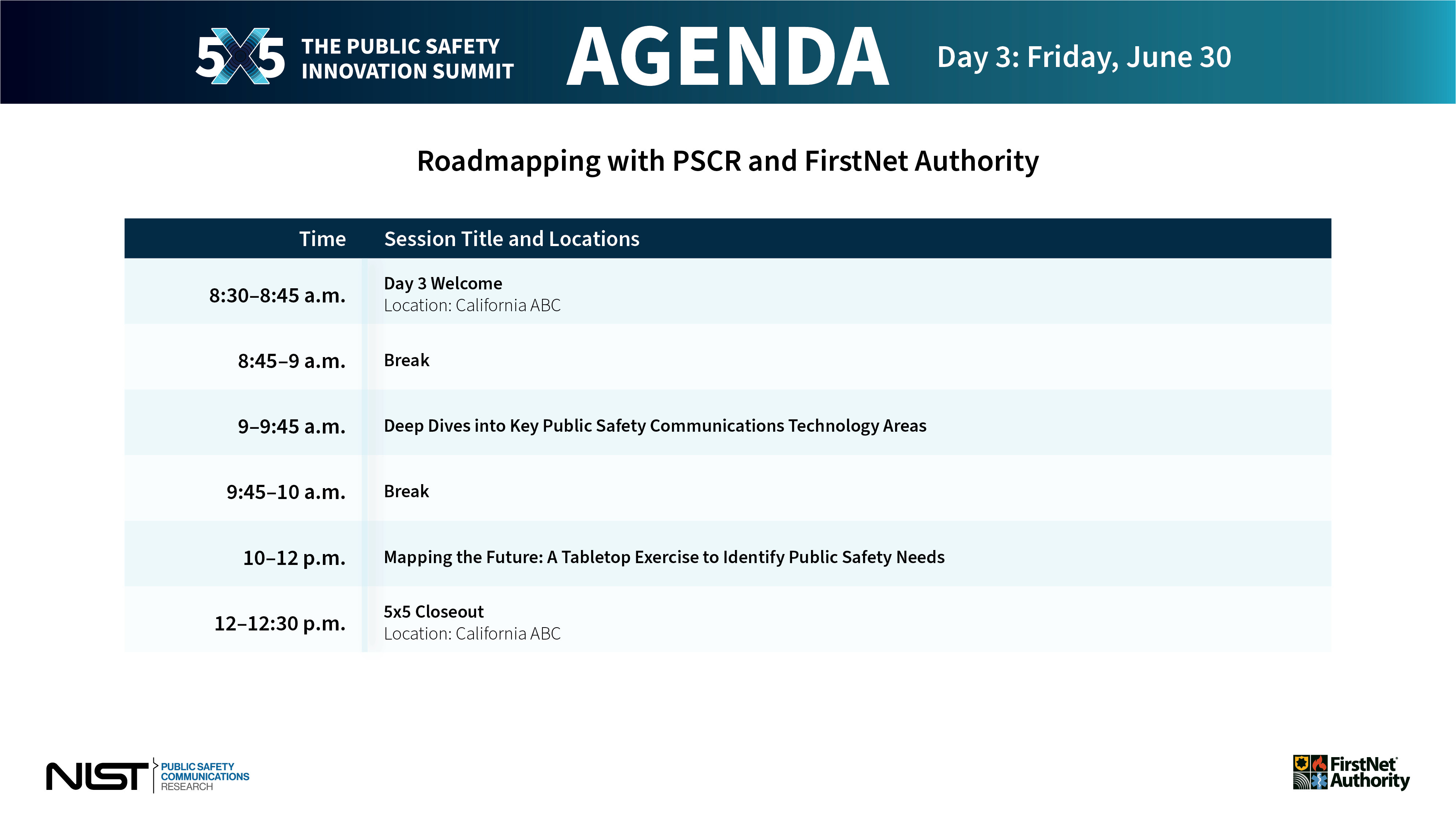 Results from 2023 5x5 Summit
---
Coming Soon
Keep an eye out for further updates on the highly anticipated 2024 5x5: Public Safety Innovation Summit. Excitement is building as this event promises to showcase groundbreaking advancements in public safety and foster collaboration among industry experts. Be on the lookout for more information about this cutting-edge summit, as it's bound to be an invaluable opportunity to explore the latest innovations shaping the future of public safety.