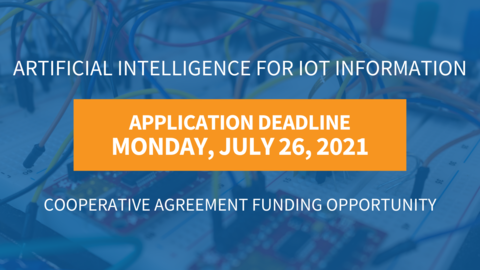 About the AI3 Federal Funding Opportunity
Program Description
The NIST Public Safety Communications Research Division Public Safety Innovation Accelerator Program - Artificial Intelligence for IoT Information (PSIAP-AI3) cooperative agreement is seeking applications from prize administrators to collaborate with technical experts from NIST, industry, academia, and public safety in implementing the AI3 Prize Competition. 
The AI3 Prize Competition aims to develop software and/or hardware components that can be integrated into an end-to-end middleware solution which will ingest, evaluate and categorize data from multiple Internet-of-Things (IoT) devices with different output data formats. 
The solution should be capable of recognizing existing sensor data elements and incorporating previously unknown data elements based on contextual analysis. The aggregated output data will be utilized to improve individual situational awareness for first responders as a communal resource capable of supporting multiple user interfaces and user experiences
Deadline
Full Applications must be received no later than 11:59 p.m. Eastern Time, Monday, July 26, 2021. Applications received after this deadline will not be reviewed or considered.
Overview
The goal of this NOFO is for the award recipient to implement the AI3 Prize Competition and obtain innovative solutions to the question: How can unidentified situational awareness sensor data be classified so that it can be integrated and used by public safety in real time? 
The prize administrator should seek to implement a competition for contestants to develop a platform that can use current sensor information to learn how to categorize data from unknown sensor platforms.     
The following criteria must be addressed by the applicant as part of the challenge:
The data to be identified or categorized must be discrete data (e.g. data points)

The data to be identified or categorized must relate to a first responder's situational awareness (this can include fire service, law enforcement, emergency medical services, or any combination of the three entities)

The data to be identified or categorized must be openly available or must be created or owned by the prize administrator or its affiliated contractors
In addition to implementing a prize competition to develop an AI platform for data identification, the prize administrator will also be responsible for the procurement of—or development of—training, testing, and evaluation datasets suitable to develop the proposed challenge submissions.
Anticipated Amount
In Fiscal Year 2022 (FY22), NIST anticipates funding 1 award for approximately $1.2M with a project performance period of up to 2 years.
View the Informational Webinar
---
How to Apply
More about PSCR's Analytics Portfolio and IoT Research