About the First Responder Uncrewed Aircraft System (UAS) 3D Mapping Challenge (UAS 5.0)
Compete for $987.5K in total prizes plus a chance to demonstrate your prototype at a live competition and use new test methods at a NIST laboratory
NIST PSCR is hosting a four-stage First Responder UAS 3D Mapping Challenge (UAS 5.0) with prize awards of up to $987,500. The goal of this challenge is for contestants to design, build, and operate a cost-effective UAS solution with one or more autonomous or semi-autonomous uncrewed aerial vehicles, and with or without the support of ground robotic vehicles. This challenge builds off the First Responder UAS Indoor Challenge (a.k.a. UAS 4.0) to provide enhanced situational awareness and image detection for first responders prior to entering a building. Successful solutions will provide an accurate, high-quality 3D map in real-time to locate missing person(s) and life-threatening obstacles in an indoor, low-light, GPS-denied, or otherwise constrained environment using a technological mapping method (e.g., simultaneous localization and mapping (SLAM)). This UAS prototype solution must be easy to operate, durable, and provide first responders with a high-quality 3D digital map in real-time to detect human life, obstacles, and hazardous objects in the environment.
Background
There is an urgent need to provide real-time situational awareness to first responders in indoor environments that have been compromised by severe damage due to fire, flood, structural collapse, and other potentially dangerous situations. UAS 4.0 addressed this need by developing a cost-effective uncrewed vehicle that can be used by Incident Command in a constrained environment. However, more can be done to improve UAS as a tool for first responders. Public safety would find a three-dimensional (3D) map of an indoor environment that precisely locates obstacles, damaged structures, people, and other areas or points of interest in real-time or near real-time useful. At present, such a UAS solution is not commercially available at a low cost to support public safety budgets or comply with national security requirements, such as efforts being addressed by Defense Innovation Unit (DIU)'s Blue UAS Cleared List and by the Association for Uncrewed Vehicle Systems International (AUVSI)'s Green UAS Cleared List.
Goals & Objectives
The following are the challenge's primary objectives:  
Design, build, test, and demonstrate UAS solutions that address the primary need associated with flying a small UAS, or a set of UAS, and optional ground vehicles in an indoor, constrained environment. 

Develop innovative solutions that enhance the first responder's ability to gain real-time situational awareness of the indoor environment.   

Develop UAS solutions that increase innovation in the UAS commercial market supporting national security as defined in the National Defense Authorization Act (NDAA) for Fiscal Year 2020, including critical components outlined in NDAA Section 848. "Critical components outlined in NDAA Section 848" refers to the flight controller, radio, data transmission device, camera, gimbal, ground control system, operating software, network connectivity, and data storage as included in NDAA Section 848(a)(1)(B)-(D) and further defined at https://www.diu.mil/blue-uas-policy.
The most outstanding Stage 1 solution concepts will be eligible to participate in the remaining stages and compete in a live event. Award winners from the live event will be eligible to apply and enter a four-month solution accelerator to improve market readiness or further contribute to UAS research.
Please refer to the graphics below for specific key dates and prize amounts. For the most up-to-date contest information, including signing up for challenge updates, visit firstresponderuaschallenge.org/uas5. For official challenge rules, please visit https://www.challenge.gov/?challenge=uas5.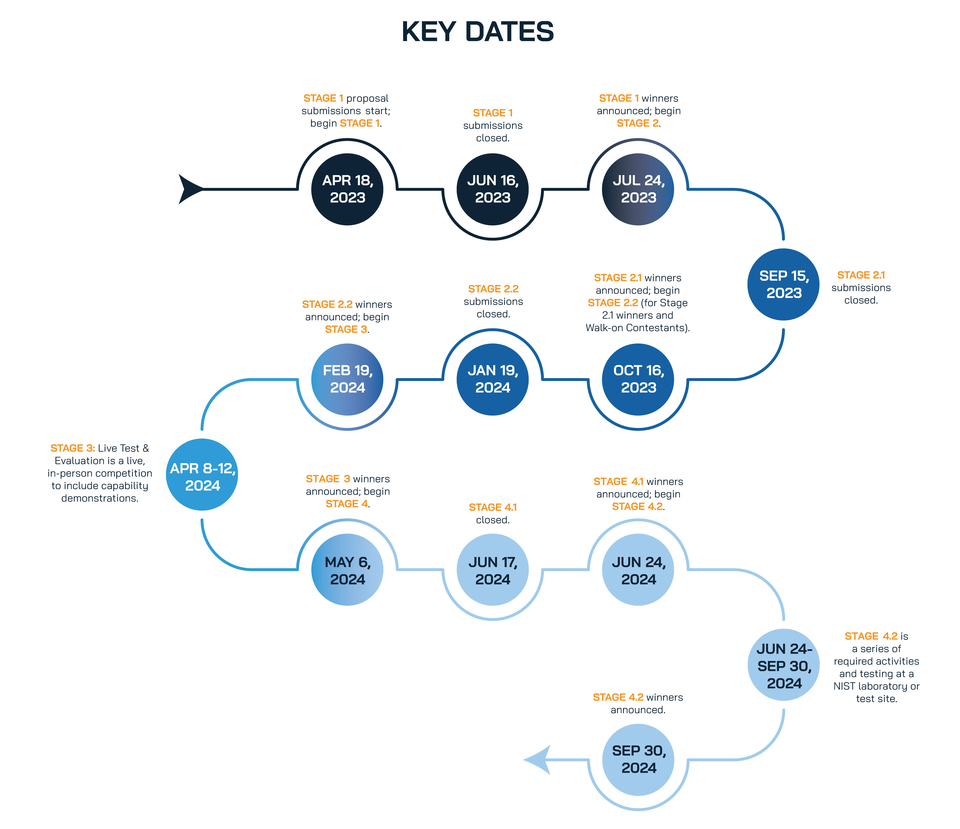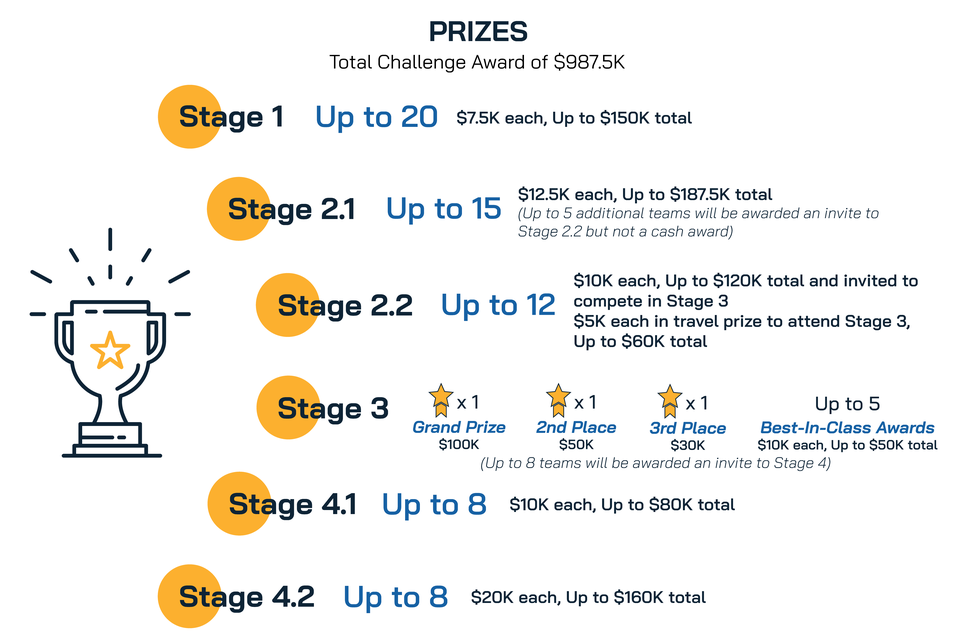 Additional Information
The First Responder UAS 3D Mapping Challenge is being hosted by NIST's PSCR Division and managed by Capital Consulting Corporation, in partnership with Kansas State University, Salina, KS.
To find out more information about the challenge, visit https://www.challenge.gov/?challenge=uas5.