About the First Responder Unmanned Aircraft System (UAS) Indoor Challenge (UAS 4.0)
Compete for $685K in total prizes plus a chance to demo your prototype at a live competition
The National Institute of Standards and Technology (NIST) Public Safety Communications Research (PSCR) division seeks innovative UAS solutions to support First Responders by scouting an indoor structure and providing information about its condition and situational awareness prior to entry. The goal of this challenge is for contestants to design, build, and fly a cost-effective UAS that is easy to control, highly durable, and provide first responders with a high-quality video signal needed to detect human life and assess hazards in the environment. Improvements to UAS usability and flyability, along with more advanced autonomous sensors that operate with no GPS signal, will prove to help UAS operators or pilots save the lives of first responders and the community.
Stage 1 solution description winners
| Winner | Amount |
| --- | --- |
| AAUNO | $5,000 |
| Autonomous Micro Aerial Vehicle (AMAV) Team | $5,000 |
| Autonomous Robotics Competition Club (ARCC) | $5,000 |
| Banc3 | $5,000 |
| Cleo | $5,000 |
| CNA-RIIS | $5,000 |
| DistressNet | $5,000 |
| iAI Tech-NJIT | $5,000 |
| Nalu Technology | $5,000 |
| New Horizon Innovations | $5,000 |
| NYU ARPL | $5,000 |
| Purdue | $5,000 |
| R4-AI | $5,000 |
| Sonalysts UAS Research Team | $5,000 |
| Team FLYT | $5,000 |
| Team ManTech | $5,000 |
| Team xVolent | $5,000 |
| TK6 | $5,000 |
| Uniform Sierra Aerospace | $5,000 |
| vRotors | $5,000 |
Prize challenge details
Please refer to the graphics below for specific key dates and prize amounts. For the most up-to-date contest information, including signing up for challenge updates, visit firstresponderuaschallenge.org/uas4. For official challenge rules, please visit https://www.challenge.gov/?challenge=uas4.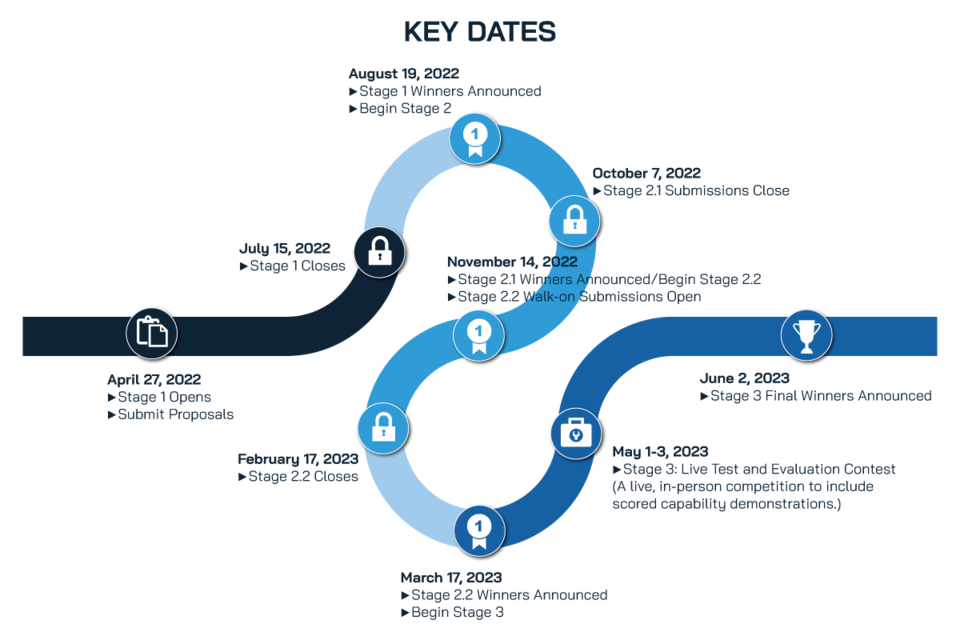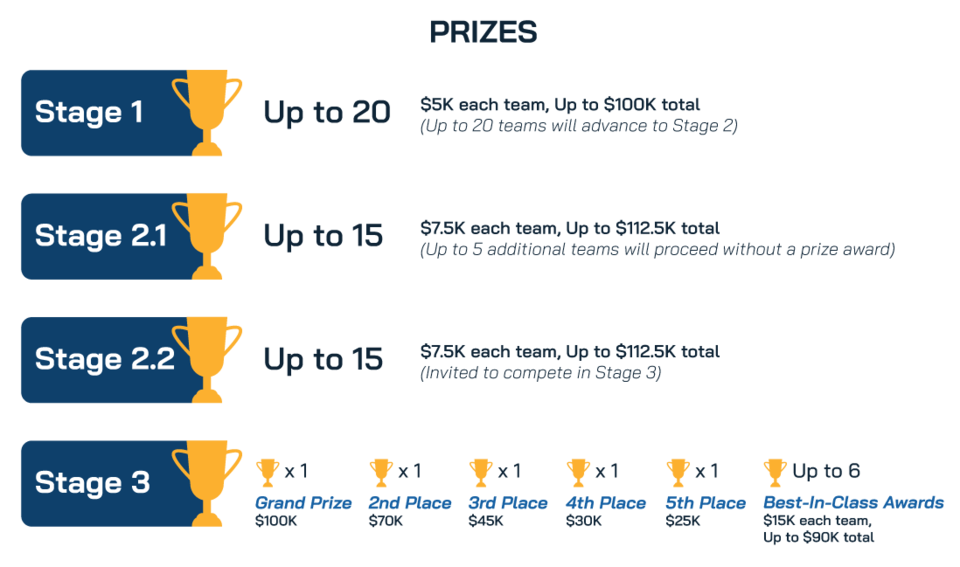 Background information
Search and rescue (SAR) operations that occur in unfamiliar environments may present danger to first responders where they would benefit from situational awareness. For example, SAR operations that take place in an indoor, constrained environment, such as a partial building collapse, require reliable tools to assess the risks to first responders and other SAR resources before entering the building. Those operating UAS indoors may also encounter obstacles, such as limited lighting and lack of global positioning system (GPS), which may require a different response to an incident. Certain scenarios can be life-threatening if humans are sent in first to assess the environment and provide information back to incident command before deploying other first responders on-site. At present, cost-effective unmanned aircraft system (UAS) solutions do not exist that gather information and promote safer initial response efforts while providing valuable intelligence.
Additional challenge information
The First Responder UAS Indoor Challenge is being hosted by NIST's PSCR Division and managed by Capital Consulting Corporation, in partnership with Kansas State University, Salina, KS.
To find out more information about the challenge, visit https://www.challenge.gov/?challenge=uas4.