Welcome to the PSCR Newsroom. 
PSCR strives to keep its stakeholders as well as press up-to-date on its latest developments. The information on this page is meant to aid in discovery of the most recent successes, highlights, and activities from PSCR.
Want PSCR's news delivered right to you? PSCR's email newsletter contains the latest news, R&D project successes, outcomes, funding opportunities, and events from PSCR and its partners. It is delivered every quarter to registered subscribers, with occasional updates to report on topical events. Sign up now!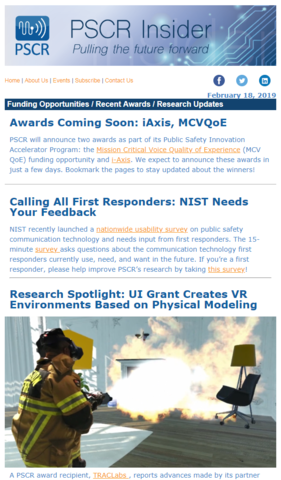 ---
Recent News Coverage about PSCR, its projects, and its staff
Ten Minutes with NIST's Jeb Benson: Tech To Protect Challenge Encourages Safety, Innovation Through 3D, SPAR 3D, May 2019

USA: Tech to Protect Challenge launches national public safety coding contest, Critical Communications Today, April 2019

FirstNet Authority conducting public-safety outreach to inform reinvestment decisions in nationwide system, UrgentComms, April 2019

National Innovation Contest Aims to Improve Public Safety Comms, EMS World, April 2019

First Responders Look for Advanced Haptic Interfaces, SIGNAL, March 2019

NIST Seeks First Responder Input on Emergency Communications, Mission Critical Communications, March 2019

PSCR launches Haptic Interfaces for Public Safety Challenge, Critical Communications Today, March 2019

APCO Announces 2019 Leadership in Policy Award Winners, Mission Critical Communications, March 2019

Hosting an ETSI plugtest: 31 VPNs, 120 engineers, 2,100 test cases, RCR Wireless, March 2019

CES 2019: Cool stuff at Eureka Park, ZDNet, January 2019

App, App, and Away, Critical Communications Today, November 2018

First Responder Exercise, Public-Safety LTE Workshop Highlight Winter Institute, Mission Critical Communications, September 2018

The International Future Computing Association Gathers at Immersed Summit, Cision, September 2018

PSCR Procures Star Solutions LTE Deployable Systems, Cision, September 2018

Telit Selected For AIS FirstNet Routers, CivSource, August 2018

Salina Drone Business Wins International Competition, Salina Post, July 2018

"OGC wants your help automatically processing 3D point clouds to turn-by-turn directions," SPAR3D, July 2018

"NIST Takes Interoperability to New Heights," SIGNAL Magazine, July 2018.

"Can a fake rescue help you save a real person? Researchers testing virtual reality think so," The Denver Channel, June 2018.
"NIST: Michael Ogata outlines methods, challenges for vetting security of mobile applications," IWCE's Urgent Communications, June 2018
"PSCR: Margaret Pinson outlines goals of video-quality research project," IWCE's Urgent Communications, June 2018
"NIST develops virtual reality testbed for first responder user interfaces," Homeland Preparedness News, May 2018.
"Sound the (virtual) alarm: NIST develops virtual reality for public safety," RCR Wireless News, May 2018.
"Point Cloud City: NIST's 3-D indoor mapping model," GCN, February 2018
"NIST Public Safety Communications Research Division Chief Dereck Orr at CES," C-SPAN, January 2018
Media Contacts