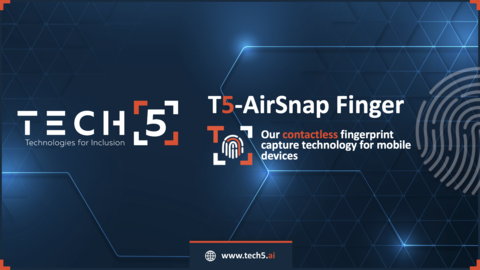 Innovation Award Winner
Total value of prizes received through the mFIT Challenge: $4,000
Phase 1: None (Phase 2 Walk-on Team)
Phase 2: $4,000 Innovation Award
---
About the team
TECH5, an international technology company founded by experts from the biometrics industry, focuses on developing disruptive biometric and digital ID solutions through AI and Machine Learning technologies. A combination of sustained investment and single-minded dedication to developing biometric modalities that capitalize on AI has resulted in TECH5's algorithms being consistently ranked in the top tier of NIST ranking for face, fingerprint, and iris recognition technologies. TECH5's target markets include government and private sectors with products powering Civil ID, Digital ID, and authentication solutions that deliver identity assurance for various use cases. 
Key team members
Rahul Parthe, CTO, Co-Founder, and Chairman of TECH5
CTO, co-founder, and chairman of TECH5, Rahul Parthe, oversees TECH5's product and technology strategy. Rahul has deep expertise in leading research and development of AI-based biometric algorithms, including innovative contactless fingerprint capture and digital ID technologies for mobile devices, such as T5-AirSnap and T5-Digital ID. Rahul graduated with a Master's degree in Electrical Engineering from West Virginia University. He was the key biometric service provider architect of the India Aadhaar program, which has enrolled over 1.3 billion identities with all three biometric modalities. Rahul is also the architect for Indonesia National ID, which has over 200 million tri-modal enrollments. He was also part of other organizations, including Identix, L1 Identity Solutions, Securimetrics, Morpho (Idemia), and InterBio.
Vishesh Mistry, Research Scientist
Vishesh Mistry is a research scientist at TECH5. He participates in and manages research activities across all three TECH5 biometric modalities—face, fingerprint, and iris. He graduated with a Master's degree in Computer Science from Michigan State University (US) under the supervision of Dr. Anil K Jain.
The solution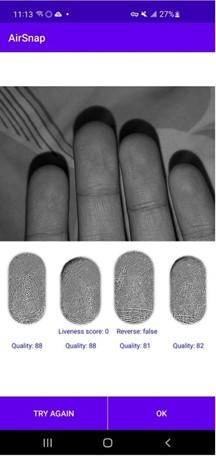 TECH5 applied artificial intelligence (AI) and machine learning (ML) to algorithm development for fingerprint capture. This approach has resulted in high quality and speed, both in image capture and image processing, that efficiently prepare biometric data for further processing in compliance with interoperability standards. T5-AirSnap Finger achieves high-quality image capture and processing with just the use of a smartphone, eliminating the need for a unique device and reducing the amount of special equipment that a police officer must carry.
Key features
AI-based finger detection, including the direction and size of detected fingers and wrong hand detection.
Real-time capture and analysis of frames.
Innovative use of integrated LiDAR and ToF camera systems for correcting 3D distortion and scaling to industry-standard 500 dpi.
Proprietary image processing to generate legacy compliant grayscale fingerprint images.
On-device fingerprint liveness detection.
Fingerprint quality assessment.
On-device creation of ISO-19794-2 compliant MINEX fingerprint templates.