Before Austin Handle entered the Tech to Protect Challenge, he had a major goal in mind—to get his self-made application, Apollo AI (or Apollo), into the hands of emergency responders.
And thanks to competing in the program's Washington D.C. hackathon in September, Handle and his innovation are one step closer to achieving that ambition. He won two prizes for Contest #6: Voice Commands to Virtual Assistants: Hands Free Device Control, totaling to $8,500 in cash prizes to further advance his technology.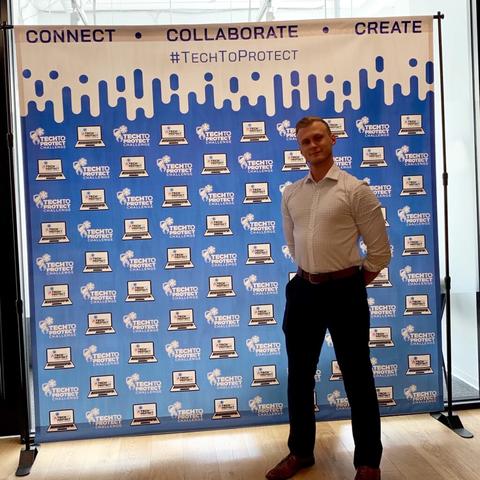 Apollo's Journey to Tech to Protect
Handle says people compare Apollo to Jarvis, the AI assistant from "Iron Man" films, for emergency responders. It's a virtual assistant that talks, texts, and emails important information to public safety officials all on voice command. Handle built Apollo to solve critical communications and technological issues he experienced as a police officer.
"It's pretty much everything that I could imagine we could do without eliminating a dispatch center altogether. Apollo is designed out of that nature and that necessity," said Handle.
After putting a large amount of work put into the hands-free web app and virtual assistant, Handle said he found the contest after seeking grant funding opportunities for his project.
"I stumbled across Tech to Protect the day it launched by chance and saw that Apollo fit into three of the contest areas," said Handle. "I was excited. These are the actual problems that we need to solve."
A Welcoming Experience
During the competition, Handle said he found all of the organizers, volunteers and emergency responders in attendance to be very friendly, helpful and accommodating—even for someone feeling new to a technology competition.
"There's an atmosphere of, 'We want your ideas and we want to work together," shared Handle. "It was apparent from the moment I got there. The team was very welcoming."
Handle also remarked that the keynote speakers were great at motivating competitors and reminding them of the reason they were all there—to make a difference. "I think that that was the best part about the entire thing," said Handle.
After winning the D.C. hackathon, Handle said he absolutely plans to attend the final competition and invest half his reward back into developing Apollo.
"My experience was phenomenal from the beginning, and I wouldn't expect anything less when I go down to the Miami Tech to Protect Challenge."