1st place (Tied) - $25,000 Prize
Top Incident Command Interface – Active Shooter Scenario – $2,500
Top First Responder Interface – Active Shooter Scenario – $2,500
Total value of prizes received through the CHARIoT Challenge: $57,000
---
About the Team
Team members: Michael Carney, CEO, North Star Simulations; Jevon Williams, CTO, North Star Simulations; Jonathan Valderrama, Simulation Developer
Team North Star Simulations (Team NSS) is based in Tulsa, Oklahoma, and comprised of entrepreneurs participating in Tulsa's technology incubator / basecamp, 36°N.
Michael Carney, CEO 
Michael Carney is the designated Official Representative of Team North Star Simulations and is a subject matter expert in immersive technologies, experience design and AR, VR, MR, and XR. He has spent his entire professional and academic careers designing and producing immersive experiences, creating numerous learning-centric applications utilizing immersive technologies. His work has been funded by and delivered to numerous public sector agencies including but not limited to the Department of Defense (DoD), Energy, and FEMA. He holds a master's degree in Modeling and Simulation and a bachelor's degree in Digital Media from the University of Central Florida (UCF). He is also Unity Certified, the professional standard for real-time content creators.
Jevon Williams, CTO
Jevon Williams is a subject matter expert in emerging technologies focused on data, machine learning, artificial intelligence, and immersive experiences. He has leadership experience across a diverse range of tech companies, where he has focused on transforming technologies and teams to deliver consistently high quality, trustworthy and ambitious results with a lean budget. Jevon has helped scale numerous startups to success by providing his experience in software development, analysis, and senior management. His work has been funded and delivered to numerous Fortune 500 companies, including the Hospital Corporation of America (HCA), Aramark. He holds a bachelor's degree in Computer Science and Information Systems from the University of Tulsa.
Jonathan Valderrama, Simulation Developer
Jonathan Valderrama is a Software Engineer and Simulation Developer. He graduated with a master's degree in Modeling and Simulation and a bachelor's degree in Digital Media, specializing in Game Design. He is driven by his problem-solving skills to continuously find solutions to challenging issues.
The Solution
Team NSS's Incident Command Simulation Platform (ICSP) was developed and designed in conformance with the National Incident Management System (NIMS) standards published by FEMA. They focused on the training aspect of the disaster and emergency scenario-based simulations as a storytelling tool to empower Incident Commanders to streamline their operations.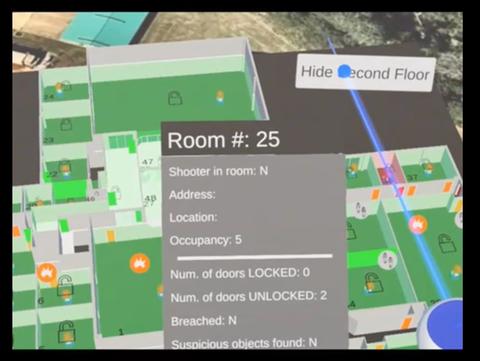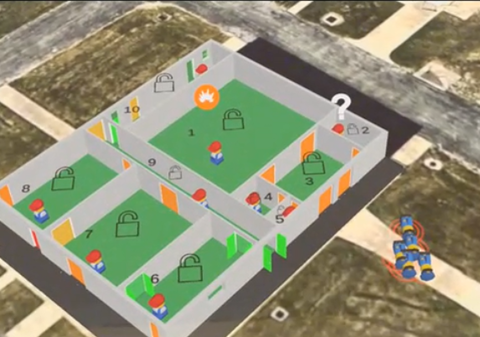 Key Features
Dynamic 3D building model that informs first responders of IoT data




A 3D representation of the operational space visually shows the building layout, door lock conditions, movement detected by video cameras and other smart building IoT sensors. By Including IoT sensor data in a 3D space, an incident commander has direct access to distinguish between conditional states in real-time, understand conditions and make decisions more efficiently.

Augmented Triage cards showing live victim health information


Digital triage cards replace traditional paper cards and can be updated over time as victim conditions change.

Live environmental data panels that highlight internal building conditions


IoT data is used to populate environmental data panels with live camera feeds, door lock conditions, locations of victims, suspects, suspicious items and first response resources.