1st place - $25,000 Prize
Most Creative Sensor Utilization for Smart Cities Data - $4,000
Total value of prizes received through the CHARIoT Challenge: $52,500
---
About the Team
Team Members: Michael Behrens; Deputy Chief (ret.) Barry Luke and Gary Mazzaferro
Team FRITES was a collaboration between colleagues brought together specifically for the CHARIoT Challenge's Emulate Smart City Data for Disaster Scenarios Contest.
Michael Behrens, Senior Architect
Michael Behrens is a Sr. Consultant at Amazon Web Services. He has 25 years of experience supporting commercial and defense contracts as a software developer, engineering lead, and solutions architect. A graduate of the University of Hawaii with an Information and Computer Science degree, Michael has contributed to award winning projects including the DoD premiere training systems (JRTC & CMTC) as well as research projects such as SPAWAR's TADMUS, DARPA's Command Post of the Future (CPoF), and DISA's Global Command and Control System-Joint Integrated Imagery and Intelligence (GCCS-J I3) and ONI's Joint Deployable Intelligence Support System (JDISS). 
Deputy Chief (ret.) Barry Luke, Subject Matter Expert & Simulated Sensor Designer
Barry Luke has enjoyed more than 40 years of progressively responsible work in public safety, with shared emphasis on operational and technical issues; including twenty years of management experience in various metropolitan consolidated public safety communication centers. He started his public safety career at age 16 dispatching for the local police department. He retired in 2008 from the Orange County (Florida) Fire Rescue Department, at the rank of Deputy Chief, which responds to more than 300 calls a day, across 41 fire stations with 1,100 firefighters and 56 telecommunicators. He has extensive disaster management experience operating as a first responder, team leader and manager. Chief Luke is the former Deputy Executive Director of the National Public Safety Telecommunications Council (NPSTC). Chief Luke currently works in the Emergency Department of Evergreen Health Medical Center in Kirkland while also serving on the faculty of the Resuscitation Academy which teaches cardiac arrest survival strategies to EMS agencies throughout North America.  In his spare time, he volunteers with the University of Washington's Emergency Medicine Simulation Lab which provides high fidelity training for resident physicians. He is a published author on topics ranging from emergency communications to EMS system management.
Gary Mazzaferro, Project Lead
Gary Mazzaferro has been an innovator in the distributed computing field for over four (4) decades. He is an expert in a variety of data related technologies (Databases, Distribution, Encryption, PKI, Cloud Computing, Big Data, Storage, and AI). He helped to develop many cloud standards and specifications, including NIST's Cloud Computing Reference Architecture, OGSA, OCCI and Cloud Data Management Interface (CDMI), established the technical baseline for NIST's Big Data Initiative as well as works with computational linguists on language acquisition research. Mr. Mazzaferro also acted as an informal architectural advisor to OpenNebula compute fabric for CERN's Hadron Collider. His last public contribution established the epidemiological framework for RDA's "COVID-19 Recommendations and Guidelines for Data Sharing". He served as a senior developer on the Federated Order of Battle Management project supporting JDISS data migration, 3-tier microservice design, and RHEL security. This experience provided Mr. Mazzaferro with insights into rapid and massive data processing to include correlation of physical sensor data. Mr. Mazzaferro provides data experience, ontology expertise, "high speed, real-time data processing" and innovation to the DCGS-N MDDM project.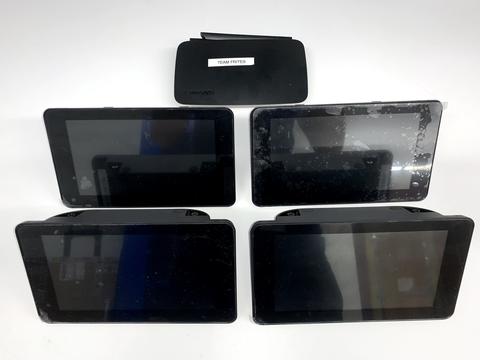 The Solution
The Team FRITES Emergency Scenario and IoT Sensor Simulator (ESI-SSim, pronounced "Easy Sim") is a low cost, easy to use tools providing controlled data streams to First Responder, Augmented Reality development teams and IoT Sensor researchers. The device was constructed using low cost Single Board Computer (SBC) with an integrated 7-inch, touch screen display.
Key Features
(Easy of Use): The Sensor Simulator provides a modern, intuitive, large touchscreen supporting the user interface controlling emergency scenario execution, scenario execution and device configuration. The User interface includes all documentation to use and configure the simulator as well as technical documentation on scenarios, simulated devices' data models and formats
(Support Multiple IoT Messaging Protocols): The Sensor Simulator provides support for MQTT messaging protocols as well as messaging over UPD multicast messaging increasing flexibility to AR teams and other sensor and scenario IoT research.
(Upgradable Scenarios and Sensors via Definition Language): Team Frites Simulator provides a Sensor and Scenario Markup Language (SSML) to revise and add new Scenarios and Sensors via FTP file transfer.