3rd place - $15,000 Prize
Top First Responder Interface – Flood Scenario- $2,500
Total value of prizes received through the CHARIoT Challenge: $53,250
---
About the Team
Team members: Suzanne Borders, CEO; Jad Meouchy, CTO; Brian Wong, Senior Engineer; Stefanie Feldman, Product Manager; Jason Tam, Junior UX/UI Designer
BadVR uses augmented and virtual reality (AR / VR) to empower people to - quite literally - step inside their data. Their next generation, immersive data analytics platform brings data into high definition, illuminating hidden problems and opportunities, making the discovery of insights faster and helping businesses make better decisions.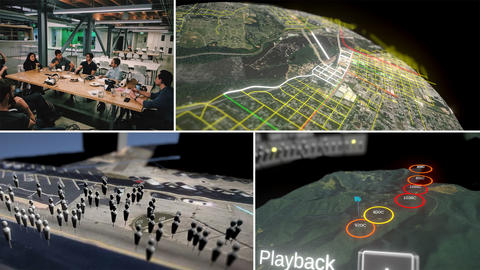 Suzanne Borders, CEO
Suzanne Borders studied psychology and design at University of Missouri, Kansas City and has worked as a Lead UX/Product Designer for 6yr. She specializes in designing big data analytics and visualization, and usability research. Suzanne and Jad have previously worked together, sharing experience with early stage growth. Most recently, Suzanne led UX/UI design at Remine and CREXi, setting a new standard for geospatial visualization in the real estate industry, and overseeing the launch of multiple revenue products. Suzanne was selected as an IEEE N3XT Star Recipient for 2019. 
Jad Meouchy, CTO 
Jad Meouchy holds dual B.S. degrees in Computer Engineering and Psychology from Virginia Tech, and attended the Thomas Jefferson High School for Science and Technology. While in college, he engineered and built the data visualization components of an emergency response simulator that received $2M in public grant funding. Over his 15 year career, Jad has founded and exited multiple startups, and engaged a healthy passion for user-friendly product innovation and engineering architecture.
Brian Wong, Senior Engineer 
Brian Wong received dual degrees in Neuroscience and Biochemistry at University of California, San Diego. His research led him to explore the field of neurofeedback and become a software engineer.  Brian quickly recognized aspects of neurofeedback that could be improved with the incorporation of new technologies. When high-quality VR headsets became consumer-ready, Brian recognized the synergy between immersion and human-computer interaction to improve the effectiveness of training programs.
Scott Barthelmass, Eureka Fire Protection Division Chief
Scott Barthelmass is a 29-year veteran of public safety with experience in the fire service (structural and wildland), EMS, law enforcement, hazmat and search and rescue.  He's an active member of the local community and constantly advocates and acts to improve safety processes and practices.  Scott currently serves as Division Chief for the Eureka Fire Protection District in St. Louis, Missouri.
The Solution
BadVR's solution is a multi-user, holographic command-and-control operations center. Designed for first responders and public safety officers, the platform brings together multi-domain information into one intuitive holistic environment, improving decision-making time and accuracy. 
Key Features
Incident Command and Operator modes: 

Incident command mode is designed for high level coordination tasks. ​Operator mode is designed for ground-level first responder tasks.

 

Deployable anytime, anywhere:

Designed to be an "Ops-center-in-a-box", the solution is designed for quick training and field use with minimal setup and no external dependencies.

Enhanced risk management:

A Heads-up-Display (HUD) stores info that needs to be seen at all times. A compass and minimap shows the user's location in relation to nearby map points.