June 19, 2019
Citation: NISTIR 8255 
The proliferation of advanced data sharing technologies and the emergence of a national public safety broadband network (NPSBN) are revolutionizing the communications capabilities of first responders in the United States. Fire departments, law enforcement agencies, emergency medical service providers, and other public safety entities are beginning to adopt messaging applications, sensors, networked cameras, and other technologies that provide a wealth of real- time information about people, infrastructure, and the incident environment. However, the rapid expansion of these technologies presents important technical, economic, and governance challenges that need to be addressed for these technologies to provide interoperable communication solutions for all members of the public safety community. This report provides an overview of these challenges, focusing on data exchange standards, data access control approaches, and data sharing policy frameworks. It is intended to inform and motivate public safety leaders to create the conditions that will allow first responders to derive maximum operational benefits from the capabilities provided by emerging technologies and the NPSBN, and to encourage technology developers to support more interoperable data sharing technologies for public safety.
---
January 30, 2017
PSCR hosted over 80 stakeholders from industry, academia, public safety, and government to the NIST Boulder campus in August 2016. The August summit was a follow-up to the Public Safety Analytics R&D Roadmap, published earlier in 2016. This document summarizes the main findings from the summit and outlines potential areas for future R&D identified through data collected over the course of the two-day summit.
---
January 19, 2017
Citation: NISTIR 8164
The first Video Analytics in Public Safety (VAPS) Workshop was held on Monday, June 6, 2016, in San Diego, CA as a satellite workshop of the Public Safety Communications Research (PSCR) Broadband Stakeholder Meeting, which was held on June 7-9. The workshop brought together diverse stakeholders interested in increasing the development, reliability, and adoption of video analytics to support the enormous and growing use of video in public safety while addressing critically important social considerations related to education and public trust. VAPS 2016 was organized by NIST and attended by members of the Federal Government, state and local governments, public safety video experts, industry researchers, academics, social and legal considerations experts, and international stakeholders.
---
April 19, 2016
Citation: NISTTN 1917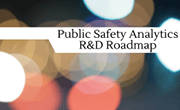 The public safety community is in a period of great transition. Over the next 20 years, technology advancements will increase accessibility of data/video applications to public safety, and allow for the eventual migration of voice communications from disparate Land Mobile Radio (LMR) networks to a nationwide Long Term Evolution (LTE) broadband network, the Nationwide Public Safety Broadband Network (NPSBN). Emerging technologies within this new infrastructure present opportunities and challenges for public safety, and the process of modernizing responder communications requires significant coordination and planning. To facilitate the transition from LMR to LTE, the Public Safety Communications Research (PSCR) program initiated a research and development (R&D) planning process to determine what technology investments are of highest priority to the public safety community.