Third Place (Tied)
Total value of prizes received through the mFIT Challenge: $32,500
Phase 1: $8,500
Phase 2: Third Place (tied, $24,000)
---
About the team
IDENTY provides mobile touchless biometrics technology and solutions for identity assertion in various markets, including financial services, healthcare, telecommunications, enterprise security, public safety and government services.
Key team members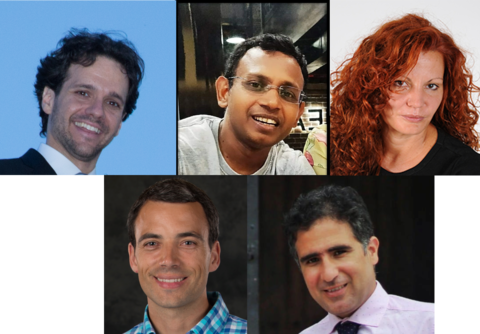 Carlos Vaquero, Technical Lead
Carlos Vaquero is a biometrics expert with more than 15 years of experience, including 5 years in academia and 10 years in industry. Carlos holds MSc and PhD degrees from the University of Zaragoza. He then joined Agnitio, where he continued developing innovative voice biometrics technology for several applications, including law enforcement use cases. When Cirrus Logic acquired the Agnitio mobile and embedded biometrics technology division, he joined Cirrus Logic as the technical leader of biometrics research, managing the team toward developing embedded biometrics technology in mobile devices. Carlos joined IDENTY as technical leader and manager of the research team, where he leads the development of fingerprint and face biometrics technology. He actively participates in collaborative actions toward defining standards and certification procedures.
Antony Vendhan 
Antony Vendhan built strong engineering teams in Silicon Valley and Bengaluru over the last 20 years. Before co-founding IDENTY, he ran Metron Labs, a security company focusing on building integrations for security companies. Before Metron Labs, he was a Technical Lead at Yahoo, responsible for its billing applications. Before Yahoo, he developed a scalable billing application at NetFlix. Antony holds a bachelor's in electrical engineering from Anna University's Government College of Engineering Tirunelveli (GCET).
Marta G. Gomar
Marta Gomar is an innovation manager and a biometrics and security expert with 15+ years of experience. Over the years, she has developed strong expertise and knowledge in mobile embedded biometrics, being responsible for defining and driving the development of mobile biometrics and PAD technologies according to the market requirements. Marta has been strongly involved with many standardization bodies to drive the adoption of mobile biometrics, such as the FIDO alliance and ISO/IEC JTC 1/SC 37, with more than 15 patents filed.
Jesus Aragon
Jesus Aragon is the founder and chief executive officer at the IDENTY Group. He has over 20 years of technology experience spanning over a dozen countries, blending global operating, investing, and entrepreneurship experience in various sectors such as mobile, internet, software, and security. He founded IDENTY with a clear vision to reinvent identity assertion, which he believes will go through a major transformation over the next decade.
Daniel Erro 
Daniel received his telecommunications engineering degree from the Universidad Pública de Navarra (Pamplona, Spain) in 2003 and his PhD in signal theory and communications from the Universitat Politècnica de Catalunya (Barcelona, Spain) in 2008. He joined the Aholab research group at the Universidad del País Vasco (Bilbao, Spain), firstly as a postdoc researcher and later as a research fellow affiliated with Ikerbasque, the Basque Science Foundation. During this period, his research focused mainly on voice technologies, including signal processing and machine learning. In 2016, he left academia and joined the biometrics team in Cirrus Logic (Madrid, Spain), where he contributed to developing identity verification and anti-spoofing algorithms designed to operate on commercial portable devices with limited resources.
The solution
IDENTY's contactless fingerprint capture solution is a software development kit (SDK) for integration on mobile devices. The SDK is designed to work in most environmental conditions and with most available commercial mobile devices. It only requires a 5 Megapixel image sensor (camera), an LED flashlight to capture the fingers, a modest 1 GHz mobile processor and 2 GB RAM to render the fingerprints in a reasonable time. It performs all the processes required to extract the fingerprint images from the mobile device and does not require any server. It supports fingerprint matching both on a server and on the device. IDENTY is part of the NIST CRADA Contactless initiative.
Key highlights
IDENTY's app provides quality prints that enable the extraction of minutiae points for matching against both contactless and contact fingerprints.
The IDENTY user interface is intuitive and easy to use. There are multiple options for print image output, compatible with most fingerprint format standards.
Capture is quick, can capture multiple fingers at a time, and the user can visually review the results.
The app can detect missing fingers and has tracking mechanisms to help capture prints.
The app provides a quality metric for each fingerprint that enables predicting the matching accuracy against contact and contactless fingerprints.
IDENTY app features passive Liveness Detection entirely performed on a device
The liveness technology has been certified by an external FIDO-certified lab according to ISO 30107 levels A and B
IDENTY fingerprint technology is patented and proprietary
IDENTY touchless fingerprint is FIDO UAF certified
IDENTY is a NIST CRADA collaborator, working towards the development and standardization of contactless fingerprint solutions.