1st Place in Phase 4 – Technology Demonstration
Total value of prizes received through the CommanDING Tech Challenge: $205,625.
Phase 1: $7,500
Phase 2: $33,000
Phase 3: $35,000
Phase 4: $130,125; First Place and Several Best-in-Class Awards: Virtual Reality; Virtual Reality User Interface/User Experience; Virtual Reality Data Handling; and Commercial Viability. 
---
About the team
Headwall is a software company that allows for a digital twin of a command center to be instantiated in an extended reality headset. Headwall places video feeds, data visualization, and real world hardware control into an immersive environment. In situations that demand rapid decision making, Headwall enables remote operators to have the same situational awareness as their team members in a physical command center.
Key team members
Geoffrey Bund
Geoffrey Bund, CEO of Headwall Inc, has ten years of experience working in Extended Reality technologies for enterprise. Geoff started his career in 3d film and broadcast engineering, eventually crossing over into XR for entertainment. He was the first US employee of headset manufacturer, Varjo Technologies Oy
where he oversaw the widespread adoption of Varjo and VR technology in multiple DoD and Enterprise spaces. Geoff has been pushing XR out of the lab and into full operational use cases at Headwall. He is helping customers including Fortune 500 financial holdings companies and numerous Federal clients adopt Headwall's cutting edge command center software.
Wyatt Strain
Wyatt Strain, Head of Engineering at Headwall, as a developer focuses on interactive experiences with an emphasis in virtual reality. Wyatt started his career in Hollywood at the Directors Bureau, working under Roman Coppola on commercial projects for Microsoft, Old Navy, Geico, and more. He left Hollywood to lead internal content production teams at Google and discovered a passion for VR as an intersection of art, entertainment, and technology. At the advent of accessible VR, Wyatt transitioned full-time to VR development and has since conceptualized, visualized, prototyped, and built outstanding virtual experiences for a variety of industries. Wyatt is a subject matter expert on Unity development for VR.
Teja Maddali
Teja received his doctorate from the University of Maryland (UMD) in the Department of Computer Science. His research areas lay at the intersection of Human-Computer Interaction, Extended Reality (XR), and accessibility in technology design. As part of his thesis work, he built and studied XR systems to understand design considerations for remote collaboration and learning between distributed groups of experts and novices in physically skilled tasks. Prior to joining UMD, he obtained his Masters in Electrical and Computer Engineering from Georgia Tech. He has also worked in research, engineering, and teaching roles at Massachusetts Institute of Technology, Udacity Inc., and Bose Corp.
Ron Sianicki 
Chief Ron Siarnicki is the Executive Director of the National Fallen Firefighters Foundation (NFFF) and the First Responder Center for Excellence (FRCE). He is responsible for oversight of all NFFF programs, services, and activities, including the National Fallen Firefighters Memorial Weekend, survivor support programs, fire service training and the creation of a national memorial park to honor the brave men and women who have made that supreme sacrifice. He also oversees day-to-day management of the FRCE, a center dedicated to reducing first responder occupational illnesses, injuries and deaths.
Jonathan Gaddy
Jonathan Gaddy has spent his career leveraging scientific and technical expertise to tackle complex challenges in disaster resilience, response, and recovery. He is an experienced emergency management and homeland security executive and educator with proficiency across the entire emergency management policy and programs portfolio. He has been engaged in numerous disaster responses, technological hazards programs, and resilience and mitigation initiatives and is a subject matter expert in emergency management policy, operations, and practice.
The solution
Headwal is a virtual command center dashboard that allows personnel involved in emergency response to glean actionable information from a location and situation. Headwall allows a user to view video feeds, spatial data, maps, 3D information such as LiDAR scans, the location of assets such as personnel and equipment and the status of those assets.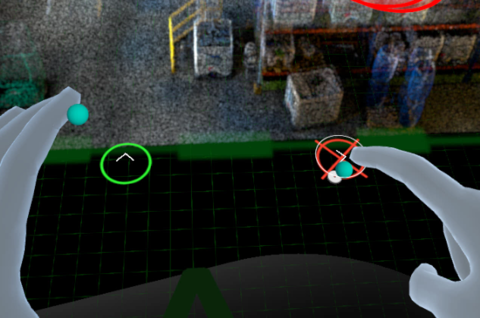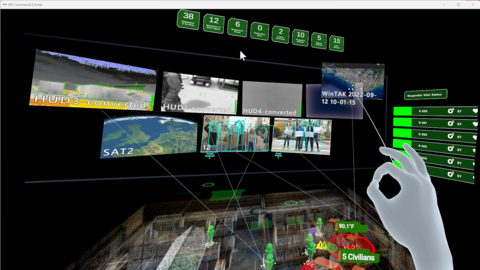 Key highlights
Video Dock: Allows the user to work with many video feeds and arrange them in the best possible way for any given scenario, dynamically change the position, orientation and order of videos.
Eye Tracking: Headwall works with the eye tracking available in most XR and VR headsets. Eye tracking is used to de-clutter the 3D map and present only relevant information to the user. Call signs and biometric information only pop up above a first responder location when the user looks at that responder on the map. 
Clear Room function: Rooms appear red when an emergency occurs with the incident commander being able to indicate the room as green once a first responder has cleared/swept the room 
Safe Forms of Egress Annotation: Accommodates marking of exits between pre plan and post plan states to annotate safe forms of egress.