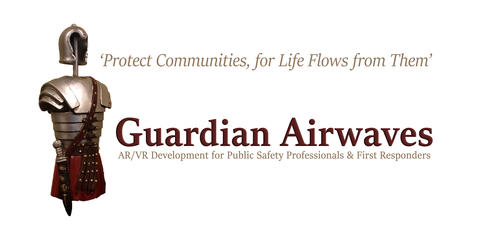 Virtual Reality Heads-Up Display
5th Place - $7,500 Prize
---
About the Team
Team Members: Lisa Revelli, Founder; Herb Love, Adviser, Tactical Firefighting; Casey Seitz, Programmer; Anupam Das, Technical Director & Software Engineer
Guardian Airwaves develop AR/VR training modules and services for public safety professionals and first responders. Their systems deliver 'Precise, Practical, & Portable Training' modules which serve to supplement existing vocational training programs. The goal of integrating AR/VR technology is to deepen subject matter understanding and retention of its users. 
Lisa Revelli is the founder of guardian Airwaves, LLC. Conceptualized the iFIVR and is the designer and technical director. Lisa has over 12 years of design & production experience in various media and platforms. Lisa has worked in Tokyo for MilaiCorporation as a product designer and as a technical director for Speed, Hideaway (Sony Imageworks), Oscar award-winning Geri's Game, Monsters (Pixar), and Matrix Revolutions(ESC). She also was a Sr. Designer on Microsoft's first XBOX title, BloodWake - a naval combat video game, as well as a project manager for 3D simulations for Boeing's Future Combat Systems (inHance).
Herb Love is a retired California Fire Division Chief who held ICS qualifications including Branch Director, Division Supervisor, and Safety Officer 1. He developed an on-the-ground version of a USFS staff ride at the Rattlesnake Fire site (Glenn Country CA, 1953) for CAL Fire and other Fire Department personnel who are involved in wildland and interface firefighting. In the staff ride, participants immerse themselves in the technology, terrain, weather of that fire, and the thought processes of those whose actions and reactions affected the fire's outcome.
Casey Seitz is a programmer who thrives on digital game and simulation engineering technology. He has worked on a variety of strategy games, virtual reality, massive multiplayer online games, playable ads, as well as mobile games. "Guardian Airwaves appealed to me because of their innovative thinking, and their willingness to accept my approach to project solutions."
Anupam Das is a technical director and full stack software engineer with a focus on the convergence of Visual Effects, Simulation and Real-Time computer graphics. He has worked at companies such as Industrial Light and Magic, Activision-Blizzard and Electronic Arts. Anupam sees the potential of using VR/AR to transport people to spaces not easily accessible and solve real world problems in design, manufacturing and training. He has devoted himself to build compelling solutions toward these goals.
---
The Solution
 Key Features
Multiple UI Elements: HUD includes location, thermal and night vision views and elements for user.
Focus on UI Safety: Vital Signs of UI included.
Detailed & Clear Training Video