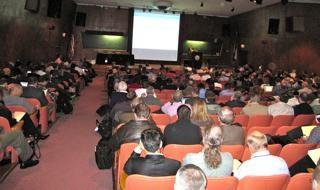 Dec 1 – 2, 2010 (Boulder, CO)
The PSCR program hosted the second 700-MHz Public Safety Broadband Demonstration Network Stakeholder Meeting at the Department of Commerce Boulder Laboratories in Winter 2010. The meeting, which had 300 attendees, gathered stakeholders to discuss planning, scheduling, testing, and stakeholder participation and expectations.
Meeting attendees toured PSCR labs and saw the live demonstration network in action streaming live and recorded video. Public safety practitioners received Long Term Evolution (LTE) training—a two-hour overview of LTE technology. Representatives from Federal, State, Local and tribal public safety agencies, as well as equipment vendors, network carriers, and academia attended the event.
Also at the meetings, the Federal Communications Commission's (FCC) Deputy Chief of the Public Safety and Homeland Security Bureau (PSHSB), Jennifer Manner, said the FCC expects to release an order soon on the nationwide public safety broadband network. Anna Gomez, Deputy Assistant Secretary for Communications and Information and Deputy Administrator for National Telecommunications and Information Administration (NTIA), introduced the opening speaker Greg Schaffer, Department of Homeland Security (DHS) Assistant Secretary for Cybersecurity and Communications.