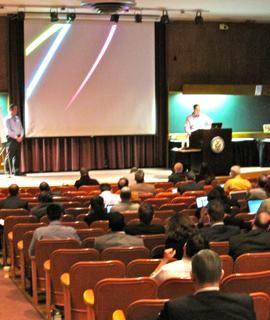 Apr 20 – 21, 2010 (Boulder, CO)
The PSCR program hosted the inaugural Stakeholder Meeting for the 700-MHz Public Safety Broadband Demonstration Network at the Department of Commerce Boulder Laboratories in April 2010. The meeting brought together all interested parties for the first time to shape how the demonstration network will be implemented.
Breakout meetings took two tracks, one focused on public safety expectations and requirements, and one focused on vendor and carrier expectations and technical details. Representatives from Federal, State, Local, and tribal public safety agencies attended the event. In addition, vendor, carrier, academia, and public safety were at the meeting.
Participants in breakout sessions voiced their expectations for a nationwide public safety broadband network and for the demonstration network. Demonstration and evaluation tests also were discussed.