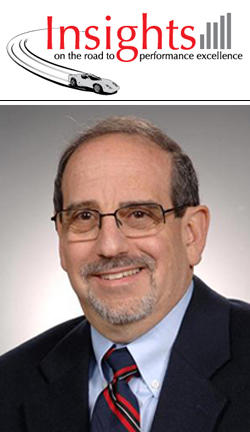 May 2010
The 22nd annual Quest for Excellence® conference is history (April 12–14, 2010). But once again I came away inspired by the high performance of Baldrige Award recipients, having learned more from the leaders of these role-model organizations than I had anticipated (and my expectations are high!). I would like to share the following themes I perceived in the presentations by leaders of organizations across the diverse sectors.
Quest presenters made very clear the relationship between and the blending of quality tools and the Baldrige Criteria as an overall management framework. The use of Baldrige to select strategies and processes is exquisitely supported by process improvements the organizations have made through ISO (International Organization for Standardization) registration and their use of Six Sigma and Lean methodologies. And the overarching message I heard was that performance improvement starts with vision, translated to strategy, followed by the use of quality tools to design and implement efficient and effective processes that yield customer value and business success.
I have rarely seen an organization in which internal communication was not an opportunity for improvement, no matter how mature its communication processes were. But the organizations at Quest got it. In every case, they conveyed how internal communication begins with personal communications from the most senior leader of the organization. And these communications from the heart reach every employee in a mode comfortable for the employee, including face-to-face exchanges, e-mails, Web messages, and blogging. And in every case, they have kept two simple communication goals in mind: transparency and engaging the hearts, minds, and hands of every member of the workforce.
Each of these organizations knows how to engage its workforce. Each knows that the culture of an engaged workforce stimulates the engagement of customers, who, in turn, are loyal and committed to the organization and who sustain it through a recession.
Measurement and analysis as a foundation for performance improvement and performance excellence have been mastered by these organizations. Key metrics are tied to accomplishing strategy and to serving key stakeholders. Those metrics at the organizational level are cascaded through subunits and departments and down to individuals, so that every person feels a commitment and has a line of sight to what makes the organization succeed.
By far the most impressive attribute of this year's Baldrige Award recipients is their sense of community. These organizations truly know the meaning and benefits of social responsibility. They have shown that being a good citizen is good business. For example, Honeywell Federal Manufacturing & Technologies provides Honeywell Hometown Solutions, defined and focused areas in which the company serves its local community. MidwayUSA has established a Performance Excellence Group in Columbia, Missouri, to raise the performance of every sector of its local economy. What's more, this small business is offering its blueprint for performance improvement and challenging every other community in the United States to follow its lead. AtlantiCare is successfully engaging its community in improving health by building trusting community relationships and making health care available in nontraditional settings arranged with organized labor and key employers in its region. Heartland Health is addressing the social factors that lead to poor health practices in its region, with its emPowerU initiative mobilizing students in the local schools to make a difference. Finally, while the Department of Veterans Affairs Cooperative Studies Program Clinical Research Pharmacy Coordinating Center exists to serve its customers, who conduct clinical trials, the Center's efforts make it clear who its community members are: the veterans who have served our country and now should be served by us in appreciation for what they have done for us. This message is reinforced every day at the Center, as employees enter the facility and walk past a wall full of pictures of their family members who have proudly served in the U.S. military.
And finally, I learned a new word—a word that embodies a practice I've been employing for years. My colleagues on the Baldrige staff know that when I approach them exclaiming, "Have I got an opportunity for you!" they're about to hear a request that can be turned down only if they can cite a significant conflicting commitment. Well, I now know what to call these "requests," thanks to a word that CEO Larry Potterfield of MidwayUSA shared with all Quest attendees: "voluntoldthem." Should this be added to Wiktionary?
Resources
Baldrige Excellence Framework
Baldrige Excellence Builder
Blogrige
News
Sustainability Is Synonymous with Change (April 2010)
Archived Columns
---
You need to have Acrobat Reader installed on your computer to view the PDF file. If you do not have Acrobat Reader installed on your computer, download the program at http://get.adobe.com/reader. People with visual disabilities can download tools and information at http://www.adobe.com/accessibility to help make Adobe PDF files accessible.