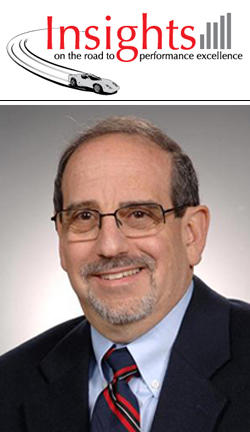 April 2010
Welcome to the new Baldrige Performance Excellence Program Web site and to my first Insights on the Road to Performance Excellence column, which will be a monthly feature. Early in my career with the Baldrige Program (starting in 1991), it became clear to me that businesses receiving the Baldrige Award were characterized by several commonalities. One was that they never stood still. An indication of that characteristic was their extreme dedication to organizational and personal learning and innovation. And over the years since 1991, as we all know, the pace of change has accelerated. Likewise, the Baldrige Criteria changes have accelerated to meet the needs of representing the leading edge of validated management practice.
 
Today, we take another major step forward in the Baldrige Program's use of 21st century technologies with our new, more interactive Web site. It follows other recent improvements in ways for you to interact with us: Blogrige, the Baldrige blog; twitter streams from the Baldrige Program; several Baldrige discussion groups on LinkedIn; and Baldrige videos on YouTube. Look for further enhancements in coming months.
 
While Web 2.0 is a significant improvement, it is not a sufficient change to meet the current challenges we all face. I recently took the world's quickest course in change management. I have taken others, but never a course this short (just two pages)! Here are the six steps: a stakeholder analysis, an involvement plan, a metrics plan, a training plan, a culture change plan, and a communications plan. How do you stack up against these six steps? I can report that the Baldrige Program is making strides in many of these areas with our current strategic plan. We have not yet reached excellence, but we sure hope we are somewhere on the road toward it. Here are some of the actions we currently are taking to address a focus on our customers and stakeholders. We are exploring several strategic collaborations with organizations in the health care, education, and small business sectors. We are writing a book, tentatively titled Baldrige 20/20, An Executive's Guide to Baldrige (look for it later this year). We are establishing a Baldrige Fellows Program for rising senior executives. We are working with four state programs to develop training curricula for education institutions and manufacturers. And we have just completed Lean training for our staff and are using value stream mapping to analyze a number of our key processes, with an eye toward both simplifying the processes and improving the work environment for our workforce (staff and volunteers).

To close out my first column, let me share with you three changes I think your organizations should consider—changes we anticipate addressing in the 2011–2012 Criteria for Performance Excellence. Please feel free to comment on these change areas and others you think might be important. Also, you might want to get a jump start by thinking about your own efforts in these areas. First, expect to see greater expectations for entrepreneurship in all organizational settings. Second, expect a stronger focus on customer listening, including using information that is "free" on the Web. (What are your customers tweeting about you?) Look for enhanced opportunities to interpret what your customers are saying as sources of innovation for your organization. Also, consider how you use all this information in your marketing plans. And third, look for tighter ties in the Results Category between process and product/service outcomes and between workforce- and customer-focused outcomes. 

Once again, welcome, and please join me as we share insights on the long and winding road (agility dictates curves!) to performance excellence. Oh, and while you're at it, gain some added insights at Quest for Excellence XXII on April 12–14, 2010. If you can't make it in person to Quest, check out our Virtual Quest options.
Resources
Baldrige Excellence Framework
Baldrige Excellence Builder
Blogrige
News
Archived Columns
---
You need to have Acrobat Reader installed on your computer to view the PDF file. If you do not have Acrobat Reader installed on your computer, download the program at http://get.adobe.com/reader. People with visual disabilities can download tools and information at http://www.adobe.com/accessibility to help make Adobe PDF files accessible.