Introducing a Systems Perspective for Your Organization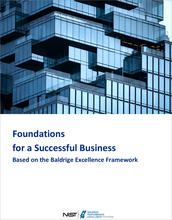 Leading an organization is complex and often chaotic. Managing that complexity well requires a plan, tools, and time. Foundations for a Successful Business introduces the basic elements of a time-tested framework from which businesses grow and thrive. For decades, the Criteria for Performance Excellence® (part of the regularly revised Baldrige Excellence Framework®: Proven Leadership and Management Practices for High Performance) have served as a blueprint for successfully managing and sustaining organizations.
Whether your organization is new, is growing, or has existed for many years, it faces daily and longer-term challenges. It also has strengths that have served you well so far. Foundations for a Successful Business helps you identify and leverage your strengths and prepare to face your challenges. As a result, you will be better able to position your organization to succeed—to accomplish your mission and achieve your vision—with a sense of greater clarity and with alignment among your leaders, employees, customers, and key partners. 
Take Your First Step In A Performance Improvement Journey
Foundations for a Successful Business describes organizational success in seven fundamental areas that apply to any corporation, nonprofit, government, or academic institution. It provides a "golden thread" that ties various parts together into a coordinated system. The content in this overview can also be found in a series of interactive modules.