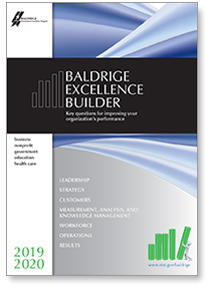 2019–2020 edition
Why Use the Excellence Builder?
The Baldrige Excellence Builder is based on the Baldrige Excellence Framework and its Criteria for Performance Excellence. Use the Excellence Builder to
Assess your organization against the most important features of organizational performance excellence
Learn about the Baldrige Excellence Framework
Key Questions
The Baldrige Excellence Builder helps you understand how well you are accomplishing what is important to your organization:
Are your processes consistently effective?
Do your approaches address your organization's needs?
How good are your results?
Is your organization learning and improving?
Contents
About the Baldrige Excellence Builder
Core Values and Concepts
Baldrige Excellence Builder
Assessing Your Responses
Assessment Rubric
Glossary of Key Terms
What's Next
Give Us Feedback
After you use the Excellence Builder, baldrige [at] nist.gov (subject: Baldrige%20Excellence%20Builder, body: ) (tell us about your experience).
Resources
Purchase Baldrige Excellence Framework Business/Nonprofit, Education, Health Care
2017-2018 Baldrige Excellence Builder PDF
Baldrige Key Terms
Self-Assessing
Baldrige Improvement Tools
The Baldrige Criteria 101 Word
Related Links
How Baldrige Works
Baldrige Impacts
Self-Assessing Your Organization
Baldrige Products and Services
Baldrige Award
Baldrige Award Recipient Listing
Baldrige FAQs
Creador de Excelencia Baldrige Word -- This Spanish version of the 2017-2018 Baldrige Excellence Builder was provided by Maria DiazFonseca (diazfonseca.ms [at] gmail.com). Please contact her directly with any questions or comments.