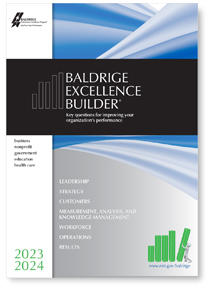 2023–2024 edition
Free Download PDF
Purchase Bulk copies (10 per pack)
Why Use the Excellence Builder?
The Baldrige Excellence Builder® is based on the Baldrige Excellence Framework® and its Criteria for Performance Excellence®. Use the Excellence Builder to
Assess your organization against the most important features of organizational performance excellence
Learn about the Baldrige Excellence Framework
Key Questions
The Baldrige Excellence Builder® helps you understand how well you are accomplishing what is important to your organization:
Are your processes consistently effective?
Do your approaches address your organization's needs?
How good are your results?
Is your organization learning and improving?
Contents
About the Baldrige Excellence Builder®
Core Values and Concepts
Baldrige Excellence Builder
Assessing Your Responses
Assessment Rubric
Glossary of Key Terms
What's Next
Give Us Feedback
After you use the Excellence Builder, baldrige [at] nist.gov (subject: Baldrige%20Excellence%20Builder, body: ) (tell us about your experience).
Resources
Purchase Baldrige Excellence Framework® Business/Nonprofit, Education, Health Care
Previous Baldrige Excellence Builder® Versions: 2021-2022, 2019-2020 (PDF)
Baldrige Key Terms
Self-Assessing
Baldrige Improvement Tools
The Baldrige Criteria 101 Word
Foundations for a Successful Business
Related Links
How Baldrige Works
Baldrige Impacts
Self-Assessing Your Organization
Baldrige Products and Services
Baldrige Award
Baldrige Award Recipient Listing
Baldrige FAQ
Non-English Versions
Japanese
Baldrige Excellence Builder Word (2021-2022) 
Questions/Comments Contact: susumu.kurose [at] gmail.com (The Global Quality Forum)
Spanish
Creador de Excelencia Baldrige Word (2017-2018)
Questions/Comments Contact: diazfonseca.ms [at] gmail.com (Maria DiazFonseca)