Are We Making Progress?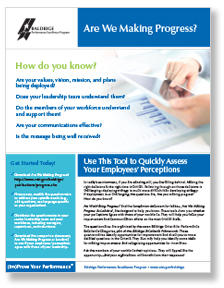 Are We Making Progress? PDF (Revised 2015)
Deploying your organization's strategy can be much more difficult than developing it. Based on the Baldrige Excellence Framework, this easy-to-use questionnaire and performance measurement tool will help you
assess your organization's performance and learn what you can improve
focus improvement and communication efforts where your workforce feels they are most needed
Results from the 2011 Board of Examiners PDF
Results from the 2002 and 2003 Board of Examiners PDF
Use these summaries of responses from members of the Board of Examiners for the Baldrige Award to
compare your organization's progress toward performance excellence with that of others in the business, education, health care, and nonprofit sectors
compare the perceptions of your workforce with those of employees in other organizations
set priorities for performance improvement
You may use and customize Are We Making Progress? at no cost, but please acknowledge the Baldrige Performance Excellence Program on copies that you distribute under your own logo.
Find out how your senior leaders answer the questions asked in Are We Making Progress as Leaders?
Resources
Purchase Baldrige Excellence Framework Business/Nonprofit, Education, Health Care
Baldrige Excellence Builder
Baldrige Key Terms
The Baldrige Criteria 101 Word
Related Links
How Baldrige Works
Baldrige Impacts
Baldrige Products and Services
Baldrige Award
Baldrige Award Recipient Listing
Baldrige FAQs