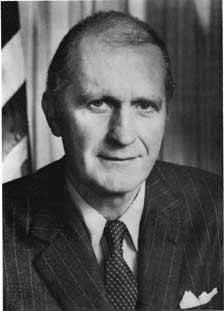 Malcolm Baldrige
26th Secretary of Commerce
"The economic liberty and strong competition that are indispensable to economic progress were principles that "Mac"Baldrige stressed..."
Ronald Reagan
Malcolm Baldrige was nominated to be Secretary of Commerce by President Ronald Reagan on December 11, 1980, and confirmed by the United States Senate on January 22, 1981. During his tenure, Baldrige played a major role in developing and carrying out Administration trade policy. He took the lead in resolving difficulties in technology transfers with China and India. Baldrige held the first Cabinet-level talks with the Soviet Union in seven years which paved the way for increased access for U.S. firms to the Soviet market. He was highly regarded by the world's most pre-eminent leaders.
Leading the Administration's effort to pass the Export Trading Company Act of 1982, Baldrige was named by the President to chair a Cabinet-level Trade Strike Force to search out unfair trading practices and recommend ways to end those practices. He was the leader in the reform of the Nation's antitrust laws.
Baldrige's award-winning managerial excellence contributed to long-term improvement in economy, efficiency, and effectiveness in government. Within the Commerce Department, Baldrige reduced the budget by more than 30% and administrative personnel by 25%.
Prior to entering the Cabinet, Baldrige was chairman and chief executive officer of Scovill, Inc., Waterbury, Connecticut. Having joined Scovill in 1962, he is credited with leading its transformation from a financially troubled brass mill to a highly diversified manufacturer of consumer, housing and industrial goods.
Baldrige began his career in the manufacturing industry in 1947 as a foundry hand in an iron company in Connecticut and rose to the presidency of that company by 1960. During World War II, Baldrige served in combat in the Pacific as Captain in the 27th Infantry Division. He was born in Omaha, Nebraska and graduated from Yale University with a bachelor's degree in 1944.
Baldrige worked during his boyhood as a ranch hand and earned several awards as a professional team roper on the rodeo circuit. He was a Professional Rodeo Man of the Year in 1980 and was installed in the National Cowboy and Western Heritage Museum in Oklahoma City in 1984. He has also been recognized in the Pro Rodeo Hall of Fame as a "notable" in 1988 and as "man of the year" in 1981.
Malcolm Baldrige died July 25, 1987 in a rodeo accident in California. His service as Secretary of Commerce was one of the longest in history. He is said to have been possibly the most colorful Secretary of Commerce and one of the most beloved. He is survived by his wife Margaret and his two children.
Baldrige is quoted as saying, "Success is finding something you really like to do and caring enough about it to do it well."
Related Links
Malcolm Baldrige National Quality Improvement Act of 1987
Baldrige Program History