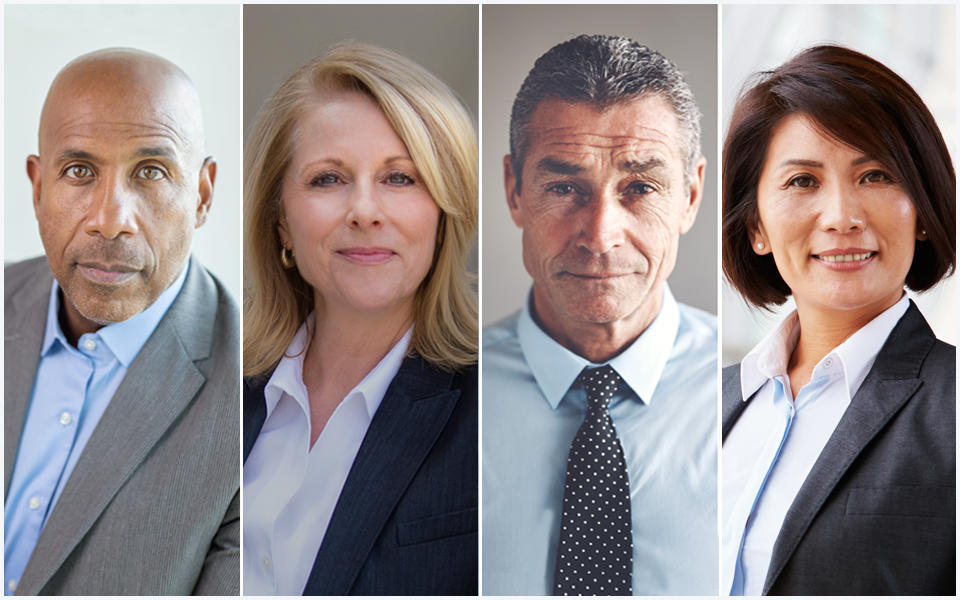 What are the key attributes and behaviors for a role-model, visionary leader?
The attributes and behaviors below are based on the Baldrige Excellence Framework Core Values and Concepts.
How does your leadership team perform relative to these attributes and behaviors? 
Do the members of the team complement each other's abilities, so that all the appropriate attributes are covered? 
Do your team members collaborate to make sure that employees, customers, and partners are treated fairly, respecting their diversity, and with respect?
With your leadership team, use the attributes and behaviors listed below to identify collective strengths and opportunities for improvement. Your leadership team will be strengthened as a result, and your people will benefit from the outcome.
Visionary Leadership 
Leads the organization in setting and owning organizational vision and values
Guides the creation of strategies, systems, and methods to ensure ongoing organizational success
Inspires the organization and partners to achieve high performance 
Demonstrates authenticity, admitting to missteps and opportunities for improvement
Systems Perspective
Sets a systems perspective across the organization so that the organization and all its parts are viewed as a whole
Causes holistic thinking and cross-functional synthesis, alignment, and integration
Requires a focus on strategic direction and results to improve overall performance
Leads with recognition of a larger, interconnected ecosystem (partners, suppliers, customers, communities) in which the organization operates and has opportunities for innovation
Customer-Focused Excellence
Builds a customer-focused culture and integrates customer engagement and loyalty as a strategic concept
Creates a focus on anticipating changing and emerging customer and market requirements
Ensures differentiation from competitors through the development of innovative offerings and unique relationships 
Valuing People 
Builds and reinforces an organizational culture that focuses on meaningful work, engagement, accountability, development, and well-being of workforce members 
Creates an organizational environment that is safe, trusting, and cooperative
Builds partnerships with internal and external people and stakeholder groups
Builds a culture of equity and inclusion that capitalizes on the diversity of the workforce, partners, and collaborators
Agility and Resilience
Develops a capacity for rapid change and for flexibility in operations
Anticipates and recovers from emergencies and other disruptions to protect and enhance organizational performance and key stakeholder and community well-being.
Leads and inspires the organization to manage risk and make transformational changes despite ever-shorter cycle times
Anticipates opportunities and threats and adapts strategy internally and through the organization's business ecosystem
Organizational Learning
Creates an empowered and cross-trained workforce that effectively develops and uses evolving organizational knowledge
Embeds systematic learning in the way the organization operates
Improves the organization through innovation and adoption of best practices
Focus on Success and Innovation
Creates a focus on short- and longer-term factors that affect the organization and its future marketplace success, including managing uncertainty and risk and adjusting to a changing technological and economic environment 
Accomplishes strategic succession planning for leaders and workforce
Builds an environment where strategic opportunities are identified, and the    workforce is supported to take intelligent risks
Fosters collaborative thinking among people who do not normally work together, including members of the organization's business ecosystem
Management by Fact
Compels the organization to measure performance both inside the organization and in its competitive environment
Uses data and analysis in operational and strategic decision making.
Challenges the organization to extract larger meaning from data and information to support improvement and innovation
Societal Contributions  
Acts as a role model for public responsibility and actions leading to societal well-being and benefit
Motivates the organization to excel beyond minimal compliance with laws and regulations
Drives environmental, social, and economic betterment of the community as a personal and organizational goal
Ethics and Transparency
Exhibits and requires highly ethical behavior in all organizational activities and interactions
Leads with transparency through open communication of clear and accurate information 
Builds trust in the organization and its leaders
Delivering Value and Results
Leads the organization to achieve excellent performance results
Defines and drives the organization to exceed stakeholder requirements and achieve value for all stakeholders 
Selects a composite of measures that include, financial, product and process, customer, workforce, leadership, strategy, and societal performance
More on Leadership
Culture and Strategy Eat All Three Meals—When Leaders Set the Menu
Eight Blogs about Leadership (and the Baldrige Excellence Framework)
What Is a Leader to Do?
Top Tips for Preparing Tomorrow's Leaders
A Systems Perspective to Leadership and Strategy
Innovative Leadership Behaviors, Customized for You
Resources
Baldrige Executive Fellows Program
Purchase Baldrige Excellence Framework Business/Nonprofit, Education, Health Care
About the Baldrige Excellence Framework
Baldrige Excellence Builder
Baldrige Impacts
Baldrige Key Terms
The Baldrige Criteria 101 Word
Related Links
Board of Director Responsibilities: A Baldrige Core Values Perspective
How Baldrige Works
Baldrige Products and Services
Baldrige Award
Baldrige Award Recipient Listing
Baldrige FAQs