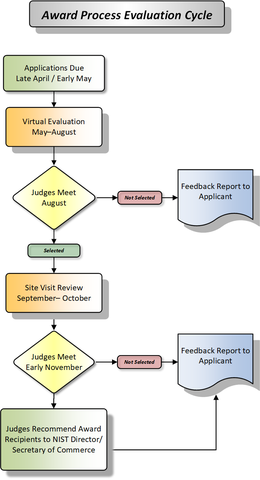 About the Award | How to Apply | Is Your Organization Eligible | Award Process Fees | The Feedback Report
Award Process Evaluation Cycle flowchart in Word
Virtual Evaluation
May–August
A team from the Board of Examiners is assigned to your award application.
Members of the team individually review your application against the Criteria for Performance Excellence (part of the Baldrige Excellence Framework) to identify and document observations of potential strengths and opportunities for improvement. Then, led by a senior examiner, the team conducts virtual interviews with your organization. Following the virtual interviews, the team provides documentation of their findings and scoring to the Program.
Based on the scoring, the Judges' Panel determines which organizations receive site visits.
Site Visit Review
September/October
Organizations receiving site visits provide updates for all results in the application. Led by a senior examiner, a team of examiners conduct virtual interviews and visit to the organization to verify and clarify the information in the application. Site visits consist primarily of a review of pertinent records and data, virtual interviews, and a visit to the applicant's location by a portion of the team to validate key information obtained during the interviews. The team submits a report to the Judges' Panel.
Judges' Review
November
The Judges' Panel conducts final reviews and recommends award recipients to the director of the National Institute of Standards and Technology (NIST), who conveys the recommendations to the Secretary of Commerce. The Secretary of Commerce and the NIST Director determine whether recommended award recipients are appropriate role models and should receive the award. The purpose of this determination is to help preserve the award's integrity. The Judges' Panel also recommends non-award-recipient organizations that will be recognized for having one or more category best practices. In determining role models, NIST checks records on site-visited applicants and their highest-ranking officials to verify compliance with legal and various regulatory requirements. The Secretary of Commerce then selects the award recipients.
Feedback Reports
October–December
Members of the Board of Examiners prepare feedback reports detailing organization-specific strengths and opportunities for improvement based on the organizations' responses to the Criteria for Performance Excellence. Each organization receives a feedback report when it exits the process: after Virtual Evaluation, after Site Visit Review, or when it is selected as an award recipient.
Award Ceremony
Spring
The President of the United States or a designee traditionally presents the awards (in recent years shortly before the Quest for Excellence Conference begins in early April).
Resources
Purchase Baldrige Excellence Framework Business/Nonprofit, Education, Health Care
Baldrige Process Calendar
Changes and Reminders
Application Content and Format
Baldrige Process Integrity
Related Links
Baldrige Award Recipient Listing
Baldrige Impacts
Self-Assessing Your Organization
Baldrige Improvement Tools
Testimonials
Baldrige FAQs