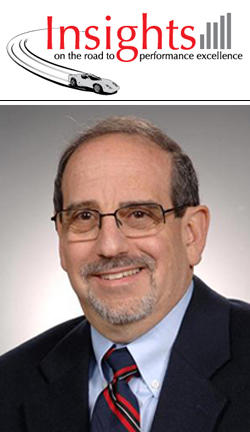 April 2011
On the eve of a potential federal government shutdown, I was ready to post an Insights column on change. But I decided to let that wait another month as I reflected on how much history repeats itself and how powerful our potential for change could be. These thoughts were triggered by recalling the government shutdown of 1995 and heightened by the recent 23rd Quest for Excellence (Quest) conference of the Baldrige Program. Many attendees told us it was the best Quest ever. A combination of 7 current Baldrige award winners and 25 past winners contributed to the richness of sharing. I saw many marvelous new concepts, as well as many concepts that, while familiar, were improved to a new level of execution. Hence the reflection I mentioned above. So I decided to share with you some of my summary impressions from the conference in the hope that they will give you something to think about (or change) on your uphill journey to performance excellence.

The first is a lesson I've learned through the years that was brought to a heightened level of understanding for me this year: the value of high ethical practices and transparency. What was different this year was the sense I had that our winners see ethics and transparency as a strategic advantage because there is a key linkage to workforce engagement. A second message this year was the clear linkage from workforce engagement to customer engagement to business results. The 2010 Baldrige Award winners presented the evidence again and again: Truly engage the minds and hearts of your employees, and they will engage the hearts and minds of your customers. If customers are engaged and loyal, beneficial financial results follow.

The sense of community is particularly strong with the 2010 Baldrige Award winners, and it is evidenced by a sense of family with their own workforce, a purposeful focus on their larger community involvement, and a commitment to sustainable resource use. The purposeful focus on community involvement is related to having meaningful processes for charitable giving and community engagement, from giving only to charities where employees contribute their time to aligning areas for involvement with organizational core competencies. These organizations are maximizing their give-back by focusing on where they can help the most.

Innovation was a theme this year. From great focus on innovative products in companies over 100 years old (a clear message was that innovation is not solely the domain of young entrepreneurial companies), to process innovation, to whole system innovation in the Montgomery County Public Schools' (MCPS') approach to preparing college-ready students, starting with reading goals at the kindergarten level. This focus on innovation was coupled with a relentless focus on the relevancy of metrics to what's important and tracking those metrics to ensure organizational, local, and individual fact-based decision making by an empowered workforce.

What was totally new this year (at least in my key take-home messages) was the "why" question. Baldrige asks many "what" and "how" questions, but this year's winners also consistently asked themselves "why." And it ties back to workforce engagement; that message was very clear. If you ask yourself as a leader why you do what you do as an organization and you explain that why to your workforce, it is a key factor of engagement, and people who know why will move mountains!

I also took home organization-specific key messages. MEDRAD has a simple mnemonic to guide its management system: "ears, gears, cheers, and peers." Listen to your customers, have effective processes, cheer and celebrate success, and benchmark your peers.

Nestlé Purina has its four talls to guide it: "stand tall, think tall, smile tall, and live tall." And to these historic four, it has now added a fifth, "create tall," a clear signal of its commitment to innovation as its ongoing key to the future sustainability of its century-old business enterprise.

Freese and Nichols drives home its message of integrity every day. It is one of its differentiators in a very competitive marketplace that has led to extremely loyal customers and a high proportion of repeat customers. As CEO Bob Pence stated, "The first thing we ever built (as an engineering firm) was our reputation." Could you say the same for your organization?

K&N Management has a simple question to motivate the organization on its journey: "Are you willing to do what it takes?" And who is the "you"? The "you" is the hundreds of "me's" who compose its workforce, from the owner to the frontline workers, all prepared to delight one customer at a time.

Studer Group achieves its consistently high performance by a focus on strategy execution and "hard-wired" processes. It knows and also helps its clients understand that strategic planning is worthless without an even greater focus on executing that strategy. And the way to consistently execute is through documented, repeatable, "hard-wired" processes.

The MCPS "Call to Action" strategic plan based on the district's Seven Keys to college readiness was a true breath of fresh air. In an environment where many systems say planning is almost impossible due to budget uncertainties (and I certainly know about those) and the potential for constantly changing leadership, MCPS has done research, incorporated the results into a compelling plan, and carefully measured outcomes, with follow-up through college to further fact-based decision making and process focus.

Last but not least, Advocate Good Samaritan Hospital starts its messaging and focus as you enter its facility and recognize that you have come to a "place of healing." This message is backed up by the hospital's health care outcomes and its core competency. This competency—its sole core competency—is building loyal relationships. Think about it: How can you achieve that competency without workforce focus, customer focus, and great health care processes and outcomes?

So that's my summary of a learning-packed, high-energy, three-day conference. Of course, the tactics are in the many breakout sessions at Quest that I could not cover in one column.

As always, there is the need to prioritize learnings, so that you execute on a vital few. A few key words from my initial insights to help you decide on your vital few:
Ethics and transparency
Workforce engagement → Customer engagement → Results
Sense of community
Innovation
Focused metrics
The "why" question: Ask and explain why, then address what and how.
Above all, although the road may be challenging on occasion, remember to celebrate success along the way! See you in May!
Resources
Baldrige Excellence Framework
Baldrige Excellence Builder
Blogrige
News
Has Social Media Changed Your Organization? (January 2011)
Is Your Organization Strategic When Considering Supplier Relationships? (February 2011)
Leadership Yin-Yang on the Road to Performance Excellence (March 2011)
Archived Columns