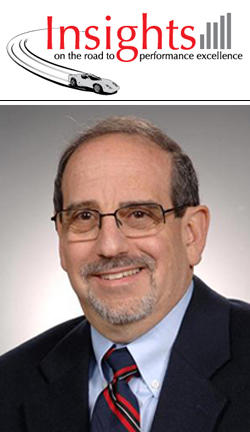 February 2011
The roles of suppliers and supply-chain decisions have received increased attention in the 2011–2012 Criteria for Performance Excellence. I'll delve into the Criteria changes later in this column, but first let me share with you some of my insights that led to and support these changes.

Recently, McKinsey & Company released three major priorities for its quarterly newsletters in 2011. The first was "testing your strategy"; the second is "rethinking the supply chain"; and the third is "enhancing personal productivity" in a world of digital-information overload. To me, the mere term "rethinking the supply chain" raises the consideration of your supply chain from a tactical process management issue to a strategic issue. Indeed, you increasingly hear and read about supply-chain strategy rather than supply-chain management. The (Baldrige) logic stream that I associate with supply-chain strategy is as follows: strategic advantages→organizational strategy→core competencies→supplier and partnering strategies→collaboration objectives→ supply-chain management→ongoing reassessment. The iterative process starts with determination of your strategic advantages (and challenges). Based on these assessments, the organization develops its strategic plan for the current planning cycle. A consequence of that plan is a clear understanding of the organization's current and needed core competencies. To focus on those competencies, the organization makes a strategic decision on whether to use its own talent and resources or that of partners and suppliers. The next step is critical and encompasses establishing relationships, setting goals, and mutually agreeing to them with suppliers and partners (what's in it for each of you and what the key requirements are for each of you). Next comes the step for determining how the relationship will be managed, including metrics, ongoing communication, and mutual feedback. Finally, in an ever-changing and frequently uncertain market environment that includes ongoing global changes, organizations need a process for continuing reassessment of their supply-chain strategy and decisions.

Let me share some further background on these topics. Let's start with a working definition of supply-chain strategy: how an organization will compete in its marketplace through maximizing the value it adds, achieving speed and flexibility, and reducing total cost by leveraging its own assets and carefully building outsourcing relationships. In the end, your goal is to be able to consistently deliver high-quality products or services at a competitive price and more reliably than your competitors. All this while maintaining the maximum flexibility (agility) to respond to innovation, customization, and changing economic and marketplace situations. The reason for having a supply-chain strategy is to have a clear understanding of how you will leverage your organization's core competencies and how you will work with upstream suppliers, distributors, customers, and possibly your customers' customers (end-customers). Given all these factors, the challenge is huge!

There are significant considerations that need to be part of your strategy, such as whether you should diversify or "splinter" your supply chain. In response to a recent McKinsey survey, 68% of global executives said that supply-chain risk will increase in the next five years. Splintering formerly single supply-chain sources allows for several opportunities. It gives the organization alternatives in case of local disruption in supply chains due to natural disasters, strikes, or changes in shipping, tariff, or energy costs, for example. It also allows for strategic decisions, such as sourcing high-volume products to a lower-cost and more remote supplier, while sourcing high-value, rapidly delivered, and customized products to a higher-cost but more accessible supplier. Another consideration is how you most effectively align supply-chain integration across your own business units and functions. How do you achieve economies of scale? How do you address conflicting scheduling issues? How do you avoid duplication of efforts in the sourcing of similar services? Another consideration is the actual relationship management with key suppliers and partners. Will there be regular mutual goal-setting meetings? Will there be a joint steering committee? A final key consideration might be how your organization coordinates these supply-chain challenges and opportunities. Should there be a senior executive for supply-chain integration?

Numerous authors have developed checklists to help an organization develop and execute its supply-chain strategy. I have borrowed from one developed by UPS and one contained in a recent book by Sloane, Dittmann, and Menzer to offer the following simple list of considerations:
Align your supply-chain strategy and business strategy.
Pick the right leaders, and develop your supply-chain expertise.
Choose suppliers and locations strategically.
Eliminate cross-functional and cross-unit disconnects internally.
Build relationships with key suppliers and partners.
Collaborate and communicate regularly with suppliers and partners.
Manage performance on both sides with metrics and regular reporting.
Regularly review your supply-chain strategy to be aware of emerging trends and cost-benefit considerations.
Supply-chain strategy is of such significance that it is also receiving increasing academic interest. The Aspen Institute reports that the number of schools offering supply-chain management courses doubled from 2005–2006 to 2008–2009. And supply-chain centers have been established at universities such as the University of San Diego, North Carolina State, and Stanford.

So how is supply-chain strategy addressed in the 2011–2012 Baldrige Criteria? As always, to ensure organizational alignment and integration, the topic receives attention throughout the Criteria, starting with the Organizational Profile. Item P.1 asks basic questions about the role of suppliers and partners in the delivery of your products and services to customers. In the Strategic Planning category, item 2.1 asks how you capitalize on your core competencies and how you enhance your ability to adapt to sudden shifts in various conditions. In the Operations Management category, item 6.1 asks about how you decide which processes will be performed by your organization and which by use of partners and suppliers. It then asks how you incorporate input from suppliers, partners, and collaborators. Item 6.2 has a series of questions on the actual management of your suppliers. Finally, in the Results category, item 7.1 asks about operational process effectiveness. I am sure organization-specific factors will lead some organizations to draw other linkages to their suppliers.

In the end the basic question is, how strategic is your organization in your supply-chain considerations?
Resources
Baldrige Excellence Framework
Baldrige Excellence Builder
Blogrige
News
Has Social Media Changed Your Organization? (January 2011)
Archived Columns