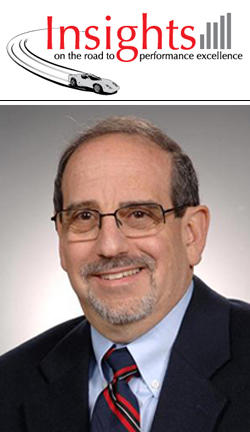 April/May 2015
Every year, I return from the Baldrige Program's Quest for Excellence® conference energized and full of pride in the success that can be achieved by people working together to achieve a common set of goals. The 27th Quest for Excellence continued to inspire that sense of energy and pride. Every year, I try to synthesize what I have heard into some key themes that reflect the best practices of America's new role-model organizations. This year, I will share nine summary impressions, plus a tenth piece of personal advice for good measure.
Nine Key Themes
Category 1 of the Baldrige Criteria for Performance Excellence is "Leadership." This ordering is intentional. Leaders guide the organization and set the cultural tone that drives success. The attributes and actions that set great leaders apart are exemplified by this year's Baldrige Award recipient leaders and, as I implied, set the tone for the eight key themes that follow the first theme below.
 
Senior leaders set the tone: What I heard very clearly this year is that senior leaders set the tone right from the start, by being a participant in all new-employee orientations. The leaders emphasized the importance of transparency in all interactions and the need to put their own egos aside to listen and learn from people at all levels of the organization. Each of the four senior leaders of the 2014 Baldrige Award recipients presenting at this year's conference conveyed how they set the tone for their organizations and achieved these goals. Scott McIntyre of PricewaterhouseCoopers (PwC) Public Sector Practice (PSP) spoke about building a vision, giving employees the tools they need, and carrying responsibility for grooming future leaders. Jayne Pope of Hill Country Memorial said her role was to serve the people who serve the people. If she serves her workforce as a servant leader, they will in turn serve the patients and other customers well. David Huffstutler of St. David's HealthCare talked about communication, a focus on applying (core) principles, and setting a tone stressing improvement, not a tone stressing winning the Baldrige Award. Finally, Gerry Agnes of Elevations Credit Union talked about listening to employees, creating a safe environment to have honest communication, and setting a vision that says when you reach a fork in the road, don't choose mediocrity. The words from each leader were different, but the impact was the same—they set the tone for a productive, positively challenging, and safe work environment.
Culture, values, and trust: Skills do not matter if there isn't a cultural fit. This has been articulated and verified before (many times) in "Baldrige organizations," but this year the linkages among culture, values, and trust were hard-wired and clearly demonstrated by the Baldrige Award recipients and the results they achieved. Culture, values, and trust were at the very foundation of their organizational behavior. Elevations Credit Union presenters talked about hiring to core values and firing to core values. This basic ethical commitment to values was a deal-maker and deal-breaker to being part of the organization. Hill Country Memorial and St. David's HealthCare presenters talked about their job candidate-interviewing processes as values-based interviewing. You have to be a fit or you do not get hired. PSP presenters spoke about business opportunities forgone, despite the potential that they could have been quite lucrative, because the requirements violated PSP's values. They all used their organization's values as a means for setting boundaries and a means for empowering employees, thereby building trust.
Core competencies: Organizational core competencies have been a key focus of the Baldrige Criteria for numerous years; with each passing year, organizations are getting better at identifying their core competencies (current and future) and using them to build strategic advantage. This year, those core competencies included a new attribute—linkage to organizational values. Organizational core competencies articulated by this year's Baldrige Award recipients included ethical behavior and values-driven culture as areas of expertise that lead to strategic advantage.
Importance of the community: The Baldrige Excellence Framework (including the Criteria for Performance Excellence) emphasizes the role of an organization's community as a key stakeholder for many years. This year's Baldrige Award recipients have demonstrated how deeply integrated they are with their communities and the mutual trust and loyalty that have developed as a result. When Hill Country Memorial needed a new hospital structure, 90% of the community contributed to the funding. Elevations Credit Union has its new employees perform a community service project as part of new-employee orientation. St. David's Foundation is a 41% owner of St. David's HealthCare; when annual earnings of the system exceed current operating and capital requirements, 41% of that excess income goes to benefit the community. This has resulted in more than $50 million provided to the local community annually.
Innovation: While the Baldrige framework has fostered a systematic and integrated approach to innovation for several years now, this year's Baldrige Award recipients have demonstrated a maturity and commitment to innovation not previously seen. Innovation has become truly embedded in the very core of how these organizations operate. PSP has four core competencies that drive its customer engagement strategy. One of those competencies is innovative, customized solutions. This approach has helped the organization sustain growth through volatile market conditions. More recently, PSP has recognized that the role of a producer (innovator) is just as important to organizational success as the role of a top performer. Producers have an entrepreneurial attitude; they come up with the crazy ideas that conventional wisdom would say wouldn't work, and in many organizations, producers have been underappreciated in performance management and recognition systems. So PSP is now busily developing human resource processes to better appreciate these important contributors to future organizational success. Elevations Credit Union has creativity driven by excellence as core values. Those core values guide the organization and serve its members well.
Goals, metrics, results: The linkages among goal setting, metrics chosen, and results measured have long been a component of strategy accomplishment and of the integration dimension of the Baldrige scoring system. This year, the integration demonstrated by the 2014 Baldrige Award recipients propelled these organizations to greatness. And there was a uniform message—financial results are not the key metric; they are an outcome and by-product of goals and metrics related to employee engagement, products and services delivered, and customer focus.

As they have matured, the 2014 Baldrige Award recipients have demonstrated humility associated with their goal setting and metrics. St. David's presenters spoke about using goals and metrics to prevent "becoming legends in our own minds." Elevations Credit Union presenters talked about the organization's process of maturing following a pain curve from a perception that the organization was better than reality (its measured results) to a perception that lags reality today (clear metrics and results that document excellence beyond the organization's self-perception).
Alignment and simplicity: While achieving success in an increasingly complex environment is a major challenge, the 2014 Baldrige Award recipients have achieved a degree of internal alignment that defies this complexity and leads to a constructive simplicity. Furthermore, their drive to simplify has enhanced operational and strategic alignment throughout these organizations. Some examples to illustrate the point: PSP has revised its core competencies to align its vision/values/mission with its strategy and to enable accomplishment of that strategy. Hill Country Memorial has aligned itself around a simply stated (but challenging) vision and goals statement: "To be top decile in everything we do." St. David's HealthCare is aligned around a simply stated operating discipline: prioritize, develop action plans, deploy resources, and track progress. This appears to be a simple rubric; yet, when actually exercised, it leads to great achievement.
Importance of people: I witnessed some of the most engaged employees I have ever seen at this year's Quest conference. They were demonstrating that their workforce culture pervades all their interactions. Their actions demonstrate their true caring for all people: their colleagues, their customers, their stakeholders, and others in their communities. And they are clearly having fun. Most important, it was all seamless. They are part of an organic community. It is hard to describe, but you certainly could feel it.
Humility: Success is not going to spoil these organizations. And they apparently do not see themselves as ever being done improving. They each used different terminology, but the message was clear: we can't linger; there is more work to do.
And for Good Measure, Number Ten
I think the nine themes I've shared result from a focus on four "P's" that could serve as a guide for all organizations: people, process, and plentiful passion. The speakers at the conference were passionate about their organizations, their colleagues, and the customers and communities they serve. They were also passionate about being the most effective organizations they can be, committed to process improvement and innovation as a never-ending goal.

How do you take these messages back to your organization? By putting a stake in the ground and then choosing a starting point to focus the effort. This brings me to my personal piece of advice:
 
Be the nozzle, not the hose: I hope these nine themes have sparked some thoughts about your own organizations that you will want to translate into action. Don't spring them on your colleagues all at once. It would be like asking them to drink from a fire hose. Focus on one or two of the highest-priority opportunities. Use St. David's HealthCare's operating principle as a possible guide. And be the nozzle, not the hose.
Some Final Thoughts
As I have grown older, I have discovered that learning is one of my personal core values. None of us will ever feel "old" as long as we commit to lifelong learning. The questions in the Baldrige Criteria are a great stimulus for learning. They provide me a never-ending opportunity to analyze, synthesize, and speculate about what might be. And what might be is a great starting point for innovation and learning.

What distinguishes a Baldrige organization from others? I think it is taking this sense of curiosity about what might be to an organizational level. Please be curious!
Resources
Baldrige Excellence Framework
Baldrige Excellence Builder
Blogrige
News
If You Want to Build Trust, Collect Trash (February/March 2015)
Archived Columns
---
You need to have Acrobat Reader installed on your computer to view the PDF file. If you do not have Acrobat Reader installed on your computer, download the program at http://get.adobe.com/reader. People with visual disabilities can download tools and information at http://www.adobe.com/accessibility to help make Adobe PDF files accessible.