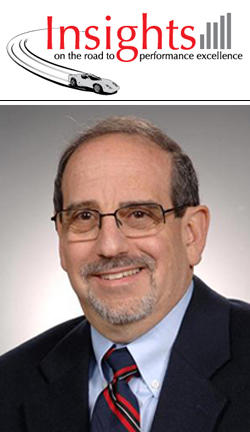 February/March 2015
Organizations that have trust in leaders and trusting employee relationships outperform "non-trusting" organizations. Yet scandals such as those at Enron, WorldCom, and Parmalat, as well as those involving leaders at charitable organizations and in government at all levels, have contributed to a crisis in ethics and lowered trust in CEOs and other senior leaders. Some of the stories make national headlines, but many more don't.
Consider this trust-buster that has occurred in many companies: The company embarks on a Lean Six Sigma effort to reduce cost, cycle time, and waste. The program is very successful and the reward for the employees who streamlined processes is firing because they are no longer needed for the jobs they used to perform. This happens despite company core values that include "respect for our associates." Does this or a similar story sound familiar? Have you witnessed it in an organization you know?
How significant is the lack of trust in leaders today? Data substantiate the severity of the lack of trust and that it is an ongoing concern. In a 2003 Towers Perrin study of 1,000 working Americans, communications about the company's strategy, performance, and competitive challenges were viewed as credible by less than half the employees and appeared dishonest to roughly 25% of the employees. In a 2009 paper by Stephen Covey, he reported that only 49% of employees trust senior leaders and only 28% believe CEOs are a credible source of information. In research by Ken Blanchard (published in 2010) involving more than 1,000 leaders, 59% indicated they left an organization due to trust issues, citing communication and dishonesty as key contributing factors. In the 2014 Edelman Trust Barometer, only 20% of general public respondents trusted business leaders to tell the truth and make ethical and moral decisions. What's more, in his 2009 paper, Covey reported that in 2004 the cost of complying with federal rules put in place due to lack of trust was $1.1 trillion, more than 10% of that year's gross domestic product. So, in addition to there being a moral incentive, there is a strong business incentive for improving trust within organizations.
Let's take a look at how new leaders can generate trust, how all leaders can further build trust, and some data on beneficial outcomes of establishing trust in the workplace. My comments that follow are based on both personal experience and my synthesis of the ideas of numerous thought leaders and CEOs.
How New Leaders Can Build Trust
Following are six key actions I believe new leaders can take to establish early trust as committed, ethical leaders.
First, Listen. When Jim Dougherty took over as CEO of Intralinks, the company was losing money at a rapid rate and survival was in doubt. By the end of his first year, revenue was up 600%, burn rate was down by 75%, and the company had successfully raised new capital. Dougherty spent his first day on the job listening to client support calls in the call center. He used the time to meet employees and listen to customers. He spent up to half his time during the first few weeks meeting people and listening with notepad in hand. He asked employees what they would do if put in his shoes. He also asked about the biggest barriers and the biggest opportunities the company had. Listening as a new leader shows that you care about employees' opinions, that you value their input, and that you want to hear the truth.
Discuss Values, Not Vision. As you meet employees and other stakeholders, share your values; relate them to company values. Make it clear that you are values-driven by sharing how your past actions have been affected by your values.
Tell Stories and History. Make yourself human to your new colleagues. Tell them about yourself and your prior work. Tell them about challenges you have had. Tell them about particularly important team successes. This encourages them to share the truth with you and also reveals your competence. A belief in your competence, technically and as a leader, is a prerequisite to building trust.  
Provide Feedback. Synthesize the information you have received from listening, and share how you have and will use it to formulate your vision for the organization. If someone has given you a valuable insight or suggestion, acknowledge it to her or him personally.
Now, Share Your Vision. Knowing that their input has been considered, employees (and other stakeholders) will want to hear your early sense of vision going forward. Be comfortable sharing that details still need considerable work and that their input will be sought and considered.
"Take Out the Trash." I have never been "too important" to do any job in the Baldrige Program. As a matter of fact, some have told me I am best known for being one of the helpers collecting and emptying trash bins at the end of each day of Baldrige Examiner training. That has brought more comments about my leadership over the years than any other single activity, from our staff and our examiner customers. I believe it shows commitment to everything the organization does and that every job matters. I am a firm believer in servant leadership and its benefits. As you are getting acquainted with your new organization, pick up that paper that is littering the hallway!
How Leaders Can Continue to Build Trust
Building trust is an ongoing activity. It is like growing a forest. The longer it grows, the more developed it becomes. But remember, it takes only one match to destroy the forest. Established trust gives you benefit of the doubt in tough times. Building a reservoir of trust allows you to draw on it when needed. Ongoing trust is built on three trust builders: your past behavior, respect for your (technical) capabilities, and shared goals. Here are ten key mechanisms through which I believe leaders can build trust and capitalize on the three trust builders:
Show Passion for Your Work. If you are truly passionate about your work, it is seen by the workforce. Your enthusiasm will rub off. If you are eager to come to work each day, if you are dedicated to achieving your mission and vision, your colleagues are much more inclined to be engaged. False displays of passion have the opposite effect; they are demotivators of work and trust.
Live Your Organization's Values. Values are probably the single biggest component in building trust. Organizational values are frequently developed through a shared learning process and then become the backbone for the culture of the organization. These values need to be discussed and reaffirmed on a regular basis. They are the basis for empowering employees to take risk; they serve as boundary conditions of acceptable behavior. The most important aspect of values is that senior leaders not only espouse them, but that they demonstrate them in their own actions and don't tolerate actions that violate the organization's values.
Tell It Straight. Honesty is critical to building trust. Even when the news is bad, tell the truth and don't shy away from communication. Employees who have committed to the organization will sense that you trust them and will want to contribute to solving the current situation.
Communicate Regularly. You can't build trust through messengers. A primary role for senior leaders is communication. Communication needs to be open, honest, and two-way. Communication should be formal and informal. A key part of good communication is active listening. You need to know the pulse of the organization. And you will get some great new ideas in the process. While there are many modes today for written communication (e.g., e-mails, blogs, tweets), there is no substitute for face-to-face communication and shaking hands. It shows commitment to employees, and your body language also builds (or breaks) trust. A senior leader who is accessible is respected.
Say Thank You. People like to be and should be appreciated. You succeed as a leader only if your organization's employees succeed. Let them know that, and make sure they know that you know that. As pointed out by Marillyn Hewson, Lockheed Martin's chairman, president, and CEO, "Saying thank you is incredibly powerful." Your employees may not remember everything you say, but they'll never forget how you made them feel.
Manage Direction, Not Activities. Empower employees to accomplish the work of the organization. Involve them in decisions that impact their domains and larger issues when possible. When modifying direction for the organization, communicate why. Operate the organization with transparency. Set clear goals, and help employees see their contribution to achieving them.
Own Your Mistakes. To paraphrase the great philosopher Big Bird, everyone makes mistakes, including you. When you make a mistake, admit it and explain what you will do to right any wrongs that your mistake caused. People expect leaders to be human and will respect you more for being honest when you make a mistake.
Deliver on Promises. When you make a promise or commitment, honor it. Equally important, do not make promises you cannot or do not intend to keep. A broken promise will travel through the organization much more rapidly than a promise that was kept.
Value Your Employee Survey. When you survey your employees, make sure you share the results and act on the findings. An ignored survey is worse than no survey at all. Communicate what you have learned from the survey responses and what you personally are going to do. Then report regularly on progress. If you truly want to gauge trust in you and the organization, put this question in your survey: "Are our senior leaders ethical?"
Show that You Care. See the people in your organization as individuals. Show that you care about their well-being. Display an interest in their personal lives, without prying. Share their pain and their happiness. A personal note or call at the right occasion goes a long way. Let them also know about you as a person. Be human!
Benefits of Building Trust
When there is trust in the organization and its leaders, the performance results for the organization improve, and people demonstrate pride in their work. Research demonstrates that companies that are the most trusted have lower employee turnover and higher profitability and shareholder returns. As Covey noted, a Watson Wyatt study demonstrated that high-trust companies outperform low-trust companies by nearly 300%. According to Blanchard, trusted leaders are rewarded by employees who push their limits and volunteer to go above and beyond what's required. When the high-trust environment persists, collaboration increases and organizations leap forward.
Trust cannot guarantee long-term organizational success because many factors contribute to longevity. However, a lack of trust will lead to ongoing churn, suboptimal productivity, and, quite likely, either CEO turnover or organizational failure. In a competitive economy, the most fit organizations compete best. Technology is important, process effectiveness and efficiency are cash in the bank, product and service quality are critical to customers, and innovation is needed. The source for the ideas that contribute to these performance differentiators never comes from senior leaders in isolation. They come from engaged employees. And employees who trust their leaders have a major engagement factor in place.
Resources
Baldrige Excellence Framework
Baldrige Excellence Builder
Blogrige
News
Archived Columns​​​​​​​