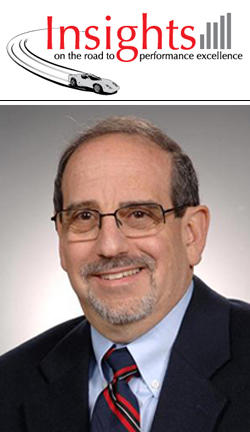 May 2013
This is my season to retire. This column is my last as director of the Baldrige Performance Excellence Program. It has been a thrill and a privilege to serve in this role for 18 years. While this is a time for change, it is not an end, but rather, a milestone point on the ongoing journey. I committed to retiring on the 25th anniversary of the Baldrige Program several years ago, and I do so with pride in what we have together accomplished. I also retire looking forward to a bright future for the Baldrige Program and Enterprise. I know that I will continue to be active in our Baldrige community.

Recently I have spent a lot of time cleaning out an office filled with documents reflecting my 21 years of Baldrige history. In the process, I came across a lot of interesting material. Several old publications caught my interest, in particular, two from the Conference Board: Quality Outlook, from the fall of 1994, and A Leadership Prescription for the Future of Quality, from May 2009. As I reread both documents, I realized how much has changed and how little has changed in the challenges organizations face on the journey for sustainability and excellence in a global economy. I will use the 1994 document as the basis for much of my reflection below, but I will also include thoughts based on the 2009 document. I encourage you to consider how far your organization has come and the challenges you face related to these topic areas raised in the 1994 report: critical issues for quality (management), areas where results should be better, and human resource challenges.
Critical Issues for Quality
Commitment: The 1994 report's treatment of this issue focuses on every person in the organization being committed to quality, starting with the senior leader. I think the commitment to quality is pretty pervasive today, but the challenge could easily be translated in 2013 to a commitment to organizational excellence in every sense, starting with senior leadership commitment. And, in my opinion, a key part of senior leadership commitment is to organizational sustainability, balancing short-term financial needs with longer-term investment for sustainability and competitiveness. The 2009 document recognizes this change for the organization's quality leader in particular, by discussing the challenge of moving from quality to being a "macro leader" who ties efforts to overall business results. Indeed, even in 1994, the report cites the need to integrate quality into overall business issues through better communication and the elimination of non-value-added work. But have our macro leaders truly embraced organizational excellence, including the Baldrige core value of Focus on the Future?
Diversity: In the 1994 document, consideration of this topic deals with appreciating differences in people and their approaches to work. Diversity of thought contributes to better input and better results. I believe we have progressed significantly in this area since 1994.
Systems Thinking: In 1994, consideration of this issue merely addressed processes being part of larger systems. The emphasis was on processes being linked and affecting each other. The 2009 study expresses a concern about emphasizing processes over results. In today's environment, I think the consideration of systems thinking goes beyond "production" processes and results to the whole organization as a system, with process linkages to strategy, people, partners, and results.
Priorities and Action: The 1994 report cites a need for prioritization and a focus on actions that accomplished those priorities. The 2009 report emphasizes choosing key measures that drive action. I think these challenges from 1994 and 2009 remain today. One of the great current challenges is measuring what is important and then taking actions at all levels based on the outcome of those measures. This is particularly true for the strategic, organization-level metrics.
Partnering: The 1994 report challenges organizations to pay attention to partnering across the organization and with external partners. The 2009 report addresses talent management and leadership issues around knowledge transfer. While I believe we have made great strides in partnering across an organization and in capturing implicit and explicit knowledge, challenges remain for organizations today in transferring knowledge between key partners and in keeping those partnerships vibrant.
Core and Support Processes: In 1994, core processes were characterized as production processes, and support processes referred mainly to supplier relationship processes. Today core processes in many organizations involve the customer, suppliers, and partners, while support processes are enablers that allow value creation to occur. And we still struggle to integrate core and support processes.
Continuous Improvement:  In 1994, this was largely about cycles of learning and continuous improvement of processes. In contrasting the 1980s with 2009, the 2009 report talks about (1) continuous quality improvement (1980s) versus business leadership integration (2009) and (2) defect reduction (1980s) versus improvements that lead to better value creation, reduced time-to-market, and innovation (2009). Organizational learning and innovation have been increasingly important in the Baldrige Criteria for Performance Excellence. The two areas are central to key discussions in many organizations today.
Teams: The 1994 report focuses on the growing use and need for teams to address cross-functional challenges and multidisciplinary work. Today, the question is not about teaming, but rather, how to make teams as effective as possible, transferring knowledge and maximizing workforce capabilities and capacity. And the scope of teams now goes beyond the walls of the organization to include key customers, partners, and suppliers.
Stakeholder Value: In 1994, the issue here was awareness of building value for all stakeholders. In 2009, there was a particular emphasis on social and environmental responsibility and building customer loyalty and retention. I think all these issues are well understood today, but challenges in addressing them continue.
Areas Where Results Should Be Better
Consistency of Effort: In 1994, such consistency presumably impacted products and focused on the workforce. A parallel consideration in 1994 was on increased productivity. The 2009 study addresses the challenge of excellence in execution in the overall organizational context. A primary conclusion of a 1998 study conducted by the Baldrige Program was that it is three times harder to execute strategy than to develop it. I think the challenge for appropriate, prioritized, and agile execution is very significant today.
Customer Satisfaction: Improving customer satisfaction was a major challenge in 1994. The 2009 report speaks to the challenge of greater customer sophistication, the need for quality leaders to move from back-room operations to a focus on customer engagement, and the need to grow customer loyalty and retention. The changes from 1994 to 2009 clearly reflect the changes we are still witnessing today and parallel the changes that have been made over time in the Baldrige Criteria. Not reflected yet in the 2009 study is the growing importance of social media in all processes related to customers and in seeking and ensuring their loyalty and engagement.
Employee Satisfaction: In 1994, the stated need for improvement was in the area of employee satisfaction and involvement. In 2009, the focus shifted to overall talent management. Today the employee is viewed as an internal customer and the gateway to the engaged external customer. How to achieve employee engagement, including appropriate opportunities to learn and grow, are challenges all organizations face, particularly as shortages in highly skilled workforce members are occurring. The larger issue of human resource challenges forms another, and my final, topic area from the 1994 study.
Human Resource Challenges
Accountability for Results: While workforce accountability was a major issue in 1994, it was no longer called out by 2009. Today accountability is considered more holistically, I believe, as part of the challenges of enterprise management and accountability, including execution and the need for empowerment and agility.
Team Leadership: In 1994, the challenge was developing team leaders and identifying high-potential employees. Today, the challenge is succession planning and knowledge transfer at every level of the organization. One of the significant lessons from Baldrige Award recipients is the importance of succession planning to the sustainability of the organization—and the impact that disruptive leadership can have even on role-model organizations with well-embedded systems.
Performance Management: In 1994, the key challenges were managing employee performance with proper goal setting and managing recognition mechanisms for good performance. In 2009, an issue was setting the right goals to avoid incentivizing the wrong behavior. Today, role-model organizations are looking at workforce performance measures as a linked set of measures that demonstrate a clear line of sight from the individual to the work unit, the business unit, and the organization's key strategies and deliverables.
The challenges described above clearly provide rich food for thought and application to our individual circumstances. However, as I close out my tenure as director of the Baldrige Program, it is good to take that 30,000-foot view and ask this question: Is there a more general conclusion that can be drawn from all these findings and challenges? I know there is at least one conclusion, and it is reflected in the 2013–2014 Baldrige Criteria revisions: the strategic importance of work system decisions. These decisions impact what you will do as an enterprise, who your partners and suppliers will be and what they will do, what your key measures will be, how you will serve your customers, what your employees will do and what they will need to learn, how you will exercise your social responsibilities, how you will innovate, and how you will ensure enterprise sustainability. So my closing question is, Are you giving enough strategic consideration to the design of your work systems?

For me now—as the verse goes—it is a time to weep and a time to laugh . . . tears of joy and sadness, laughter for all the good times I have had. But above all, it's a time to rejoice in what we have shared and what we will continue to share in the future. Somewhere in the big Baldrige work system, we will meet again.
Resources
Baldrige Excellence Framework
Baldrige Excellence Builder
Blogrige
News
Why Health Care Performance Is Important to You, Me, and U.S. Competitiveness (January 2013)
A Sense of Comity (February 2013)
Thinking about Performance Measurement (March 2013)
Experience the Energy of Excellence (April 2013)
Archived Columns