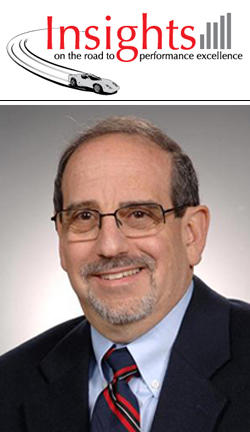 April 2013
I always find the annual Baldrige Quest for Excellence® Conference to be more than a mere gathering of people to discuss topics of common interest. It is an energy-rich experience. The 25th anniversary event was all that and more because of the combination of celebratory gala, Baldrige Award ceremony, and Quest for Excellence Conference. Each year I use this April column to share some of my insights from the conference presentations. Since this is my last Quest for Excellence Conference as director of the Baldrige Performance Excellence Program, I've decided to share two groups of insights this year. The first set is derived from the presentations given by our four 2012 Baldrige Award recipients; the second set, from key learnings over the 20 years I have been attending the conferences.
The 25th Annual Quest for Excellence
These are challenging times for all organizations. The unique blend of Baldrige Award recipients in 2012 (Lockheed Martin Missiles and Fire Control—large manufacturing; MESA—small business/manufacturing; North Mississippi Health Services—large health care system; and the City of Irving, Texas— municipal government) allowed me to observe a set of commonalities that represent "universal truths" that are independent of sector. While the following two key themes were not necessarily stated directly in conference presentations, I found a profound commonality in the mindsets and operations of the very different enterprises.
The importance of relationships and transparency: These two concepts are foundational to the sustainability of an organization or enterprise. Role-model organizations strive to build strong and supportive relationships with employees, customers, partners, and key suppliers. A key to building these strong relationships is transparency and openness in all aspects of the relationship. If transparency and relationships are strong, trust between people and organizations are built, and there is a basis for both longevity in the relationship and commitment to allegiance and support through periods of change.
The logic chain of purpose → employee → customer → strategy (implementation): With a clear, meaningful, and well-communicated sense of purpose, an organization can gain an enduring sense of commitment from employees. That commitment leads to employees building strong customer relationships and loyalty. Furthermore, that loyalty from employees and customers engenders support at all levels in both groups for the organization's strategy and its implementation. This is particularly important in times of rapidly changing external environments that require agility, trust, and commitment as strategy and, therefore, strategy implementation change.
Twenty Years of Learnings
As stated above, since this was my last opportunity as director of the Baldrige Program to reflect on what I have learned in 20 years of attending Baldrige Quest for Excellence conferences, I am taking advantage of this occasion to share some of my "20-year" insights. I believe the following themes summarize some of the key changes in the evolving challenges, complexity, and definition of performance excellence®. This list also summarizes some of the key performance characteristics of Baldrige role-model organizations. I present the nine themes in roughly chronological order from the early 1990s through the new millennium and current decade.
From Individual Criteria Categories to the Interaction of Categories: In the early 1990s, a role-model business was characterized by outstanding performance in the individual categories of the Baldrige Criteria. Since the mid-1990s, outstanding organizations have excelled not only in the individual categories, but also in the interaction among and alignment of the categories. For example, human resource or workforce plans and workforce development needs and opportunities should align with the organization's strategic plan. Results should measure progress in key areas related to implementation of those plans and workforce development outcomes in those areas. Strategic planning should incorporate voice-of-the-customer input, which, in turn, might affect workforce development opportunities.
From Alignment to Integration: Outstanding organizations moved from aligning key processes and measuring the related results to integrating key processes, with active feedback from in-process measures and outcomes results. Such organizations moved from consistency among and sequential focus on processes to harmonization of plans, processes, information, resource decisions, and results. Integration has meant that the components of organizational performance are being managed as an interconnected system.
Succession Planning: We started to see a clear focus on succession planning by senior leaders, with the specific intent of grooming the next generation of leaders of the organization. Furthermore, this succession planning cascaded through the organization with development of "leaders" at all levels of the organization. Coupled with this change was a new focus on knowledge management, capturing the intrinsic and extrinsic knowledge of the organization and its workforce in order to enhance organizational sustainability.
Ethics: With ethics scandals appearing to be constantly in business headlines, role-model organizations with no significant ethics issues or challenges nonetheless strengthened their ethics programs. Senior leaders' communications addressed ethics on a regular basis, hotlines and ombudsperson positions were established, and regular ethics training sessions relevant to specific business issues were instituted.
Strategic Advantages and Challenges: Strategic plans started to have a foundation based on a clear understanding of an organization's strategic challenges and advantages, addressing those challenges and building on the strategic advantages the organization enjoyed in its marketplace. Internal communication and transparency improved both here and in the area of organizational ethics. If the workforce better understood the organization's operating environment, its members could contribute more effectively, both operationally and strategically.
From Satisfaction to Engagement: A change in focus from satisfaction to engagement seemed to occur among role-model organizations simultaneously for their workforce and their customers. Organizations were realizing that engagement was a true differentiator in the marketplace; building employee and customer loyalty and retention was a key contributor to organizational sustainability. The cost of hiring and training a new employee far exceeded the cost of continuing to develop an existing employee, and the cost of acquiring new customers was much greater than building a relationship and enhancing business with an existing customer.
Core Competencies: Leading organizations started identifying their organizational core competencies, those that related to intellectual property that they wanted to protect and those that formed the basis of any strategic advantage they enjoyed in the marketplace. They also started looking at core competencies they would need in the future to sustain the organization. Core competencies factored into strategic decisions, such as work that would be outsourced and work that would be accomplished by the organization's employees. 
Workforce Capability and Capacity: The next area to achieve focus from role-model organizations was workforce capability and capacity. Closely related to core competency and work considerations are the decisions about workforce expertise needed (capability) and numbers of people needed with particular skill sets or cross-training (capacity). The challenge was to balance capability and capacity needs both now and looking into the future, with a focus on retraining and development needs, as well as growth areas.  Where a decline in workforce was indicated, the challenge was planning so that natural attrition would suffice. 
Innovation: This focus area for the 2013–2014 Baldrige Criteria for Performance Excellence arose from the changes we are seeing in role-model organizations. They are embracing a culture of innovation and establishing strategic processes for investment as well as processes for identifying totally new approaches to products, processes, and business models. Innovation has become a driver of sustainability for these organizations.
Looking at this "nine-step" series of changes in organizational performance characteristics, I see one conclusion as inevitable: leading a successful enterprise and achieving sustainability involves increasing complexity. The challenge going forward is to embrace this complexity in a manner that allows agility and simplicity in implementing change. I believe our country's economic future hinges on it!
Resources
Baldrige Excellence Framework
Baldrige Excellence Builder
Blogrige
News
Why Health Care Performance Is Important to You, Me, and U.S. Competitiveness (January 2013)
A Sense of Comity (February 2013)
Thinking about Performance Measurement (March 2013)
Archived Columns