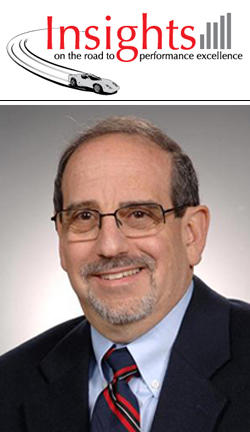 April 2014
For over 20 years, I have had the privilege of learning from role-model organizations and outstanding keynote speakers at the Baldrige Program's annual Quest for Excellence® conference. The 26th Quest for Excellence was no exception; for me this year's conference was a high point. As I was no longer responsible for all the conference-related activities associated with the role of Baldrige Program director, I could attend more sessions and pay more attention to digesting in real time what I was hearing and learning. And this year's Quest conference was a content-rich one, so I enjoyed immensely the opportunity to reflect. As I have done in the past, I have synthesized my reflections into a number of key learnings and organized them this year into three categories: (1) five key themes, (2) Baldrige Criteria category-based insights, and (3) particularly noteworthy sound bites (for the Twitter-conscious, social media learners, and baby boomers as well).
Five Key Themes
While I have drawn five key themes from the conference presentations, the first theme is a principle so profound and critical for all organizations that I have made it the title of this column. It is foundational to all that follows, in my opinion.
First, and foremost, put a stake in the ground: The two Baldrige Award recipients this year, Pewaukee School District and Sutter Davis Hospital, each had a compelling anchor (or "stake in the ground," though the organizations did not always identify them as such) that appeared to guide all their decision making. For Pewaukee, it was their mission statement: "Opening the door to each child's future." For Sutter Davis, it was their core competency: "A culture of caring." Over and over throughout the week, I heard speakers saying (maybe even subconsciously), "We asked ourselves, does this contribute to opening the door ....?" and "... to our culture of caring?", and telling how they based organizational initiatives, priorities, and decisions on a simple "yes" or "no" answer to their organization's fundamental question. This powerful commitment to a sense of purpose has allowed key policies to be decided, employee engagement to excel, and customer engagement to reach high levels. Organizational anchors like these, plus strong sets of values, are what organizations need as their "North Star." I would even argue that Pewaukee's mission and Sutter Davis's core competency set the tone for their values.
The importance of key: The word key appears throughout the Baldrige Criteria for Performance Excellence. We have occasionally been criticized for its apparent overuse. However, the value of this word to organizational decision making was emphasized repeatedly in presentations and responses to questions throughout the conference. Organizations need to focus on the important, the vital few. This is true for strategic opportunities, strategic objectives, organizational performance metrics, core competencies, and many other factors that could lead to a lack of focus and then a lack of success if "key" choices aren't made. Without this focus, employees and leaders are constantly beset by conflicting priorities and critical projects, and programs do not receive the attention they need.
Results build engagement: The best way to build employee, customer, and stakeholder engagement is by delivering the important (dare I say, key?) results. Great results are motivating. Employees take pride in achievement, customers build their engagement and loyalty to the organization, and stakeholders develop trust.
Stay the course: It is sometimes hard to maintain focus, especially as challenges arise and before results are seen. However, consistently and constantly shifting course never yields a desired outcome. You are spending more time in dismantling than building. Baldrige is a journey, and success takes time and commitment. In her keynote address, Rosabeth Moss Kanter referred to staying the course by saying, "Everything can look like a failure in the middle." This is when conviction and determination are most needed. And if staying the course yields the outcomes that Pewaukee and Sutter Davis have achieved, it is worth the effort. But even these role models would be the first to admit that the challenge of staying the course is even more challenging when hard work has yielded good results, providing a temptation to slack a little or "take a year off." It is at such a time that visionary leaders need to build on success and stay the course.
Success requires alignment and integration: Everyone in the organization needs to understand where it is going and then march in the same direction. Doing so builds motivation and a sense of purpose, and it accelerates progress. And the results and metrics used to track progress must be aligned and integrated with these directions. Enterprise and unit performance management require a systems approach. And systems require alignment and the integration of people, processes, and strategy.
Baldrige Criteria Category Insights
The following additional key (I like that word!) insights from this year's Quest Conference align well with the eight categories of the Baldrige Criteria, including the Organizational Profile.
The importance of the Organizational Profile: The leaders speaking at this year's conference did a superb job of emphasizing the benefits of the Organizational Profile as the basis for a fundamental understanding of their organizations and their operating environment. Probably the most common question of speakers at the conference each year is, How does my organization get started on Baldrige? or How do I convince my CEO of the benefits of starting a Baldrige journey? The answer can be found in responding to the questions in the Organizational Profile (OP). The OP questions set the basic context for understanding who you are and where you need to go. Without an understanding of your strategic advantages, your strategic challenges, and your core competencies, your organization and your CEO lack a basis for direction setting and strategic planning, not to mention setting your customer focus.
Leadership requires visionary leaders: This is not a time for caretaker leadership. Those of us listening to the leaders who spoke at the conference felt their visions for their organizations, their passion, and their ability to motivate. I wanted to immediately sign on to work at both Pewaukee and Sutter Davis! Here are some of the characteristics I saw in JoAnn Sternke (superintendent of Pewaukee) and Janet Wagner (CEO of Sutter Davis): They embraced change. They knew that they had to lead the change and that their organizations had to manage change, not assume it would happen. They realized that organizations don't change; people inside organizations manage and are the change.

Change frequently requires course corrections, and visionary leaders admit to those needs—even if they set the original course—and lead the corrections. They are not afraid to admit to missteps. Visionary leaders are accountable to themselves first; only then can or should they hold others accountable. Visionary leaders set boundaries (guided by core values and their stake in the ground), and then they empower people to act.

And visionary leaders are also responsible for fun in the organization. At Sutter Davis, part of the fun occurs at their annual all-staff meeting—which brings me to the next point: visionary leaders can adopt others' good ideas. They needn't invent everything their organization does. Sutter Davis got the concept for their annual all-staff meeting from a previous Baldrige Award recipient: Sharp HealthCare.
Strategic Planning requires thinking outside the building: Borrowing from one of Rosabeth Moss Kanter's keynote messages, "outside the building" resonated particularly well with the presentations of speakers from Pewaukee, Sutter Davis, and many of the former Baldrige Award recipients speaking at the conference. They spoke about their strategic partnering and their two-way sharing of information with key suppliers, customers, and stakeholders. Sister Mary Jean Ryan in her keynote address spoke about widening inputs and then narrowing focus. This latter statement speaks to both getting outside the building (your organization's boundaries) and then narrowing the focus to what is key.
Customer Focus is about each customer: Each customer, each student, and each patient has different needs. An organization's success depends on meeting those individual needs and exceeding individual expectations. While customers can be segmented based on similarities of need or circumstance, in the end each customer is a segment of one with some unique characteristics.
Measurement, Analysis, and Knowledge Management begins with choosing the right measures: Both Pewaukee and Sutter Davis have used measurement very effectively and to the advantage of their processes, people, and customers (students and patients, respectively). They have used dashboards with green-yellow-red indicators of progress and pushed the use of aligned dashboards down to the departmental/classroom level. They have used data walls to share important data with employees (and customers). The data walls have displayed a transparency in operations that builds both trust and engagement.Role-model organizations understand the interdependency and linked nature of measures, even if they are not measured as an aligned set, and they look for those correlations (e.g., the potential impact of reduced inpatient length-of-stay on 30-day readmission rates).
Workforce Focus is about culture: All Baldrige Award recipients work on building a culture of engagement and family. And that culture begins with the stake in the ground and core values. Building a great culture requires ethics and high integrity and leads to trust. And culture drives workforce engagement, which, in turn, drives customer engagement. Every time I visit a Baldrige Award recipient, the culture is palpable; I can feel it in the air. As a result, it is no surprise that Pewaukee and Sutter Davis, like many other Baldrige Award recipients, have each been recognized as "Top Places to Work."
An Operations Focus requires a focus on continuous improvement: While innovation is essential, it does not replace the need for continuously examining existing processes and continuing to improve them. The reverse also has been true for Pewaukee and Sutter Davis: continuous improvement of existing processes does not replace the need for innovation on a larger scale. One of the speakers was emphatic about not shying away from innovation and intelligent risk taking.
Results, results, results: Baldrige Award recipients have a relentless focus on results. Results drive sustainability. Results comparisons and the use of benchmarks ensure appropriate goal setting and achievement. And, as I stated in the previous section, results drive engagement.
Five Noteworthy Sound Bites
I felt that the following five quotes as a whole convey far deeper meanings than the few words in each would otherwise indicate. Any organization that uses these five statements as a guide is well on their way to becoming a role model. Therefore, I conclude this column by sharing these quotes.

From Sutter Davis:
1. "Organizations don't change; people inside organizations change."
2. (Recognizing the turtle as their mascot)—"Sometimes you have to stick your neck out to move forward."

From Pewaukee:
3. "Just because you can, doesn't mean you should."
4. "If you think you can and use Baldrige, you can."
From Sister Mary Jean Ryan:
5. "Within every human being there is the potential for greatness."

May each of you and your organizations find the greatness that lies within.
Resources
Baldrige Excellence Framework
Baldrige Excellence Builder
Blogrige
News
Bleeding Edge or Leading Edge? (January 2014)
Archived Columns
---
You need to have Acrobat Reader installed on your computer to view the PDF file. If you do not have Acrobat Reader installed on your computer, download the program at http://get.adobe.com/reader. People with visual disabilities can download tools and information at http://www.adobe.com/accessibility to help make Adobe PDF files accessible.