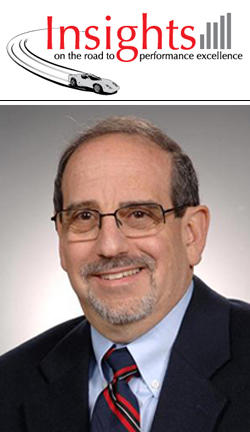 December 2012
I always like to end a year with an optimistic view of the future. This year, MESA became the sixth two-time winner of the Baldrige Award; all six winners having experienced growth between the times they received the award. That fact led me to contemplate factors leading to the sustainability and growth of any business or enterprise.

In a brief research study that the Baldrige Program conducted last year, we realized that the then five two-time recipients of the Baldrige Award represented very different industries, company sizes, and a significant time span, reflecting the history and evolution of the Baldrige Program and Baldrige Criteria for Performance Excellence. Solectron received its second Baldrige Award in 1997 and MEDRAD in 2010. The other two-time winners are The Ritz-Carlton Hotel Company, Texas Nameplate Company, and Sunny Fresh Foods (now Cargill Kitchen Solutions). As a group, they represent large business, small business, manufacturing, and service. We looked at three areas of potential growth for those companies: number of sites, revenue, and jobs. While individual results are proprietary for some of the companies, we could clearly see common patterns, and the medians for the group are impressive! The median growth in number of sites was 67%. The median growth in revenue was 93%. And the median growth in jobs was 63%. For job growth, we were able to get comparative data from the Bureau of Economic Analysis and the Bureau of Labor Statistics. For a matched set of industries and time periods for each of our Baldrige Award recipients, average growth in jobs in their industries was 3.2%.

I believe at least four out of the five companies started as small businesses with less than 500 employees. Turning a small business into a larger business is not easy. Research data indicate that only one-tenth of 1 percent of all companies ever reach $250 million in annual revenues. If you ask these Baldrige winners how they were able to grow their businesses, I am sure they will cite their use of the Baldrige Criteria as part of their strategic toolkit.

For this Insights column, I decided to explore the topic of growth somewhat further to better understand how these companies succeeded and to share factors contributing to successful growth. I have cited a number of information sources throughout this column that I have used to supplement what I have learned from Baldrige Award recipients. I have divided my thoughts into three sections: opportunities for growth, challenges of pursuing a growth strategy, and key factors in successful implementation of a growth strategy.
Opportunities
Keith McFarland, an entrepreneur and author of the book The Breakthrough Company: How Everyday Companies Achieve Extraordinary Results, studied more than 7,000 companies over a five-year period. The opportunities he identified for growth are summarized in an Inc. magazine article. Edward Hess, a former executive and professor of business administration, has also done considerable research on this topic and shared some of his insights in a Business Week interview. Based on their insights and my observations, I would propose one caveat and six approaches to opportunities for growth. The caveat is that while it might lead to growth, the need to improve is a basic survival necessity. In today's competitive marketplace, all organizations must continuously improve their process efficiency, effectiveness, employee engagement, customer focus, and products and services to survive. While that might lead to concepts generating growth, organizations can strategically decide to pursue six specific opportunities, with growth as the goal:
Increasing market penetration. Sell more of your existing products and services to existing customers. This may occur through taking business from competitors or through finding new uses for your offerings.

Expanding your markets. Sell your products and services to new customers. This may occur by expanding your geographic reach or customer base.

Adding distribution channels. Sell your products and services in new ways. This may be accomplished by developing a storefront presence or a Web marketing site, or by adding channel partners or third-party distributors.

Developing new products for your customers. Sell new products or services to your existing customer base. This may be accomplished through a new or enhanced research and development function or through strategic partnering. This opportunity will likely involve more resources than the earlier opportunities and therefore more risk.

Developing new products for new customers. Expand both your product line and your markets. Again, the risk is higher because you now need to both develop a new product and find a new group of customers.

 Acquiring businesses. Grow through acquiring competitors, suppliers, users of your products and services, or totally unaligned businesses. The business acumen and risk are probably greatest for this growth opportunity, particularly if you decide to branch into totally new areas (like holding companies that have multiple independent product and service lines).
Challenges
A lot has been written on this topic, including a very recent CNN Money story on the "7 Deadly Sins of Business Growth." Having made the decision to pursue a growth strategy, companies must face five important sets of challenges, in my opinion:
Taking intelligent risks. Do not risk more than your size and situation allow. Make sure you can commit the necessary resources to pursue your growth strategy. Do not take on too much, and make sure you have both the expertise and financial resources you need.

Developing appropriate metrics. Make sure you can measure your progress. You need a fact base to make ongoing decisions to commit the necessary resources to continue or to stop if the intermediate results indicate that the likelihood of success dictate curtailing or abandoning the effort. Taking risks includes being tolerant of failure.

Prioritizing. If several growth opportunities exist, determine which has the highest priority. In an environment that encourages new ideas, there will probably be more ideas than you can initially pursue. Metrics will help you decide if it is time to move on to a different idea or priority and abandon the current project.

Avoiding organizational antibodies. Do not let the naysayers in an organization deter your efforts without a legitimate fact-based reason. This pitfall is best handled through the use of the metrics you have developed.

Mistaking managers for innovators. Your most successful managers are frequently your automatic go-to people; however, they may not be the best people for implementing change. In a stable organization, they frequently are the people who are monitoring the constancy of successful processes and overseeing incremental improvements.
Implementation
As with challenges, a lot has been written on this topic, including a recent piece on Creating an Infrastructure for Company Growth. Having addressed the challenges, in order to implement for success, a company must consider a number of key factors:
Establishing process rigor. Until now, processes may have been informal in a small organization. As you grow, more people will be involved, and more process documentation is needed. Process mapping may yield both the documentation you need and provide an opportunity for achieving greater efficiency and reducing waste. Furthermore, new functions may need to be added, such as a more formal human resources function and benefits program.

Focusing on people. Choose the right people for the job. If you are hiring, select the right people for the growth activity; they may need different traits than the people you currently employ. Be sure to engage all staff in the excitement of the opportunity, even if they are not directly involved. Make sure that communication receives emphasis.

Dedicating resources. Having made a commitment to growth, you need to dedicate the people, financial, and other resources to enable success. Growth through adding burdens to existing resources is hard unless significant efficiencies can be achieved.

Listening. It is important to listen to your employees who are at the forefront for signals of need and progress. Listen also to your leading-edge suppliers and customers because they can contribute significant ideas.

Innovating from the outside in. If innovation is your goal, listen to the people on the fringe of the organization as well as your closest colleagues. Those on the outside may be less engaged because they may see opportunities you have not identified.

Innovating applies to everything. Just because you are innovating your product doesn't mean you can't take advantage of allied opportunities. Developing new products, services, or processes may also provide an opportunity to innovate your business model or partnering opportunities. Think about the whole picture as you innovate.
As I thought about these factors for growth and about the success of our two-time Baldrige winners, I naturally also thought about how the Baldrige Criteria for Performance Excellence helped them address growth. In particular, I considered how the just-released 2013–2014 revisions to the Criteria will help. With an enhanced strategic focus on work systems and what you will accomplish with your core competencies and your employees, the Criteria provide a series of questions to help you address these considerations in order to make strategic decisions about growth. Also, with the Criteria's heightened focus on innovation and how to set the environment for key decisions on intelligent risks, the 2013–2014 Criteria provide added power for enabling your growth decisions.

From all of us in the Baldrige Program, we wish each of you a happy holiday and a healthy, growth-laden, and insightful New Year!
Resources
Baldrige Excellence Framework
Baldrige Excellence Builder
Blogrige
News
Force = Mass x Acceleration (January 2012)
Confronting the "no" in Innovation (February 2012)
Everybody Comes to Work Wanting to Do a Good Job (March 2012)
The Quest for Knowledge (April 2012)
I = IR + SE Innovation Results from Intelligent Risk Taking and a Supportive Environment (May 2012)
Embrace It or Not, Social Media Is Impacting Your Organization (June/July 2012)
A Reflection on Work Systems (August 2012)
What's a Good Leader or Manager to Do? (October 2012)
"P" Is for Partnership (November 2012)
Archived Columns
---
You need to have Acrobat Reader installed on your computer to view the PDF file. If you do not have Acrobat Reader installed on your computer, download the program at http://get.adobe.com/reader. People with visual disabilities can download tools and information at http://access.adobe.com to help make Adobe PDF files accessible.