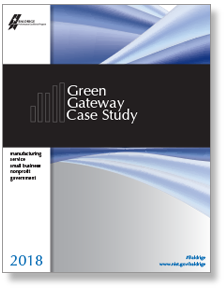 2018 Green Gateway Case Study PDF
2018 Green Gateway Feedback Report Word
Baldrige Excellence Framework
Case study resources illustrate the Baldrige Award application and evaluation process. These resources include
a case study, which is a sample Baldrige Award application showing a fictitious organization's responses to the requirements of the Baldrige Excellence Framework
a feedback report modeled on the report received by actual Baldrige Award applicants; this feedback report is based on the Consensus scorebook produced by a team of Baldrige examiners who evaluated the fictitious application against the Criteria
Case studies show you the format and general content of a Baldrige Award application. However, because the primary purpose of the case study is to provide learning opportunities for Baldrige examiners and others, the case study purposely does not address all Criteria requirements or demonstrate role-model responses in all areas. See the case study scorebook and feedback report to learn how the fictitious organization scored and to see its strengths and opportunities for improvement.
The 2018 Baldrige Case Study Green Gateway (created by volunteer Baldrige alumni examiners Deb Manzo [team leader], Eric Franks, and Larry Kimbrough) depicts one of Gateway Estate Lawn Equipment Co.'s four company divisions; the division depicted manufactures medium-size gas and diesel-power lawn tractors. The Green Gateway case study was reviewed by Baldrige alumni examiners Luis Calingo, Catherine Craver, Jon Gray, and Mac McGuire. The fictitious Green Gateway's vision is to be the leading manufacturer of quality lawn tractors with a low cost of ownership and the best overall value; its mission is to create new value through innovation and a focus on quality, cost, and delivery. To show its quest for excellence, the fictitious manufacturer borrows some industry best practices such as the use of Safety, Quality, Delivery, Cost, Morale, Environment (SQDCPME); the NIST Cybersecurity Framework and the Baldrige Cybersecurity Excellence Builder; and the DMAIC (Design, Measure, Analyze, Improve, Control) methodology. For realism, Green Gateway was written to operate under the regulatory requirements of its industry, with strategic challenges familiar to many U.S. organizations: workforce retention, off-shore competition, and cybersecurity.
The Green Gateway Case Study is based on the 2017–2018 Baldrige Excellence Framework.
Resources
Baldrige Materials Archive (Previous Case Study Packets)
Applying for the Award