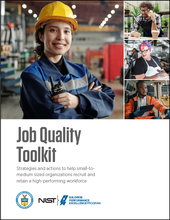 An outgrowth of a three-year partnership with the U.S. Department of Commerce (DOC) and U.S. Department of Labor to support various workforce excellence initiatives, the Baldrige Performance Excellence Program (BPEP) led the effort to develop a Job Quality Toolkit, a menu of vetted strategies and actions for leaders and their workforces to collaboratively choose from to increase the quality of jobs offered. The Baldrige Excellence Framework® served as a foundation for the easy-to-use toolkit that is intended for organizations of all kinds—but especially for those that are small and medium sized.
To develop the toolkit, BPEP conducted a thorough literature search and engaged with more than 60 national experts, nonprofits, businesses, academics, and government leaders. The toolkit was formally launched by both Secretaries of Commerce and Labor on August 4, 2022.
The Manufacturing Extension Partnership (MEP) of the National Institute of Standards and Technology has adopted and is distributing the Job Quality Toolkit. This includes a partnership with AmericaWorks, which is hosting an online Job Quality Employer Assessment. Another implementing partner is Public Private Strategies Institute, which received a grant associated with its job quality initiative. Aspects of the Job Quality Toolkit are also incorporated in DOC's National Technical Information Service Notice of Funding Opportunity and the CHIPS (Creating Helpful Incentives to Produce Semiconductors) and Science Act Notice of Funding Opportunity.
Drivers of Job Quality