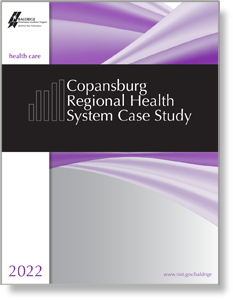 2022 Copansburg Regional Health System Case Study
Copansburg Regional Health System Case Study PDF
Feedback Report PDF
Case study resources illustrate the Baldrige Award application and evaluation processes. These resources include
a case study, which is a sample Baldrige Award application showing a fictitious organization's responses to the questions of the Baldrige Excellence Framework®
a feedback report modeled on the report received by actual Baldrige Award applicants; this feedback report is based on the scorebook produced by a team of Baldrige examiners who evaluated the fictitious application against the Criteria
Case studies show you the format and general content of a Baldrige Award application. However, because the primary purpose of the case study is to provide learning opportunities for Baldrige examiners and others, the case study purposely does not address all Criteria questions or demonstrate role-model responses in all areas. See the case study feedback report to learn how the fictitious organization scored and to see its strengths and opportunities for improvement.
Baldrige master examiner Eric Fletcher led a team of other master examiners—Patricia Curtis (backup team leader), Marsha Chan, Patrice Griffith, Eric Malloy, Denise Haynes, Kay Kendall, and Geri Markley—to research and write the Copansburg Regional Health System (CRHS) case study. With a vision to be among America's best health systems, CRHS was created with service lines for cardiology, oncology, orthopedics, women's and children's, behavioral health/substance abuse, and neurology, with programming varying depending on hospital size, complexity, and local population needs. The writing team created processes for succession planning and development, best-practice sharing, representation of diversity, complaint management, feedback loops, dashboards, intelligent risks, and innovation. Reviewers Sarah Ball, Brenda Grant, Paul Grizzell, Glenn Hamamura, and Marlene Yanovsky provided guidance to the team.
A team of Baldrige master examiners (Patrice Griffith [team leader], Michael Drake, Kathleen Carrothers, Tom Field, Melanie Hatch, Jim McCorvey, Tamera Parsons, and Fonda Vera) evaluated the fictitious organization against the Criteria and created a Virtual Evaluation scorebook to be used in examiner training.
The Copansburg Regional Health System is based on the 2021-2022 Baldrige Excellence Framework® (Health Care).
Resources
Baldrige Materials Archive (Previous Case Study Packets)
Applying for the Award