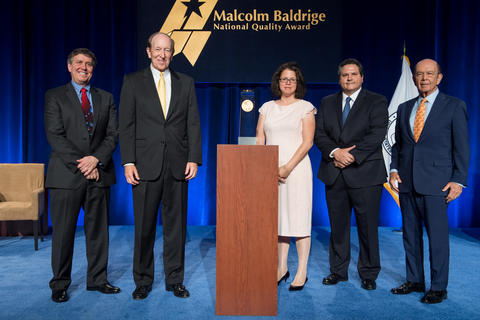 Roger Arciniega
President and Chief Executive Officer, Momentum Group
As Prepared for Delivery, April 2, 2017
Thank you, Secretary Ross, and thanks to the entire Baldrige community for recognizing Momentum Group with this distinctive honor. 
I would also like to thank the dedicated Baldrige examiners and judges who were involved in the evaluation process and were so committed to understanding the Momentum way. The Baldrige Performance Excellence framework has had an enormous impact on thousands of businesses, care givers, educators, non-profit organizations and most recently whole communities. Momentum is honored to be counted as one of those businesses. 
Twenty-five years ago, Momentum was just in its infancy. A small value added distributer of commercial textiles based in Southern California. It was clear that in order to build a company that could compete and grow in a mature industry with very established competitors; we would need a framework to systematically improve all aspects of our business every year. We were fortunate enough to have a well-established Baldrige state alliance member in California—the California Award for Performance Excellence program, also known as CAPE. I would like to thank everyone at CAPE for providing a road map and the inspiration toward becoming a Baldrige company. Momentum progressed from bronze to silver and then to a gold award in the California program before applying to the national-level Baldrige Program and becoming a Baldrige Award recipient.  
Today, Momentum has six core processes and five support processes that encapsulate the work we believe is required to be a world class supplier of commercial textiles. Each one of these core and support process writes a 15-page internal application that utilizes the Baldrige criteria to learn, innovate and improve their processes at the workgroup and employee level. The results are beyond what anyone could have imagined. Momentum has grown from one of the smallest suppliers of commercial upholstery to the largest supplier of commercial upholstery in North America. Momentum has engaged employees who delight customers and strive to better the world around us. 
Our experience tells us that an organization that is driven by continuous improvement needs the support of core values and shared rewards in order to be sustainable. We are absolutely convinced that the Baldrige Excellence framework is the cornerstone of our success. We encourage anyone who is considering this framework to take the plunge and get started. 
We look forward to the opportunity to share best practices with those of you who are attending the conference. Again, on behalf of the entire Momentum Group team, we are very thankful and proud of this recognition.